About the COVID-CNS study
COVID-19 patients frequently suffer brain problems during the infection and can be left with symptoms of brain injury. This was an observational study looking to understand how these problems occur and develop strategies to prevent and treat them. There are some reports of brain-related complications due to having some of the COVID-19 vaccines. We have also studied these complications to see if they are due to the same or different mechanisms to those seen in COVID-19 patients.
Watch some of our participants share their testimonies about taking part in the COVID-CNS research study.
Click on the image below to view the video.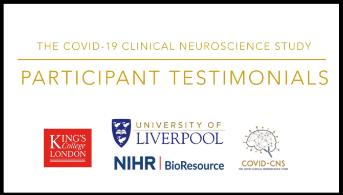 View our booklet about the COVID-CNS research study and read about how we recruited patients and what we have learnt so far.
To download the booklet, follow this link: COVID-CNS Study Booklet.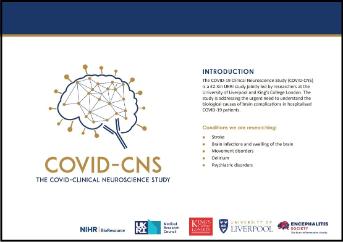 Listen to the Encephalitis Podcast and hear Professor Ben Michael talk to host Dr Ava Easton about the COVID-19 Clinical Neuroscience Study.
What did the study involve?
COVID-CNS participants were asked to attend a number of sessions, both in-person and online, over the duration of the study.
Initially, participants were asked to read and sign the consent form.
First session: participants were asked to donate a blood sample and/or other biological sample and complete in-person or online assessments. These questionnaires involved an extensive list of questions regarding demographics, lifestyle and wellbeing, medical and psychological history, mental and physical health and the impact of COVID-19.
At this stage participants were invited to have an MRI brain scan. These are useful for assessing whether neurological or mental health difficulties are due to changes in the brain as a result of COVID-19.
Next sessions: all particiapants were invited to complete follow-up assessments approximately three times in the following 18 months. These assessments were conducted over the phone and/or online depending on what was easy for the participant. These allow researchers to monitor how long mental health, cognitive or neurological issues persist for and/or to detect new issues as they arise.
Sometimes repeat biological samples were requested at regular intervals where possible. DNA may be isolated from the sample and will be used to determine a particpant's genetic make-up. We will collect, store and analyse health information about each participant, and this includes accessing your medical or other health-related records.
Please note that this was an observational study only. The research team were not able to make any diagnosis, give treatment or any other intervention. This means that particiapants did not receive any diagnosis, medication or any other therapy as part of this study in addition or instead of the care that would be received as standard from their responsible clinicians.
If you have suffered long-COVID, please follow the link to find information about research in this area.