About the COVID-CNS study
COVID-19 patients frequently suffer brain problems during the infection and can be left with symptoms of brain injury. This is an observational study looking to understand how these problems occur and develop strategies to prevent and treat them. There are some reports of brain-related complications due to having some of the COVID-19 vaccines. We will also study these complications to see if they are due to the same or different mechanisms to those seen in COVID-19 patients.
Watch some of our participants share their testimonies about taking part in the COVID-CNS research study.
Click on the image below to view the video.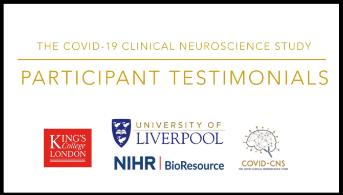 What does the study involve?
If you decide to take part in the COVID-CNS, you will be asked to attend a number of sessions, both in-person and online, over the duration of the study.
Initially, you will be asked to read and sign the consent form. We will ask for your personal and contact details, which will be stored. (If you are seen in hospital, this information will be retrieved from your medical records.)
First session: you will be asked to donate a blood sample and/or other biological sample and complete in-person or online assessments. These questionnaires will involve an extensive list of questions regarding your demographics, lifestyle and wellbeing, medical and psychological history, your mental and physical health and the impact of COVID-19 on your life.
At this stage you may also be invited to have an MRI brain scan. (You can refuse the MRI scan if you wish.) These are useful for assessing whether neurological or mental health difficulties are due to changes in the brain as a result of COVID-19.
Next sessions: you will be invited to complete follow-up assessments approximately three times in the following 18 months. We will use phone and/or online assessments depending on what is easy for you and what group you are in. These allow researchers to monitor how long mental health, cognitive or neurological issues persist for and/or to detect new issues as they arise.
We may ask you to donate repeat biological samples at regular intervals where possible. DNA may be isolated from your sample and will be used to determine your genetic make-up. We will collect, store and analyse health information about you, and this includes accessing your medical or other health-related records.
Please note that this is an observational study only. This means that we will ask you questions, take blood samples and will carry out assessments, but we will not offer any diagnosis, treatment or any other intervention. This means that you will not receive any diagnosis, medication or any other therapy as part of this study in addition or instead of the care you receive as standard from your responsible clinicians.
Am I eligible?
We are interested in recruiting participants from four main groups. You may be eligible if you fit into one of these groups:
Patients who had COVID-19 and who are in hospital or who have been discharged from hospital, having recovered from COVID-19 but who experienced adverse side effects while in hospital or afterwards. (In some cases, we are able to include participants who met criteria for hospitalisation but were not hospitalised because of the pandemic)
People who developed neurological or psychiatric complications after receiving a COVID-19 vaccination
COVID-19 patients who are being or were treated in hospital but who have not experienced neurological or mental health complications
Patients who are or were in hospital for a serious illness who have not been infected with COVID-19.
How can I join the study?
COVID-CNS is recruiting participants who have had COVID-19 and a neurological or psychiatric complication to which COVID-19 may have contributed. We are including participants who have required hospital care for either the COVID-19 itself, or the neurological/psychiatric complication.
If you think you may be eligible, please contact your doctor, who may then refer you to the study. Your doctor will need to send the following details:
Patient name and location within the UK
Name of treating team
Discharge summary
Hospital number
It is important to include your hospital number as you must have been hospitalised to be eligible to join the study. (In some cases, we are able to include participants who met the criteria for hospitalisation but were not hospitalised because of the pandemic.)
All information should be sent to the secretary for Professor Michael via The Walton Centre NHS Foundation Trust:
May Williams
Walton Centre NHS Foundation Trust
Lower Lane
Liverpool
L9 7LJ
Why participate?
If you qualify and choose to take part, you will receive:
£25 shopping voucher after your initial assessment
You will also be able to claim up to £22.50 for reimbursement of travel costs for each visit.
Reimbursement for time and travel expenses will not affect the healthcare you receive.
You will have the unique opportunity to contribute to some innovative and valuable research which may later be used across the world. Individuals may also find it helpful to reflect on the current situation and express their feelings concerning a stressful and unprecedented global event.
Your participation is voluntary and you may choose to withdraw from the study at any time. All information that you provide is completely confidential.
What are the possible disadvantages of taking part?
We do not anticipate any risks in participating. We will ask you questions regarding your physical and mental health, but if you do not wish to answer a question, you can skip that question. Alternatively, you can finish the questionnaire at any time; we will not use the data from unfinished questionnaires until you submit it – we may send you a reminder to finish it within four weeks.
Blood sampling can cause some discomfort when the needle is placed in the vein and the blood is drawn. There is also a possibility that a small bruise may develop. MRI scans do not involve any radiation, and are safe unless patients have some types of metal implants or objects in their body. We will undertake careful screening to ensure that this is not the case before scans are obtained.
To protect healthy volunteers from exposure to COVID-19, recruiting research staff will follow local NHS Trust guidance and policies. This is to ensure that the facilities used are separate or decontaminated as necessary and that research staff have contact with the appropriate groups of volunteers, using necessary precautions to ensure your safety.