PhD student awarded 2015 Salters Graduate Prize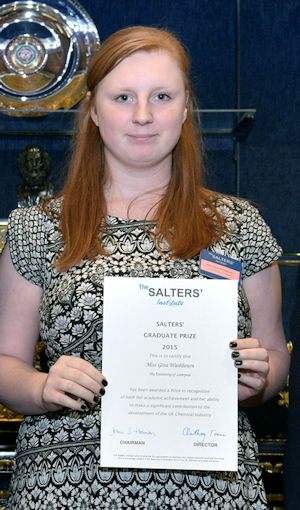 Congratulations to current PhD student, Gina Washbourn, who was awarded a Salters' Institute Graduate prize at their annual awards ceremony. The prize was awarded as a recognition of both her undergraduate academic achievement and her ability to make a significant contribution to the development of the UK Chemical Industry.
This prestigious annual event celebrates high levels of excellence within the science education sector. This year the Ceremony took place at Fishmongers' Hall on Tuesday 15 December 2015. Over 170 guests attended the Prizegiving Ceremony and lunch reception.
Professor Sir John Holman, Chairman of The Salters' Institute delivered a keynote address and presented the Awards at the Ceremony.
Awards were presented for the Salters' Graduate Prizes, SALTERS-CLEAPSS National Awards for Science Technicians, Salters-Nuffield Advanced Biology (SNAB) Prizes, Salters Advanced Chemistry (SAC) Prizes, Salters Horners Advanced Physics (SHAP) Prizes and Salters' City and Guilds Prizes.
For further information on all the Salters' Institute activities, please visit www.saltersinstitute.co.uk