Potential novel fast acting drug candidates identified to cure filarial diseases by targeting the pathogenic worm's bacterial endosymbiotic bacteria, Wolbachia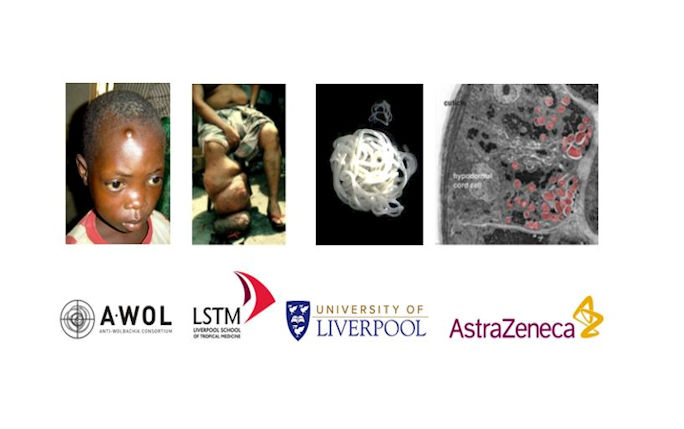 A collaboration between A·WOL and AstraZeneca has paved the way to identify novel compounds for the treatment of lymphatic filariasis and onchocerciasis. Both diseases are leading causes of global disability. The A·WOL consortium over the last 10 years has been focusing on a unique drug target, Wolbachia, the endosymbiotic bacteria which live within the nematode worms causing these diseases. Through depletion of this bacteria the worm's life span is reduced from decades to 1-2 years, as well as sterilising the adults, which blocks the transmission of the diseases by blood feeding insects (black fly and mosquitoes).
This collaboration resulted in the successful screening of 1.3 million of AstraZeneca's compounds against Wolbachia (within a model insect cell line). This screen was based on an adaptation of the current screening protocols carried out by A·WOL at the Liverpool School of Tropical Medicine, with the addition of utilising AstraZeneca's state of the art high throughput facilities. This fully automated screen allowed for impressive screening timelines of just 3 months.
State-of-the-art cheminformatic methods were deployed to analyse and triage initial hit molecules (~20k) to select the best ~6k compounds for further evaluation in a secondary concentration response screen. These compounds were clustered and prioritised based on anti-Wolbachia activity, mammalian toxicity, cluster size and chemical structure. This revealed 57 prioritised clusters containing a total of 360 compounds. This ensured the highest quality anti-Wolbachia starting points for further optimisation and development.
Further screening and triaging based on the chemistry and pharmacology of the compounds, identified 5 clusters of compounds which presented with anti-Wolbachia activity against the larval stages of one species of the worms which cause these diseases. Furthermore, these 5 compounds were the first to show faster activity within just a single day compared to greater than 4 days seen by all but 1 of A·WOL's lead compounds, including registered antibiotics. The latter (doxycycline amongst others) have been proved to cure this disease in human clinical field trials, which is not possible with all current widely used treatments.
We are hopefully that one of these compounds could have the potential to become a curative drug for these debilitating diseases due to this fast activity translating to a short treatment course, which is the caveat to the use of doxycycline, as it requires a daily treatment course for 4-6 weeks. If our hopes became a reality this would be a major tool to aid the global target to eliminate these diseases.
Reference
Rachel H. Clare, Catherine Bardelle, Paul Harper, W. David Hong, Ulf Börjesson, Kelly L. Johnston, Matthew Collier, Laura Myhill, Andrew Cassidy, Darren Plant, Helen Plant, Roger Clark, Darren A. N. Cook, Andrew Steven, John Archer, Paul McGillan, Sitthivut Charoensutthivarakul, Jaclyn Bibby, Raman Sharma, Gemma L. Nixon, Barton E. Slatko, Lindsey Cantin, Bo Wu, Joseph Turner, Louise Ford, Kirsty Rich, Mark Wigglesworth, Neil G. Berry, Paul M. O'Neill, Mark J. Taylor & Stephen A. Ward, Industrial scale high-throughput screening delivers multiple fast acting macrofilaricides, Nature Communications, 2019, 10(1), p.11. https://doi.org/10.1038/s41467-018-07826-2
Links
https://www.nature.com/articles/s41467-018-07826-2