Chemistry student swims for Wales in the 2018 Commonwealth Games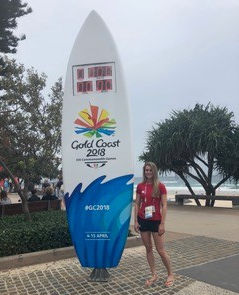 The Department of Chemistry at the University of Liverpool is very pleased to announce that Bethan Sloan, a 3rd year undergraduate student in the department, represented Wales at the swimming events in the 2018 Commonwealth Games in the Gold Coast in Australia.
The preparation for the competition involved a two-week training camp at the University of the Sunshine Coast, to acclimatise and practice training and racing outdoors. Bethan competed in the 50m, 100m and 200m breaststroke events which took place at the Gold Coast Aquatics centre. Bethan said: "The atmosphere on the Gold Coast was incredible. The aquatics centre especially was buzzing, there were 10,000 spectators and the noise was deafening at times! It's a memory that I'll keep with me forever, and I feel so lucky to have had the opportunity to prepare for this experience to the best of my ability."
Dr. Frédéric Blanc, senior lecturer in the Department of Chemistry and Bethan's academic advisor said: "Bethan temporarily suspended her studies to train and qualify for the 2018 Commonwealth Games and fulfil her sporting ambition on the international stage. Competing at this level and following a Chemistry degree is undoubtedly a fabulous achievement and the department is really proud of Bethan's performances."
Bethan added: "After the 2014 Commonwealth Games in Glasgow, I am really pleased to have represented my nation again in Australia and I'm thrilled with how everything has worked out. I am really appreciative of the support and advice that I received from the department during the early stages of my chemistry studies. I wouldn't have been able to fulfil my dream of competing at the Commonwealth Games for a second time if I wasn't able to manage studying around my training schedule."
Bethan is planning to resume her studies during the next academic year.