AVA Fellow Interviews – Spotlight on Vassilis Vrettakos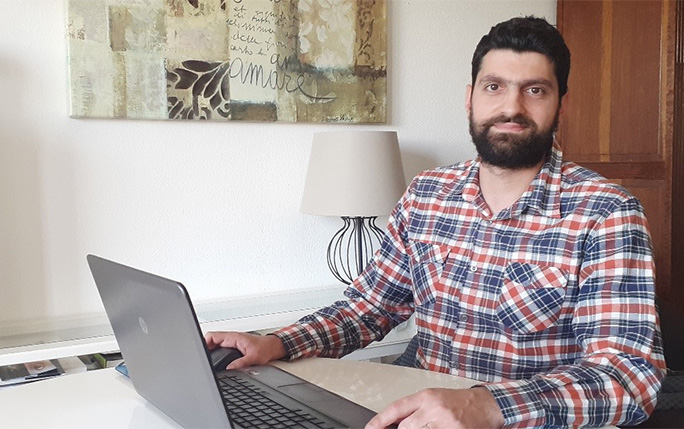 Now the formal period of the project has come to an end, this is a good moment to look back at the Fellows' time with AVA. We have asked the Fellows a few questions as part of the AVA Spotlight Interview series; this will give you a more personal insight into their motivation, achievements and outlook.
We continue the series with Vassilis Vretakos who joined the AVA Network at CIVIDEC Instrumentation, Vienna (Austria), for the final 7 months of the project. CIVIDEC, an internationally operating R&D company born from the cutting-edge technology of CERN, focuses on technological solutions for fast and precise beam diagnostics for particle accelerators and on neutron detection for resolving the issue of Helium-3 replacement. For his project, Vassilis has been working on the analysis of experimental data taken at the AEGIS experiment in 2017-18 at CERN. He has continued working for CIVIDEC beyond AVA.
What did attract you to the AVA network? Has it fulfilled your expectations?
"I always had a strong interest about antimatter research. The idea to be part of the AVA network was very attractive. The fellowship helped me to improve my skills in several fields such as programming, data analysis, detector physics and working as a member of a big team. Furthermore, everyone in the AVA network was willing to help, the environment was very friendly and my project was super interesting. So, my expectations were completely fulfilled."
Why did you choose to go to CIVIDEC?
"My goal was to combine my curiosity/interest for the antimatter research with my studies in Mathematics. CIVIDEC offered me this opportunity. Now, after the end of my fellowship, I feel that I made the best choice. I worked in a top level environment with the best people in the fields of detector physics and electronics. I learned a lot of things from my colleagues and the cooperation with them was more than perfect."
Can you explain in a few words what your project was about and what have you achieved?
"The objective of my project was to analyze data obtained at CERN from the AEGIS experiment. The purpose was to investigate the possible application of a diamond membrane detector for antimatter research. More precisely, a synthetic chemical vapour deposition (sCVD) diamond detector was used in order to detect low energetic antiprotons (p-) via the detection of the products of their interaction with matter. The results are very promising. It is shown that the reaction products from the antiproton annihilation can be detected by a diamond detector. The analysis and the results of this project can be used for further antimatter research. They prove that diamond detectors can be used for this kind of science."
What has AVA provided you professionally?
"Being part of AVA helped me in several ways. I improved my skills, I learned a lot of new things and I worked as a member of a great team. I met wonderful people and I worked with them in very interesting projects. Furthermore, as an AVA Fellow, I started work at CIVIDEC which is my current employer."
Can you say something about your next career move?
"I continue working for CIVIDEC. I work in the field of data analysis and I participate in several projects for their customers."
What will be your most cherished memory from AVA?
"My experience in AVA network lasted only for 7 months (from 06/2020 to 12/2020). Due to covid restrictions I have not had the opportunity to participate in schools, conferences etc. I met everybody via the communication tools. So, I cannot distinguish a single moment but I keep all my experience in AVA team as a very good memory."