Open Day at the MPIK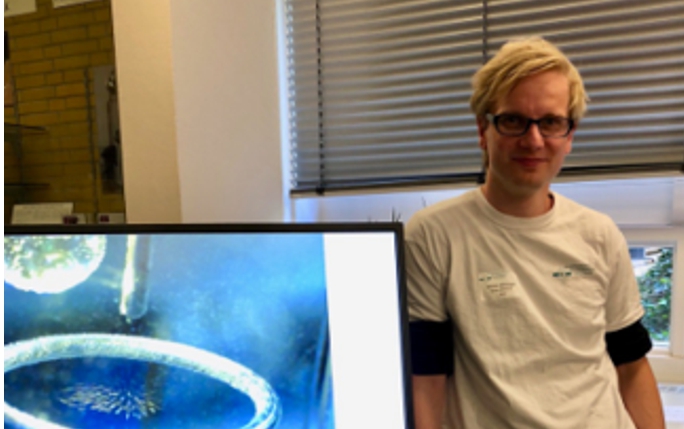 On the occasion of its 60th birthday, the Max-Planck-Institut für Kernphysik (MPIK) in Heidelberg, Germany opened its doors for visitors on Sunday, September 16th.
The general public was invited to take a look at the diverse research at the institute. The MPIK carries out basic experimental and theoretical research in the fields of astroparticle physics and quantum dynamics. It is recognized for its work on cosmic accelerators, the inner workings of atoms and molecules, search for the mysterious dark matter, how space can be brought to the lab, how scales work for atoms, and what is possible with super-strong and ultra-short laser flashes.
An exciting program awaited the visitors at the MPIK: This included numerous demonstrations, hands-on experiments, laboratory visits, exhibits, posters and lectures. Among many other PhD students at the institute, AVA Fellow Markus Wiesinger contributed by presenting a Paul trap experiment that showed trapped Coulomb crystals of lycopodium spores, see image below. The connection to real experiments was made via guided tours of the ion trap experiments at the institute as well as exhibits of traps in the institute laboratories.
More than 3,000 guests enjoyed a warm and sunny Sunday at the institute and were able to dive into the world of atoms, molecules, nuclei and particles. They visited some of the more than 60 demonstrations and exhibits, listened with interest to the more than 20 talks, including one of MPIK Director Professor Klaus Blaum on "Research with Antimatter". They also had the unique opportunity to take a close look at all the experiments carried out at the MPIK.