I was on the north end of Walney Island by 10:30 and with still some time to go before HW, I decided to push my way up the Duddon Estuary. So instead of following the deeper Scarth Channel out to the west, I headed north and then east. I had tried previously to get as far as the port for Millom - known as Borwick Rails. This has an alongside quay and is advertised as suitable for coasters to use - though currently it is not in use. Until the 1990s Duddon Valley Shipbreakers operated there and several Royal Navy Frigates were dismantled (such as HMS Aurora in 1990).
The last time I was in the Duddon Estuary, the tide was only a 7.0m HW, almost 2 metres less, so I should be able to go anywhere that was covered at HW last time. This encouraged me to strike across the Duddon estuary towards Haverigg and then swing towards Askam Pier. I passed close to the end of Askam Pier (an abandoned loading pier) at 11:00 and was at Borwick Rails by 11:10 - with current still incoming at that location. The quayside is still in good condition with ladders, but the surrounding is fenced off. Depth about 2.7m under my keel.
Askam Pier (earth/stone embankment heading out from shore):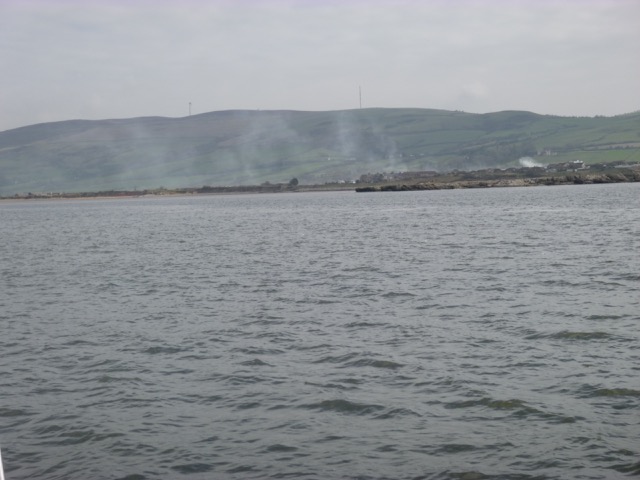 Borwick Rails: abandoned quayside of Port Millom: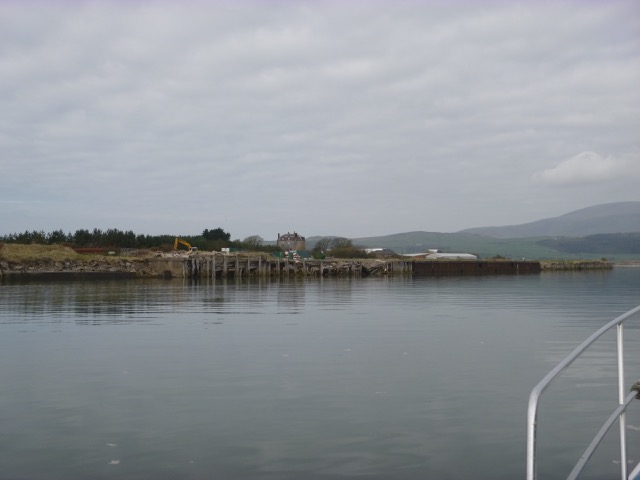 &nbsp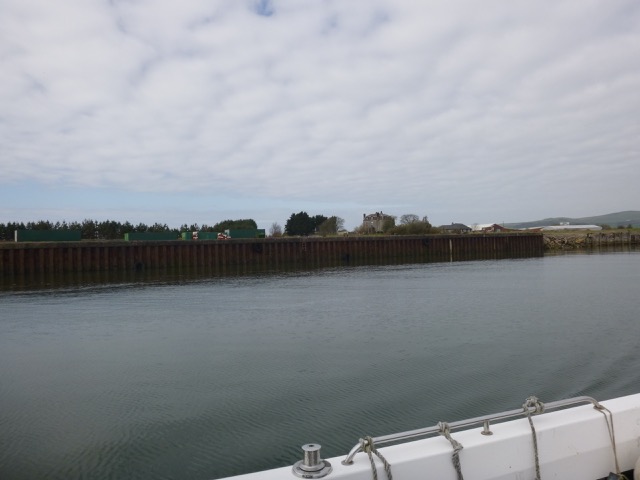 At 11:15, I set off back out to the open sea through the Duddon Estuary. My depth tracks are shown here from this trip and a previous one (Borwick Rails at top right, Walney Channel at lower right, Haverigg at top centre; depths above chart datum using tidegauge for Heysham; distances in metres):

Tracks shown with waypoints on chart (lighter is deeper, NW-SE track in SW corner on left image is spurious):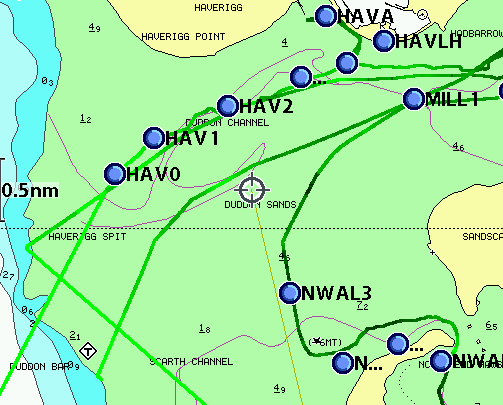 &nbsp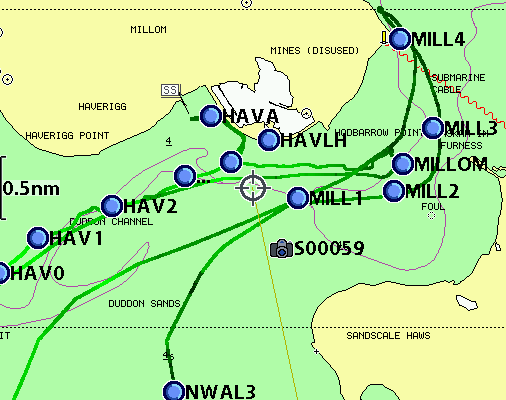 Haverigg with Black Combe behind.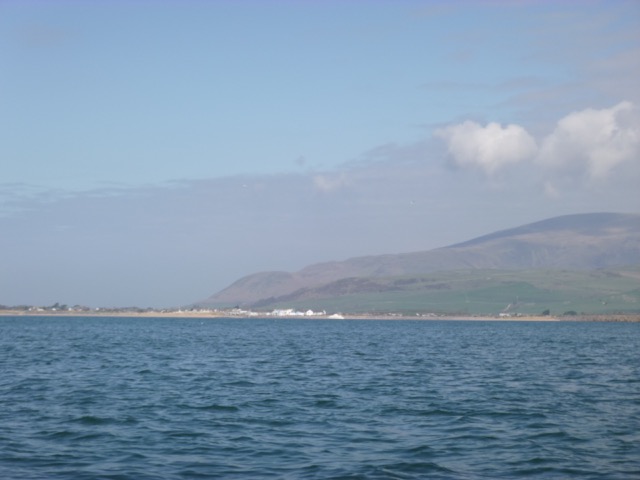 Once out of the Duddon estuary, I headed south past the Barrow Windfarm: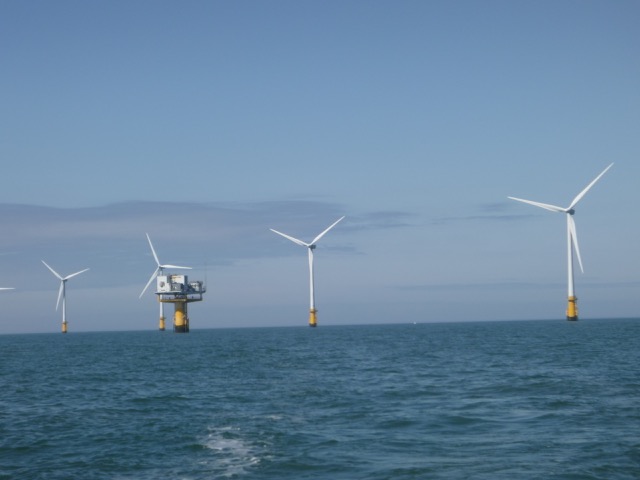 With Barrow shipyard visible the other side of Walney Island: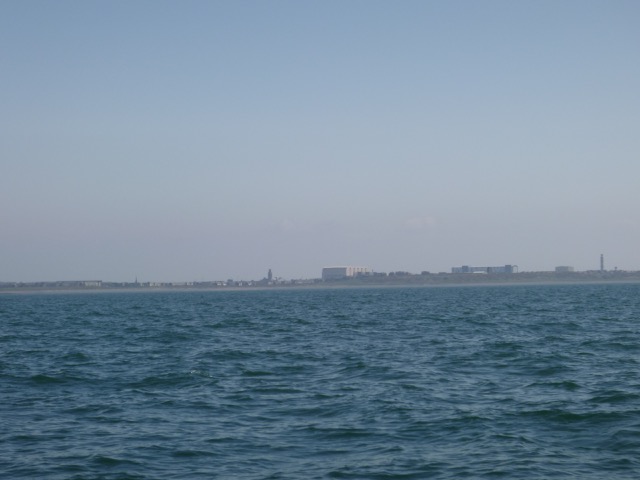 Then past the Lune Estuary with IOM vessel Ben My Chree leaving:

It was sunny and calm, so I stopped off to survey a few wreck-sites on the way. I usually cross from the North into the Liverpool Shipping Channel near buoy Alpha. Since I was earlier than usual, the tide would be lower, to I decided to cross further west near buoy Q10. At 7:35 (HW-3 hours 50 minutes ), I had depth of 2.5m under my keel both crossing the sandbank and then the training wall. As you approach the training wall, the depth gauge seabed level shoots up and I usually slow down in case of any obstruction. Then, relief, as the depth level shoots back down again.
I arrived off Liverpool Marina and locked in (with two other boats) at 9:20pm.
Barrow to Liverpool 67.6nm (via a circuitous route).
Trip (115 nm; 22 hours run; circa 15 galls fuel) mainly at my displacement speed of 7 knots, or less, through the water or less.
A record of the depth and track of my voyage is available from teamSurv
Clicking on an image should give a higher resolution picture. If even higher resolution versions of the above images are wanted, please contact me. All information given in good faith, but please do not rely on it.
Back to index here