University of Liverpool raises the profile of Future Circular Collider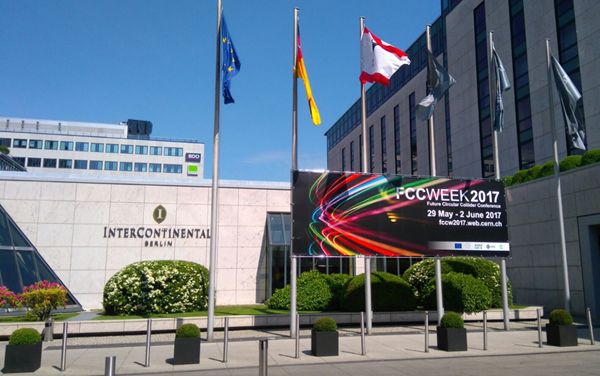 The Future Circular Collider (FCC) Study is an international collaboration of 111 institutes from 32 countries led by CERN, aimed at designing the particle accelerator that will replace the LCH once it has completed its operational lifetime.
The University of Liverpool is a key partner in FCC. The Head of the Physics Department, Prof. Carsten Welsch, is the communications coordinator of EuroCirCol, the EC-funded project that supports the research into the hadron-hadron scenario of the FCC.
Last week the FCC Study held its annual meeting in Berlin attracting more than 500 participants, including Prof Max Klein, who presented the status of the Conceptual Design Report of the FCC-he (hadron-electron collider) and Dr Uta Klein who gave a talk about the Higgs in the Standard Model and beyond.
With occasion of the FCC Week Prof. Welsch launched an ambitious media campaign to promote the project among the public.
The media coverage has reached global dimensions, with an article in Horizon Magazine being echoed in several publications and websites around the world. They included Phys.Org, IFL Science, science alert, among others, reaching an audience of several million people.
The news was also picked up by the BBC, who interviewed Prof. Welsh live on BBC Radio 5, and in BBC Radio Cambridgeshire, for the program Naked Scientists. Podcasts are available online.
Prof. Rolf Dieter Heuer, president of the German Physical Society and formed Director General of CERN, said in his welcome address to the FCC Week 2017: "If we want to build the Future Circular Collider, we need to convince not only the politicians but also the general public of the value of fundamental science."
This campaign has just brought the Future Circular Collider a bit closer to becoming a reality.