Summer Research Trip: Researching the Lasting Effects of the Chernobyl Disaster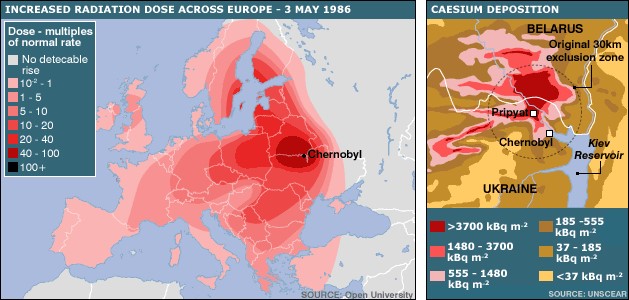 On the 10th of June, two of our masters students Olivia Voyce and Josiah O'brien will embark on a research trip across Europe to collect soil samples in order to assess the long lasting effects of the Chernobyl disaster. The event was devastating and radiation spread throughout almost all of Europe in some way. Although this tragedy occurred in 1986 its impacts still effect the far reaching corners of European continent. For example, the foods standard agency (FSA) placed a ban on 9800 UK farms producing livestock, with the final restriction only being lifted in 2012, twenty six years after the event.
Image: A map displaying travel locations for the trip
The project aims to categorise current soil samples from major cities, as well as outlying, rural areas, where funding for this type of research might not be possible. 13 different locations will be visited to collect samples, including Kiev, Budapest, Bratislava and Berlin to name a few.
Whilst in these locations the students will travel to rural areas and collect soil samples which weigh ~100g each. These will then be transported back to the UK, where they will be analysed by measuring gamma-ray spectra with germanium semiconductor detectors at The University of Liverpool. The analysis will involve searching for Cs-137 decay products and other naturally occurring isotopes such as those in the Uranium and Thorium decay chains. These results will also show any possible disequilibrium in the decay chains in the range of soil samples collected across Europe. Disequilibrium can follow environmental or climate related events and any geochemical activity and can be found in dried river beds as well as atop of mountains. Therefore some expedition work will be undertaken throughout this trip.
The students are really excited to begin their adventure which will be supported by the Physics Department and The Ogden Trust.