Liverpool wins Bubble Chamber Cup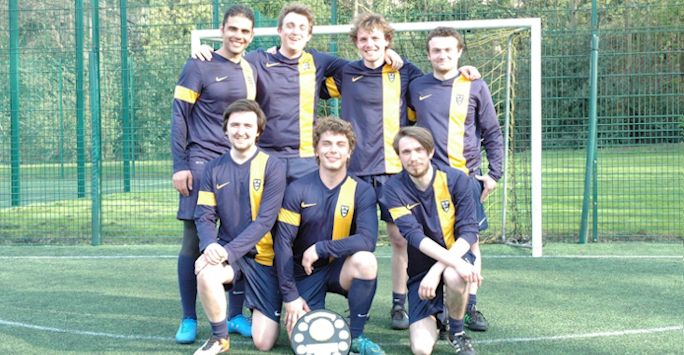 On Sunday, 9th of April, the High Energy Physics Bubble Chamber Cup, a football tournament held annually since 1975, took place at Sheffield. The HEP group of University of Liverpool entered two teams alongside eight others - two from Sheffield, Manchester and Birmingham and one from Queen Mary and University College London.
It started with a group stage where Liverpool A faced Sheffield B, Manchester A, Birmingham B and UCL, while Liverpool B was pitted against Sheffield A, Manchester B, Birmingham A and QM.
Liv A emerged from their group as the winners with three wins and a draw and thus faced Sheffield A in the semi-finals with the other semi-final being an all Birmingham affair. Liv B fought valiantly and managed to secure the fourth spot in their group with draws against Manchester B and QM. Impressively though, Liv B were the only team in the group stage ever to beat the goalkeeper of Birmingham A, a team that finished this stage with an astonishing goal difference of +20.
Both semi-finals turned out to be a dramatic affair and both went to the penalty shootout after Liv A – Sheff A game finished 3-3 and the Birmingham derby finished 1-1. Liv A and Birmingham B emerged victorious with the penalty shootouts finishing 5-3 and 4-5 respectively.
The final started as a fair but tense and nervous endeavour with both teams opting to focus more on defence. Halfway through the first half Liverpool were put 1-0 up by Stephen Farry. Although the rest of the match became progressively more open and despite some great attempts from the Birmingham players close to the end, which were superbly palmed away by Liam Fulton, the score never changed again and Liverpool were victorious. Final score: Liverpool 1 – 0 Birmingham.
The victory was made especially sweet by the fact that Liverpool had made it to the final for the fifth time in a row, yet had not managed to lift the trophy in the four prior occasions. This is the 4th time since the inception of the tournament that Liverpool HEP team has been crowned the champions of the Bubble Chamber Cup.
We would like to thank all the players in both Liverpool teams for their relentless effort throughout the tournament, thank the other teams for providing a fierce yet fair competition and, of course, thank the organisers – University of Sheffield HEP group, especially Calum Macdonald and David Woodward – for a very well organised tournament.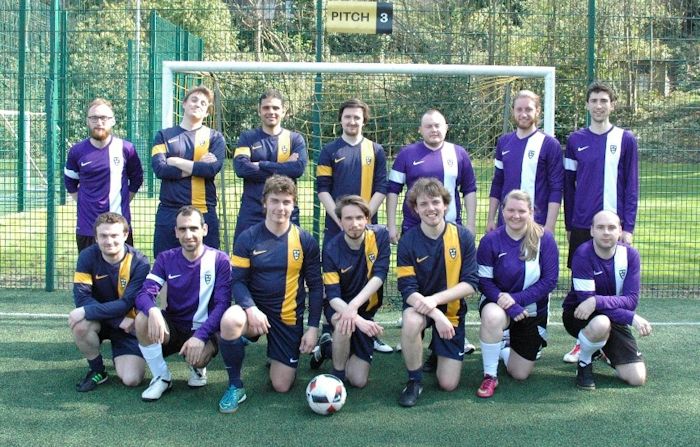 Liverpool Teams. Top (from left): Adam Parker*, Liam Fulton, Ahmed Omar, John Anders, David Morris, James Mead, Christopher Barry. Bottom: Stephen Farry, Georgios Christodoulou, Kārlis Dreimanis, Jonathan Tinsley, Matthew Buckland, Jaimie Platt**, Andrew Carroll. (*- University of Lancaster HEP, **- University of Liverpool NP)
More pictures can be found at: https://www.dropbox.com/sh/zc0ykvffdj5m4b6/AADHgcHKao_R8TX9EU-BW5i-a?dl=0
The full tournament table can be found at: http://hep.ph.liv.ac.uk/~kdreiman/BC17.ods