Liverpool Physics Olympics celebrates 25 successful years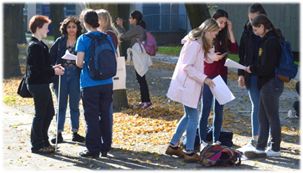 Saturday 15th October saw the annual Liverpool Physics Olympics hosted by the Department of Physics for the 25th year running. First staged in 1992, the event brings together 140 students from 35 schools across the North-West of England and beyond to take part in a day of events that require team work, problem solving and a lot of physics. As part of the Physics Olympics World Wide, they find themselves matching skills with competitors in Yale, Perth and Darmstadt.
Although staged as a competition, it is designed to be a fun day for A-level Physics students. The weather was kind to the participants and the autumnal sunshine allowed for some of the activities to be held outdoors.