Accelerator Science Marie Curie Initial Training Network update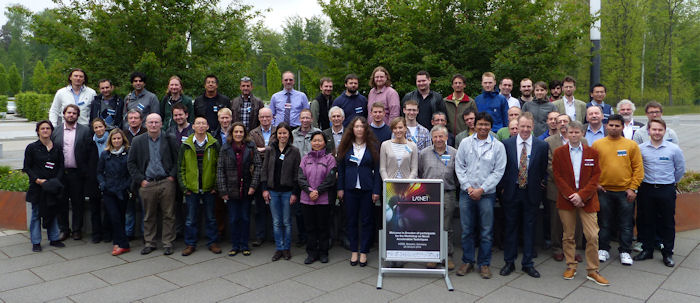 The Accelerator Science Marie Curie Initial Training Network team led by Prof Cartsen Welsch have had a busy period organising a number of network training events across Europe.
In total over 150 researchers from all different disciplines of accelerator science participated in three topical workshops run for the oPAC and LA3NET projects.
This kicked off with the oPAC and Instrumentation Technologies Libera workshop in Slovenia from 9-11 April. The workshop focussed on applications that use the Libera family of state-of-the-art instrumentation systems used for diagnostics and beam stabilisation at particle accelerators.
Next it was the turn of LA3NET with the 3rd topical workshop on Novel Acceleration Techniques hosted by the Helmholtz Zentrum Dresden-Rossendorf (HZDR) in Dresden from 27-30 April. In dedicated sessions high power laser acceleration, particle beam driven plasma wakefield acceleration and dielectric laser acceleration were all presented in detail over the three days and current challenges and future R&D plans discussed.
Most recently the oPAC workshop on Beam Diagnostics was hosted by CIVIDEC in Vienna, Austria from 7-9 May providing a perfect and stimulating environment for detailed discussions of the state-of-the-art in instrumentation for charged particle beams.

oPAC workshop on Beam Diagnostics, Vienna 7-9 May 2014‌