Adam McCarter wins prize at international conference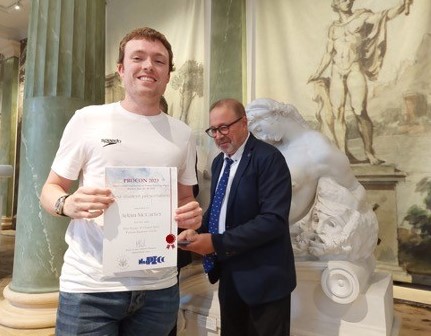 We are thrilled to extend our warmest congratulations to Adam McCarter, a Nuclear Physics Ph.D. student supervised by David Joss and Robert Page, who was presented with an award for the best talk by a young researcher at the 7th International Conference on Proton-Emitting Nuclei (PROCON23) held in Warsaw, Poland (25th – 30th June). The prize was funded by NuPECC, the Nuclear Physics European Collaboration Committee, which is an Expert Committee of the European Science Foundation.
Adam showcased his high-quality data on proton emission from the closed neutron-shell proton emitter 155Ta, together with his novel results on the observation of a microsecond multiparticle isomer in this exotic nucleus. The data were obtained from work performed at the accelerator laboratory of the University of Jyväskylä, Finland. His outstanding achievement was celebrated with the prize awarded at the conference dinner, as pictured below.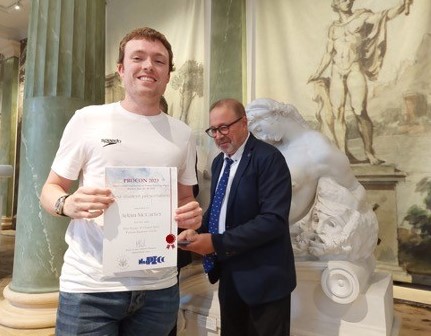 Congrats, Adam, on your success!