New physics lab spaces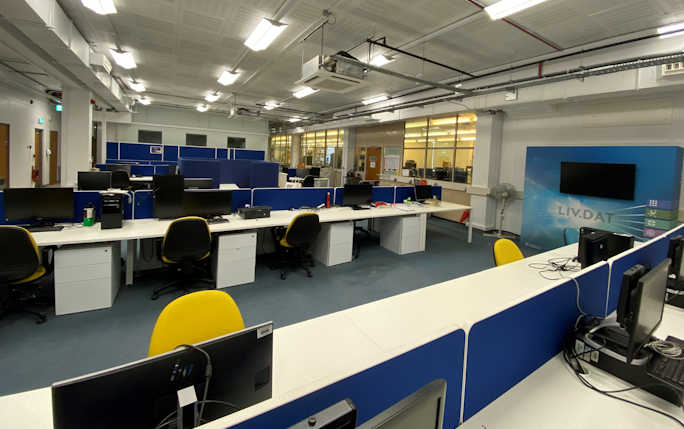 State of the art laboratories for cutting edge studies and industry collaboration
A new cutting-edge optics laboratory for interdisciplinary research, as well as a multi-purpose teaching space and industry hack space were opened in the Oliver Lodge Building this month. In addition, the doctoral student area on this floor has received significant improvements.
It has been a declared priority within the School of Physical Sciences to develop new areas of collaborative research, in particular between several departments. This requires flexible laboratory spaces that form the basis for cutting edge research programs.
Recently, the School was pleased to welcome Dr Brianna Heazlewood and her group to Liverpool from Oxford University. Her research topics include atmospheric chemistry, interstellar atmospheres and radical-surface interactions and are perfectly aligned with this priority. Her activities will be the first to benefit from the new laboratory space and her experimental setups have been installed over the past weeks.
Prof Rick Cosstick, Dean of Physical Sciences said: "We are thrilled to have Brianna and her group join us. Her research covers aspects of both Physics and Chemistry and will provide exciting new collaborative opportunities across the School. We are pleased that we can offer her some very high quality lab space for optical techniques, which will benefit both researchers and undergraduate students."
The physics department has an international reputation as leader in Big Science experiments through its particle, nuclear and accelerator science clusters. At the same time, the department has unique strengths in interdisciplinary R&D and in collaboration with industry.
The new lab space provides the space and facilities to develop solutions to industry-focused problems in research and development. It creates new opportunities for students to work on industrially relevant studies and to participate in interdisciplinary, cap-stone projects that involve also students from other departments and schools.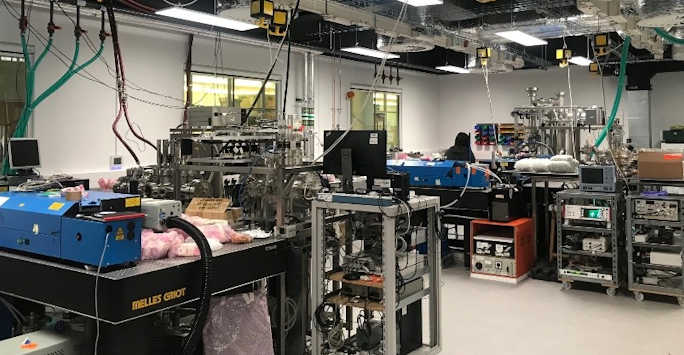 Image: New optics laboratory in the Oliver Lodge building.
The new multi-purpose lab space will support the department's research, impact and industry strategy and will be an ideal environment for collaborative projects with industry partners. Moreover, it will strengthen the department's teaching infrastructure for remote experiments and demonstrations.
Professor Welsch, Head of the Physics Department, added: "I am really excited about the additional support this new space will give to our research and in particular also our undergraduate and postgraduate students. It is real a game-changer to our laboratory environment in the Oliver Lodge building and will help further establish Liverpool as "go-to" destination for industry."
Once the department will have fully returned to campus, staff and students will be introduced to the new infrastructure.