A new earth-abundant cathode material for sodium ion batteries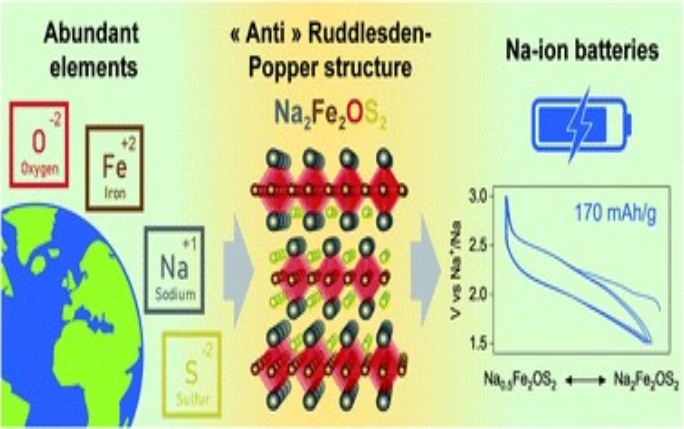 A paper titled: "Na2Fe2OS2, a new earth abundant oxysulphide cathode material for Na-ion batteries" that includes Liverpool Physics authors has recently been published in Journal of Materials Chemistry A.
In the 1970s, research materials to store energy was motivated by the energy crisis from increasing oil prices. This led to the Nobel prize-winning development of lithium ion (Li-ion) batteries which power everything from toys to our smartphones. The development of the Li-ion battery revolutionised consumer electronics and they are important for future energy storage systems due to the alarming rate of fossil fuel consumption. It is very likely that the future these batteries will be used for electricity-powered transportation and large-scale energy storage and with the ban of fossil fuel vehicles coming to the UK within the next 15 years, the research into these materials is as crucial as ever. However, it's uncertain that Li-ion batteries will be able to solve these issues as these technologies rely heavily on non-abundant materials including lithium, nickel or cobalt, the cost of these materials are also sensitive to market and political decisions. Therefore, the push to develop cheaper, earth abundant battery materials is very important to ensure that we will reach the targets for cleaner energy sources. The answer to this may be sodium-ion (Na-ion) batteries where the abundance of sodium in the upper continental crust is significantly higher than that of lithium (2.567 wt% vs. 0.0022 wt%, respectively) and is a cheaper alternative.
At Liverpool, a collaboration between the Department of Chemistry, the Materials Innovation Factory (MIF), Stephenson Institute for Renewable Energy and the Department of Physics has been researching just that. Jacinthe Gamon, Arnaud Perez and colleagues of the MIF synthesised a promising material composed of exclusively earth-abundant elements; sodium, iron, oxygen and sulphur - Na2Fe2OS2.The properties are investigated as a cathode material for Na-ion batteries through a combination of advanced characterization techniques. Leanne Jones and Tim Veal, in physics, contributed characterization using the national x-ray photoemission spectroscopy facility at Harwell XPS. Harwell XPS is a collaboration between Cardiff University, University College London and the University of Manchester which offers state of the art spectrometers for photoemission spectroscopy. The novel material studied shows some promising properties and the work will provide the basis of future developments of cheaper and earth-abundant element battery materials.