"A Tale of Two Tunnels" at the British Science Week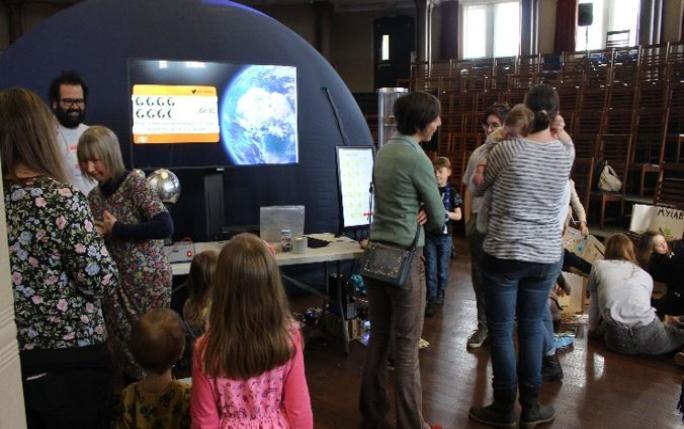 Just before the COVID19 shutdown, British Science Week was in full force and delivered on giving young people and families a final fix of science festival fun (at least for the time being).
A team of undergraduates from our physics Department joined Dr Chris Edmonds at the Victoria Gallery & Museum in Liverpool to talk to young people about "A Tale of Two Tunnels", the story of a particle accelerator built in Liverpool's underground loop line.
When most people think about particle accelerators, they immediately think about CERN and the Large Hadron Collider (LHC) which is famed for being housed in a circular tunnel deep below Geneva.
Liverpool is home to its own tunnel, albeit smaller, in the shape of the Wirral Line loop - making it the perfect place for the story to unfold. The four stations on the loop line mirror the four detectors on the Large Hadron Collider at CERN. The detectors are where particles collide and where physicists examine them to discover more about the nature of our Universe.
Dr Edmonds and his team have been delivering events in schools and community settings to introduce the project to local communities. Academics and physics students have told the story of accelerators by drawing parallels between the tunnels of the Large Hadron Collider and the Wirral loop line. Participants have then put forward their own ideas of what they think the final exhibition should include.
In the event that was now held, young people got hands on with magnet accelerators, Van de Graaf generators and fine beam tubes, before designing a lab of their own.
One of our fourth year students, Annie Dolan, who was a volunteer on the day, reflected upon her experience: "I especially enjoyed helping the young people design their own science labs as I introduced them to the components and equipment needed to run a lab, and then witnessed how their creativity and imagination expanded upon these basic ideas and resulted in very interesting designs. Some of which would require quite lengthy risk assessments before running any experiments! This workshop was very successful in piquing the curiosity of many of the children. They had lots of questions about real science labs and the scientists in them, which is why I got involved in this event, as it is rewarding to see younger people leave with a newfound interest in the subject."
The current lockdown situation may be the public engagement equivalent of leaves on the line, but there is light at the end of the two tunnels...
Many thanks to our fantastic students Adam Dad, Annie Dolan, Freya Haslam, Sophie Westall, Thomas George and Ty Mason!