Graduating in Style!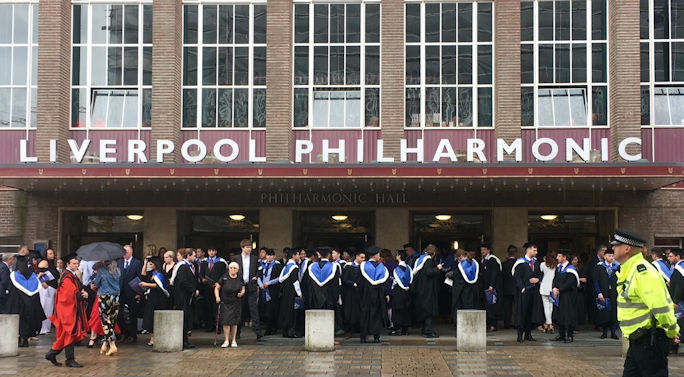 Friday 20th June marked the last day of the 2018 University of Liverpool Graduations. Outside the Philharmonic Hall, students from Physics, Maths and Chemistry were all dressed in blue gowns and waited eagerly with their families in the rain for the ceremony to begin.
After years of hard work, the graduates were awarded their degrees by Chancellor Colm Tóibín. The whole event was live-streamed and could be watched all over the world.
The celebrations didn't stop when the ceremony finished. The Physics and Maths Departments had organised a reception for the graduates, their families, friends and lecturers in the Central Teaching Laboratories. This is where our students spend a lot of their time during their first years and an ideal location to celebrate their degrees.
The reception gave a wonderful opportunity for lecturers to meet students' families and share the enthusiasm for their pupils' and children's achievements. Everyone was excited for the graduates to start the next chapter in their lives.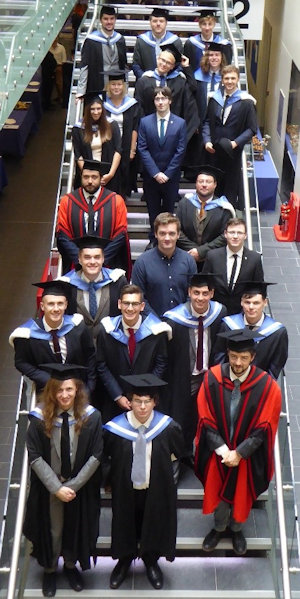 A special prize ceremony was held for students in the physics department to celebrate outstanding achievements. This included prizes for the best research projects, as well as best overall academic achievements in years 3 and 4. One particular prize, awarded to Andrew Alderwick, was the "Ed Gowland prize". This new award was established this year in memory of physics student Edward Gowland who sadly passed away last year. Edward had an inspirational dedication to physics and would have graduated this year. The prize named after him was awarded to a student who had to overcome particular challenges during their degree.
In addition to several undergraduate awards, the department awarded a prize for the best PhD project jointly to Dr Jaime Norman (Nuclear Physics) and Dr Yelong Wei (Accelerator Science).
The day's events were considered a great success and all of us in the Physics department would love to congratulate our 2018 graduates and wish them all the best for their future!
By Cecily Popplewell