Success in Staff Awards 2017: Mission to Mars wins in the "Greatest Contribution to the Student Experience" category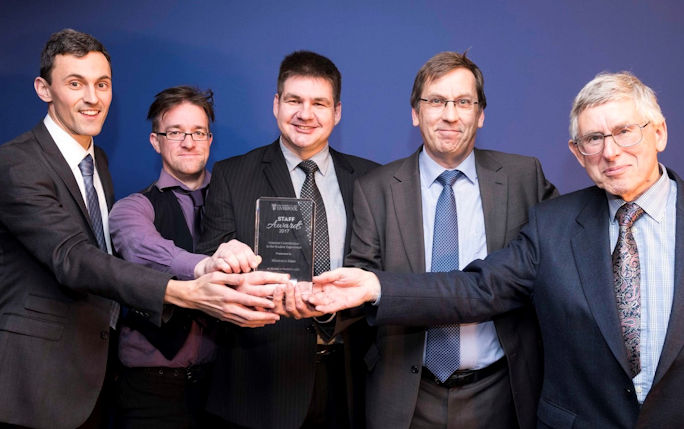 Hosted by Vice-Chancellor Professor Janet Beer, almost 300 staff attended the event where BBC Radio Merseyside presenter, Roger Phillips revealed the winners.
The Mission to Mars team consisting of all current and former "Flight Directors" for the Mission to Mars from the Department of Physics and the Astrophysics Research Institute has received the prestigious "Greatest Contribution to the Student Experience" award at the 2017 Staff Awards. The team consisted of Dr. Steve Barrett, Dr. Matt Darnley, Dr. Chris Edmonds, Dr. John Fry, Prof. Tim Greenshaw, Dr. Dan Harman, Prof. Rodi Herzberg, Dr. Barry King, Dr. Lynn Moran and Prof. Andy Newsam.
The Mission to Mars is a week-long project that gives the entire Physics student intake a week to come up with a detailed plan for a manned Mission to Mars and has run every year since the introduction of the new physics curriculum in 2010. The project takes place during week one of Semester 1 and replaces all other teaching activities for the week. Students work in teams on three competing missions under the guidance of a member of staff acting as 'flight director', and they cover all aspects of such a trip, including scope and scientific purpose, life support, trajectory, mass management, radiation shielding, and communication. They hold a press conference midweek and present their missions to the staff of the department who choose the winning mission. Variations in form of a "Race to Mars" or a "Rescue Mission to Mars" keep the concept fresh and challenging.
The concept, which was pioneered in Liverpool, has since been adapted by Gothenburg and Chalmers Universities in Sweden. This project has been hailed by students as a great way to transition from school to University while getting to know their fellow students and establishing a rapport with their lecturers.
After receiving the award, Prof. Herzberg said: "We would like to thank especially the hundreds of students who have successfully completed the missions, made them their own, and taken us on many wild journeys through the solar system. This award is a testament to their enthusiasm and engagement with their degree programmes."