WriteFest 2019
November is Academic Writing Month!
This annual event was established as a way to support academic writing via the #AcWriMo hashtag on Twitter. As part of our contribution to this global event, the LDC Development Team will be running writing events throughout the month of November, with the aim of bringing people together to raise awareness and celebrate academic writing.
The programme of events will consist of a series of workshops and webinars to help you write and four writing retreats to provide you with the time and space to write. We encourage all academics, research staff, and research students to join in the write-a-thon.
WriteFest19 is a collaboration with the Universities of Manchester, Sheffield, Exeter, Bristol, Kings College London, Keele, Sheffield Hallam, Liverpool, Newcastle, Derby and Adelaide. The festival aims to provide protected time and space for writing to help you work on: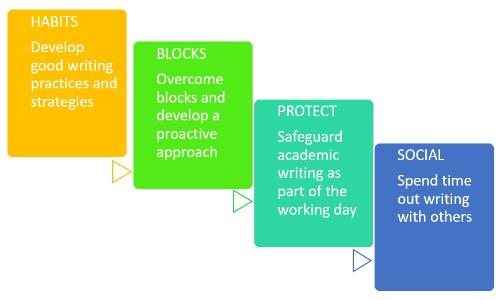 How to Get Involved
Start by searching for #AcriWriMo on Twitter for inspiration and tips from fellow contributors.
Use the #AcWriFest19 hashtag to share your progress with other researchers at Liverpool and across other UK Universities.
Book onto one of our workshops or webinars to learn new skills and gain advice.
Join us during our WriteFest Writing Retreats to put your learning into practice and keep motivated through peer support.
Writing Retreats
To attend a writing retreat, choose the ones(s) that suit your schedule best and book your place through Eventbrite. Then, simply bring your laptop, or pen and paper, along and get writing. This 1 min video outlines what the retreat sessions will, and won't involve.
This year, we are hosting four weekly two-hour writing retreats for up to 24 people. The retreat provides protected academic writing time for you to accomplish our writing goals. We sit together in a room and use peer accountability to help us avoid the distractions of email, social media, the internet, impending meetings, tea making, paperclip sorting, desk cleaning, lab work, or any other procrastination techniques you've been employing in your everyday working practice.
Please arrive in plenty of time, and stay for the full session.
Don't forget to bring cables, chargers, adaptors and accessories to help keep you writing without disruptions.
**BOOKING IS ESSENTIAL**
WriteFest19 programme of events
Resources
Our website has a wide range of guides and resources to explore. You may wish to start with our Communication: Writing theme webpage: https://www.liverpool.ac.uk/pgr-development/themes/writing/
Writing retreat facilitator's guide: You may also be interested in running your own writing retreats, and to help with this the Think Ahead team at Sheffield University have put together a guide to give you an idea of how to structure and facilitate the event. If you run a retreat during November, please let us know!
Articles about Academic Writing: Write Fest founder Dr. Kay Guccione has also collected articles and blogs about writing on Scoop It!