Fourth DITANET Topical Workshop: High Intensity Proton Beam Diagnostics
The DITANET Topical Workshop on High intensity Proton Beam Diagnostics took place on 26th and 27th September, 2011 at Massy close to Paris. In all there were 35 participants from 10 countries who contributed to the workshop and made it a truly international event.
The first day of the workshop was dedicated to the presentation of high intensity proton and deuterium facilities. Latest diagnostics measurements in SNS, the only high intensity proton beam facility in operation, were presented. This was followed by presentations on the current status of the Linac-4, FAIR, ESS, SPIRAL 2, LIPAc, and the MYRRHA project. Day one was completed by an open discussion session.
Four participating DITANET early stage researchers started off the second day of the workshop, presenting their work in the frame of high intensity proton beam diagnostics. These included presentations about reconstruction of the two-dimensional beam distribution based on tomography techniques, challenges that have to be faced during the development of an IPM for high intensity proton accelerators like the LIPAc, the possible application of a gas curtain as a non-interceptive diagnostics device and thermal studies of slits for emittance measurements at Linac-4.
During 'tutorial session', it was pointed out that beam diagnostics is of critical importance for commissioning and operation of high intensity accelerators. However, the space available for diagnostics is as well greatly limited to allow for a compact accelerator design. This was followed by two talks about beam loss monitoring systems and finally, results of beam energy measurements at SPIRAL 2 and the single steps leading up to these measurements were presented. The workshop concluded with a general discussion session.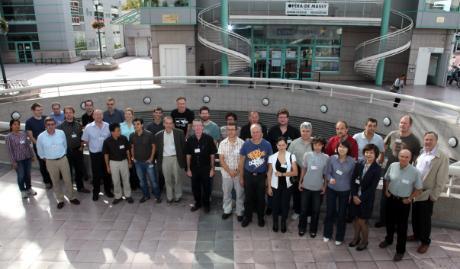 Throughout the workshop it was stressed that there still is a considerable amount of work to be done in the field of beam diagnostics in order to cope with the increased demands of high intensity machines. The ESS, for instance, intends to roughly quadruple their current beam diagnostics staff within the next year and counts on DITANET students to fill these positions.