Doctor of Clinical Psychology
Return to top
Course overview
The Doctorate in Clinical Psychology course is a three-year, full-time programme accredited by the British Psychological Society. When you graduate, you'll be eligible for Chartered Clinical Psychologist status, allowing you to practise as a Clinical Psychologist within the NHS.
Introduction
This programme offers clinical placements throughout the year, an academic course and an opportunity to undertake your own research work and dissertation.
Local NHS clinical psychology services on Merseyside offer a particularly rich variety of specialist placements at facilities such as Ashworth High Secure Hospital, the Windsor Clinic (Addictions), the Walton Centre for Neurology and Neurosurgery
You will also have the opportunity to work with many esteemed practitioners in their fields such as; family therapy, paediatric liaison, brain injury rehabilitation and eating disorders.
Alongside clinical placements, time is also devoted to the major theoretical paradigms in clinical psychology (e.g. cognitive-behavioural, cognitive analytic therapy, psychodynamic, and systemic), that continue to inform and influence clinical practice.
As you progress in your programme, the time devoted to the formally taught component in Year one with an intensive teaching block reducing through Years two and three as your own research and clinical practice provide the hands-on experience needed for registration to practice.
You will gain in-depth knowledge in the field of clinical psychology and contribute to the development of the mental health care services relating to the elderly or children and young adults from poor households.
In recognition of the challenging and, at times, demanding nature of the programme, your training is underpinned by a range of support structures.
You'll have regular access to an Academic Advisor(a member of the core team) who'll support your clinical, academic, research, personal and professional development.  You'll also have regular contact with a Mentor, a qualified clinical psychologist working in the NHS who'll help you navigate personal learning and career objectives. In addition there'll be regular Personal and Professional Development (PPD) sessions where you'll meet with the same group of colleagues to discuss and seek support for personal, ethical and professional issues. You'll have support from a specialist DClinPsych. support librarian during the programme.
Candidates must apply through Clearing House – click the "Apply Now" button for instructions and full requirements (including Right to Work).
Who is this course for?
This course is designed for students who already have an honours degree in psychology or a conversion degree pass.
This programme is suitable for you if you want to develop your clinical, professional, academic and research skills further to doctoral level, while providing you with a high level of independence, and equipping you to practice competently as a qualified clinical psychologist in the NHS.
What you'll learn
The programme is organised within a series of teaching units covering the theoretical and research bases of clinical psychology including;
Adult, child and adolescent clinical psychology
Intellectual disabilities
Clinical assessment methods
Neuropsychology
Psychopharmacology
Forensic clinical psychology
Global mental health and human rights
Behaviour, cognition and emotion in therapy
Course content
Discover what you'll learn, what you'll study, and how you'll be taught and assessed.
Year one
The programme begins with an introductory academic block of five weeks' duration, designed to equip you with the basic skills necessary for your first placement experience.
Among the taught modules you'll be studying are:
Addictions, Behaviours and Cognition, Human Rights, Human Sexuality, Family and System Therapies, Child and Adolescent Psychology, Learning Disabilities, Psychology of Older Adults,  Psychological Models and Theories, Psychopharmacology, Psychosis and Recovery, Third Wave Therapies.
Year One also introduces you to a range of methods and issues arising in clinical research, clinical skills and assessment, Mersey Care induction, and ethical and social issues.
Programme details and modules listed are illustrative only and subject to change.
Year two
In your second year your modules will focus on;
Children, Young People and Family, Eating Disorders, Personality Disorders, Intellectual Disabilities, Orientation taught modules
Clinical Skills / Research Presentations, Family and Systemic Therapies, Third Wave Therapies
Personal and Professional Development, Professional Issues
Research Training Sessions, Presentations and Conferences.
In Year two the curriculum aims to develop research skills and knowledge in conducting empirical studies and literature reviews, critiquing research, as well as understanding recruitment and ethical issues in clinical research applications.
Programme details and modules listed are illustrative only and subject to change.
Year Three
The taught modules you'll be studying in Year Two will include;
Addictions, Forensic Practice, Psychosis and Recovery,
Clinical Skills
Enquiry-Based Learning (from practice to research),
Research Sessions
Optional seminars
Professional Issues
Personal and Professional Development
Research Training Sessions
Research Presentations
Research Conference
Programme details and modules listed are illustrative only and subject to change.
How you'll learn
Much of the teaching on the core psychological topics are completed by the end of the first year, allowing you to make maximum use of this knowledge in subsequent placement experiences.
The programme is founded on giving approximately equivalent time to the major theoretical concepts (e.g. cognitive-behavioural, cognitive analytic therapy, psychodynamic, and systemic), that inform and influence clinical skills, theory and practice.
You'll be allocated placement experiences so that you gain 'hands on' experience of CBT plus at least one other therapeutic approach. The time devoted to the formally taught component decreases as the programme progresses through years two and three.
The clinical practice component of the training programme allows  you to apply and supplement the learning and skills gained through the academic programme and which will enable you to obtain the qualification required for registration to practice.
How you're assessed
Specific methods employed for assessment include:
Essays
Clinical case research investigations
Clinical services research investigations
Group presentation and teaching assignment
Dissertation
Viva voce examination
Placement evaluation report
Clinical logbook
E-portfolio
Case presentations
Application for ethics approval
Research proposal
Liverpool Hallmarks
We have a distinctive approach to education, the Liverpool Curriculum Framework, which focuses on research-connected teaching, active learning, and authentic assessment to ensure our students graduate as digitally fluent and confident global citizens.
Course options
Studying with us means you can tailor your degree to suit you. Here's what is available on this course.
Your experience
Our experts in the Department of Psychology connect the dots between the mind, brain, and human behaviour. And our students are immersed in this world-leading research from day one, whether beginning a psychology career, or looking to qualify as a professional psychologist. The department has links with many special interest groups/regional DCP faculties and other post-qualification activities throughout the North West.
Virtual tour
Supporting your learning
From arrival to alumni, we're with you all the way:
An exciting place for postgraduate study
Internationally recognised qualifications with a wide range of programmes
Access to some of the best specialist units in the UK
World-leading excellence in research and research-connected teaching
The MSc Investigative and Forensic Psychology is renowned worldwide and attracts a large number of international students and visiting speakers each year
Provides specialist training with taught and research components
Work alongside internationally-renowned academic researchers and experts in their field.
Chat with our students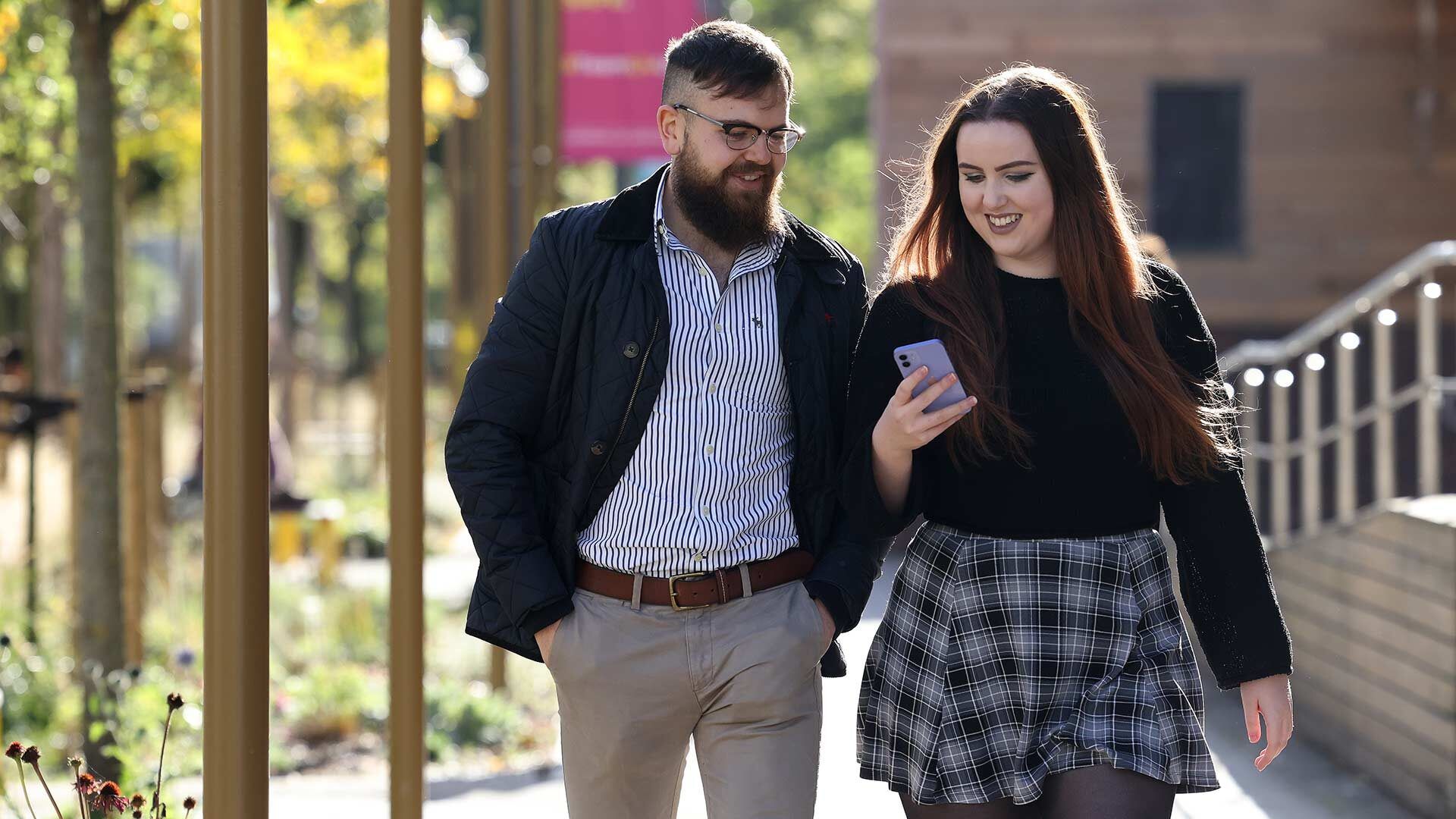 Chat with our students
Want to find out more about student life?
Chat with our student ambassadors and ask any questions you have.
Careers and employability
Graduate from this programme and you'll be eligible for Chartered Clinical Psychologist status, allowing you to practise as a Clinical Psychologist within the NHS. The Doctorate in Clinical Psychology programme has an excellent record for employment of graduates.
Your future
Clinical Psychology is an expanding profession and graduates will have the opportunity to work within a variety of different settings within the NHS such as hospitals, local clinics and health centres and in community mental health teams.
As you gain more experience in practice you may decide to specialise in a particular area of work, or progress to management. Some graduate decide to pursue careers that combine both leading research and clinical activity.
Fees and funding
Your tuition fees, funding your studies, and other costs to consider.
Additional costs
We understand that budgeting for your time at university is important, and we want to make sure you understand any course-related costs that are not covered by your tuition fee. This could include buying a laptop, books, or stationery.
Find out more about the additional study costs that may apply to this course.
Scholarships and bursaries
We offer a range of scholarships and bursaries to provide tuition fee discounts and help with living expenses while at university.
Entry requirements
The qualifications and exam results you'll need to apply for this course.
Your qualification
Requirements
Postgraduate entry requirements

To join this programme, you must have a 2:1 honours degree, or above, or equivalent, as well as Graduate Basis for Chartered Membership (GBC) from the British Psychological Society and clinically relevant experience.

You must have the unrestricted right to reside, study, train and work in the UK.

Acceptance onto the programme will be subject to satisfactory health screening and criminal record checks.

International qualifications

If you hold a bachelor's degree or equivalent, but don't meet our entry requirements, a Pre-Master's can help you gain a place. This specialist preparation course for postgraduate study is offered on campus at the University of Liverpool International College, in partnership with Kaplan International Pathways. Although there's no direct Pre-Master's route to this DClinPsychol, completing a Pre-Master's pathway can guarantee you a place on many other postgraduate courses at The University of Liverpool.
English language requirements
You'll need to demonstrate competence in the use of English language. International applicants who do not meet the minimum required standard of English language can complete one of our Pre-Sessional English courses to achieve the required level.
English language qualification
Requirements
IELTS
F
View our IELTS academic requirements key.
International Baccalaureate

Standard Level 5

TOEFL iBT
90 or above with minimum scores in components as follows: Listening and Writing 21, Reading – 22, Speaking 23.
INDIA Standard XII
National Curriculum (CBSE/ISC) - 75% and above in English. Accepted State Boards - 80% and above in English.
WAEC
C4-6
Hong Kong use of English AS level
C
More about life in Liverpool
Discover more about the city and University.
Why study at Liverpool?
Liverpool bursts with diversity and creativity which makes it ideal for you to undertake your postgraduate studies and access various opportunities for you and your family.
Accommodation
To fully immerse yourself in the university experience living in halls will keep you close to campus where you can always meet new people. Find your home away from home.
Fees and Finance
Discover what expenses are covered by the cost of your tuition fees and other finance-related information you may need regarding your studies at Liverpool.
Contact us
Have you got a question? Email the admissions team.
If you have a course-specific query, you can get in touch with the programme team.