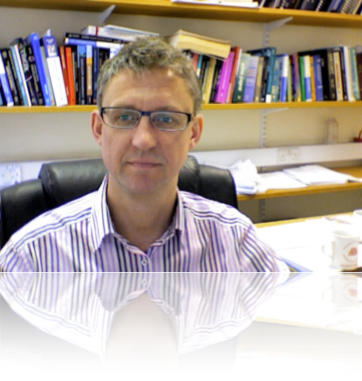 Dr
Andrew
Carnell
BSc PhD
Reader
Chemistry
Research
Research Group Membership
Research Grants
Development of oxidases for synthesis of bioplastics intermediates
BIOTECHNOLOGY & BIOLOGICAL SCIENCE RESEARCH COUNCIL (BBSRC)
March 2021 - February 2023
Remote functionalisation of cyclic ketones using cascade biocatalysis reactions
BIOCATNET (UK)
August 2018 - January 2019
Enzymatic methylation of bio-derived aromatic diacids as bioplastics precursors
BIOCATNET (UK)
November 2017 - June 2018
Synthetic biology approaches to natural sunscreens
BIOTECHNOLOGY & BIOLOGICAL SCIENCE RESEARCH COUNCIL (BBSRC), UNILEVER PLC (UK)
March 2017 - September 2017
Scale-up and commercial evaluation of the manufacture of bio-based FDCA from HMF
INNOVATE UK (UK)
October 2017 - September 2019
Genome Mining for Bacterial Aldehyde Oxidases
BIOTECHNOLOGY & BIOLOGICAL SCIENCE RESEARCH COUNCIL (BBSRC)
August 2015 - February 2016
Evaluation of the technical and commercial feasibility of the manufacture of bio-based polyester from cellulose derived hydroxymethyl furfural
BIOTECHNOLOGY & BIOLOGICAL SCIENCE RESEARCH COUNCIL (BBSRC)
June 2015 - May 2016
Small items of Research Equipment at the University of Liverpool
ENGINEERING & PHYSICAL SCIENCES RESEARCH COUNCIL (EPSRC)
November 2012 - March 2013
Development of an enzyme-catalysed desymmetrization of prochiral ketones.
BIOTECHNOLOGY & BIOLOGICAL SCIENCE RESEARCH COUNCIL (BBSRC)
July 1998 - July 2001
Cloning and characterisation of enzymes required for the in vitro synthesis of the antimalarial artemisinin.
MEDICAL RESEARCH COUNCIL (MRC)
September 2002 - August 2003
CASE Studentship: Inhibitors for new protein targets in cancer, cystic fibrosis and neurodegenerative diseases
MICROCAL (UK)
August 2009 - July 2013
Inhibition of a-methylacyl CoA racemase (AMACR1A): a potential therapy for prostate cancer.
NORTH WEST CANCER RESEARCH FUND
August 2009 - July 2013
Research Collaborations
Dr Igor Barsukov
Internal
Co applicant on BBRSC grant re talin biology
Prof Lu-Yun Lian
Internal
Characterisation and inhibition of α-methylacylCoA racemase
(AMACR1A): a potential therapeutic target for prostate cancer. Grant from NWCRF 198K, PDRA 2009-2012.
Professor William Isaacs
External
: John Hopkins University
Testing biologicallly active compounds

Sacha Ferdinandusse
External
: University of Amsterdam
enzyme inhibitions studies