AVA Fellow Interviews – Spotlight on Ilia Blinov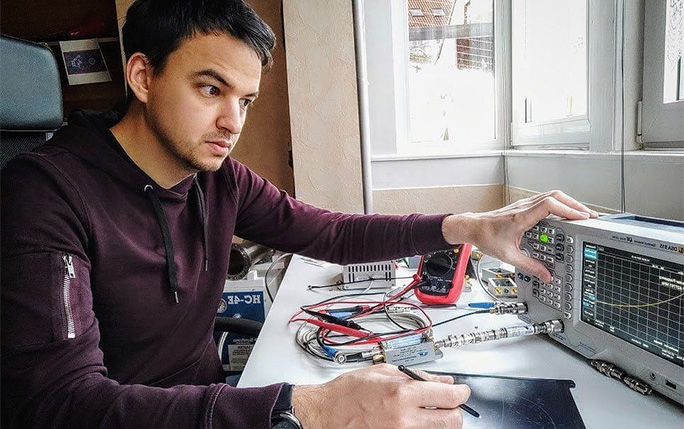 Now the formal period of the project has come to an end, this is a good moment to look back at the Fellows' time with AVA. We have asked the Fellows a few questions as part of the AVA Spotlight Interview series; this will give you a more personal insight into their motivation, achievements and outlook.
For this interview we have spoken with Ilia Blinov who joined the AVA Network in December 2017. Based at Stahl Electronics (DE), he has been working on the development of a novel detection system, which will be easier to operate, rugged under adverse conditions as found at ELENA and FLAIR and feature much higher detection sensitivity, down to single particles.
What did attract you to the AVA network? Has it fulfilled your expectations?
"I believe that for all AVA fellows, participating in this program is equivalent to winning a lottery ticket. I already had several years of experience in electronics development, and I was beginning to feel a certain ceiling over my head in a professional sense. AVA has given me a huge boost in my knowledge and professional skills, in addition, it is a great chance to live in another country, learn the local culture and language, for which I am very grateful to the AVA program."
Why did you choose to go to Stahl-Electronics?
"I've always liked working in small companies, it gives me more freedom of choice in the development process and gives me closer contact with colleagues. At Stahl-Electronics, we simultaneously develop devices and conduct research in the semiconductor field, as well as advise on the design of an experiment. You don't have to get bored, there is always something new, something that you do for the first time, I really like it. The location of the company is worth mentioning, it is located in the wine region of Germany, among the hills, vineyards and cozy villages with a traditional flavor."
Can you explain in a few words what your project was about and what have you achieved?
"During the experiment, we can't look inside the setup, and even if we could, we still wouldn't be able to see the particles. Our eyes in this case are super-sensitive detectors. The success of the experiment and the quality of the data that we can get directly depends on detectors. This is especially important if we are working with a very small number of rare particles, such as antimatter particles. That's exactly why we created this detector. The biggest challenge in designing devices is radio frequency noise, the signals we want to amplify are so small that they can simply get lost among the internal noise of electronic components. To solve this, we cool our detector to very low temperatures, but even then there is a problem. The electronics begin to work according to different laws, or everything stops working at low temperatures. But we were very lucky and we were able to find such electronic components and conditions to make our detector work. I am very happy with our result; it is probably one of the most sensitive detectors in the world at the moment."
What has AVA provided you professionally?
"You know, there are not so many places on earth where you can do cryoelectronic, especially with good mentors. For the many things that I knew only in theory, not only could I check this in practice, but I was also able to create many new solutions. It is also worth mentioning the large number of conferences, workshops and schools that were organized during the program, which is really great. It inspires you with new ideas and plans, gives you a positive attitude and confidence in your abilities. I also realized how important good communication is. Before that, it seemed to me that this is an obvious thing, a line that is present in every resume or job posting by default. But after getting into a dense international environment, and interacting with scientific groups from all over the world from China to the United States, I realized that everything is not so simple, in fact. And you know, I think I have become much better at making new connections, it turned out to be very valuable to me."
Can you say something about your next career move?
"I very much hope that 2021 will open up more career opportunities, although for many the current situation is not encouraging. I know that some programs are currently suspended, many companies are now reluctant to resume the process of hiring new employees. Nevertheless, I feel very confident about my career future after the AVA project. In any case, it will be a combination of research and applied engineering."
What will be your most cherished memory from AVA?
"In fact, it is difficult to pick out a single memory. In my smartphone there is a function that sometimes shows me photos taken by me in the past. Among them many photos from various events with AVA fellows. These are probably the most memorable moments, we spent many wonderful days together, and it's great that AVA was, amongst other things, filled with positive emotions, amazing humour and support."