Miha on his time as an AVA Fellow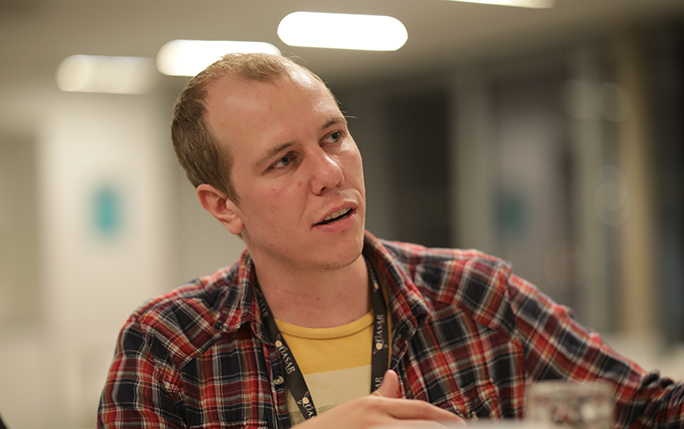 Miha Červ recently finished his AVA Fellowship. During his time with AVA he worked on novel diamond-based detector for beam characterization. In particular, Miha studied the use of μm ultra-thin diamond layers as beam position and profile monitors in low energy antiproton beam lines. Now he has started a new chapter in his career, we look back on his time as an AVA Fellow and what happened next.
Can you give us a brief overview of your time with AVA?
It was three years and three months ago, when I started working at CIVIDEC as an AVA fellow. CIVIDEC is a Vienna-based company that specializes in the production of diamond detectors. My main role there was as an FPGA developer. Field-Programmable Gate Arrays (FPGA) are integrated circuits designed to be configured after manufacturing and have found their place in particle physics experiments because of their adaptability, efficiency and possibility of parallel real-time signal processing.
Here I had to opportunity to apply everything that I learned at the university into practice in the real world. My time at CIVIDEC was very valuable and taught me a lot. Besides obtaining new knowledge about detectors and insight into the world of particle physic, I also gained important soft skills. This was my first employment and I learned how to really work in a team. Since CIVIDEC is a small company, each team member covers their part of the development. That also taught me the importance of good communication within the team, and to rely on other people to work together.
Once you completed your Fellowship, what happened next?
After finishing my contract, I started working as an FPGA developer at MedAustron, a cancer treatment facility in Wiener Neustadt, near Vienna. I have to say starting a new job was a bit daunting at first. The preparations for the project I was assigned to were already well under way and other team members involved were already very knowledgeable about the matter. When I started, there was a lot of information to take in. I used what I learned during my time at CIVIDEC, broke down the content into digestible pieces and continued step by step. I am now pretty much up to speed and have started to contribute to the project. What also helped me was the knowledge obtained during an event organized by the International Training Networks AVA and OMA. One of the things I learned here were the principles of ion therapy.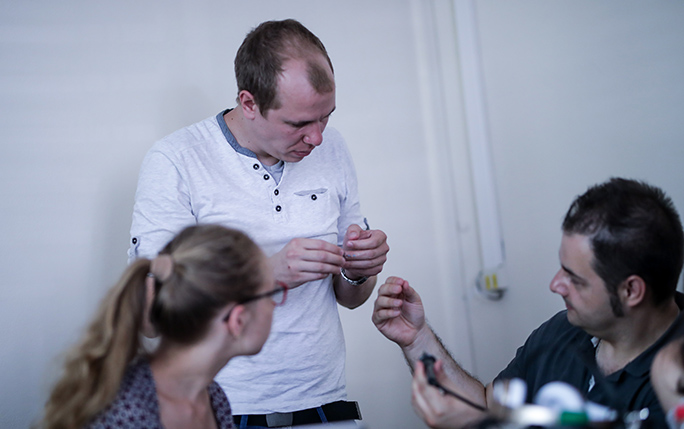 Miha (middle) with AVA Fellows Dominika Alfs (left) and Mattia Fanì (right) during a training day with Stahl Electronics. (© I. Prasad)
Going back to AVA, what is one of the things you really liked about the project?
An important aspect of AVA I found was the Fellows. I was impressed by how knowledgeable and sophisticated everyone is while also being down to earth and good company to spend time with. Seeing how good the Fellows are at what they do made me very motivated to work on this project. I also realized that they appreciate what I do and knowing that made me feel better. One of the aims of the project, as I understand it, is to build a network of scientists, but the side effect of this was also to build friendships. I really enjoyed spending time together and I always looked forward to all the workshops and schools we attended. We still have one more AVA event lined up at some point in the near future, and I really hope we stay in touch even after the AVA project is finished.
What did AVA bring you?
I would say that being a part of AVA was through and through a very positive and valuable experience. I think that wherever I go in life, it will always be the time at AVA, which started my professional career, that will influence the next steps I take.