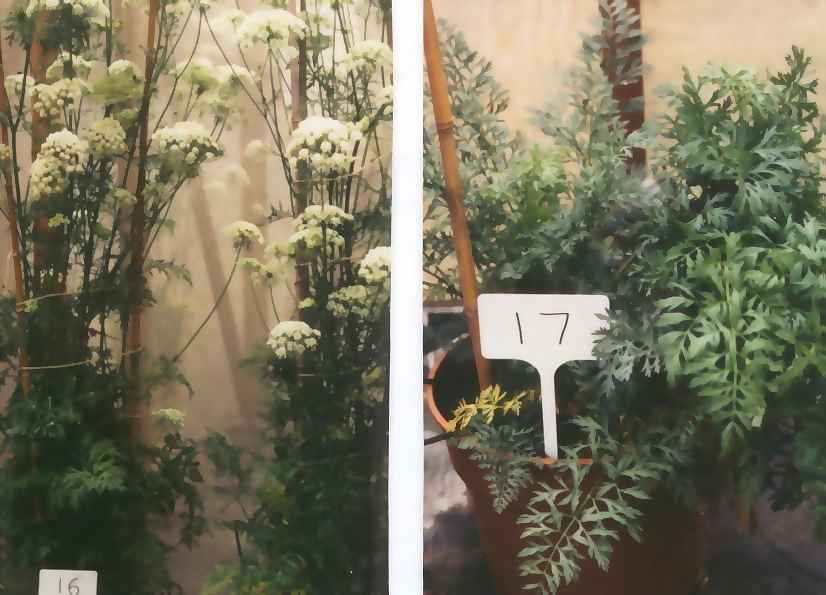 Carrot family lines regenerated from tissue-culture. Both have been grown for 12 weeks in a glasshouse after 10 weeks vernalisation. Family 16 (LHS) are flowering abundantly, while Family 17 (RHS) have not flowered.
Plant tissue cultures isolated from even a single cell can show variation after repeated subculture. Distinct lines can be selected with their own particular morphology and physiology. It suggests that the tissue culture contains a population of genotypes whose proportion can be altered by imposing an appropriate selection pressure. This variation can be transmitted to plants regenerated from the tissue cultures, and is called somaclonal variation. It provides an additional source of novel variation for exploitation by plant breeders.
The carrot cultivar Fancy was used in our laboratory to generate a series of 197 regenerant progeny lines. These plants showed considerable morphological variation. They were tested for resistance to the leaf spot pathogen Alternaria dauci, which can cause total necrosis of mature leaves. They had a greater degree of variation in response than the parental cultivar, including some more resistant lines.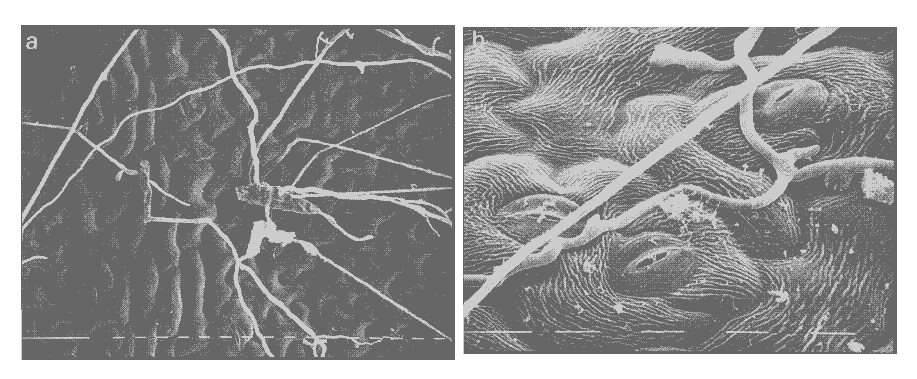 Scanning electron micrographs of surface of carrot leaf 3 days after inoculation with A. dauci. (LHS) germination from multiseptate conidiospore (RHS) penetration of hyphae through epidermal surface rather than through stomata. Scale bar = 10 micrometres.
One symptom of the disease is loss of chlorophyll and total soluble polyphenol compounds. These reduce to a low level 6 days after inoculation of excised leaves with A. dauci spores when compared with uninoculated leaves. Regenerant progeny with high chlorophyll levels maintained higher chlorophyll levels after challenge with A. dauci. After self-pollinating selected high- and low-chlorophyll regenerant plants, this characteristic was inherited by their progeny, suggesting that the capacity to resist this infection is inherited.
For publications describing this work, follow this link
To return to the top of this page, follow this link.