PS Majestic 1827
Wooden paddle steamer built 1821 Scott &amp Sons, Greenock, 240t
138 x 23 x 12 ft. Engines: 2 50hp side-lever engines.
Built for the Clyde - Liverpool (via Portpatrick, Isle of Man) trade by Glasgow-Greenock men.
Owned 1825 Glasgow & Liverpool Steam Packet Co, Glasgow
Owned 1834 London and 1846 Trieste.
Aground in Luce Bay on 31 May 1827. All saved. Refloated.
Lancaster Gazette, Saturday 09 June 1827 (from Dumfries Courier)
Shipwreck of the Majestic Steam-Boat. Our Stranraer correspondent writes as follows: This morning, 31st May 1827, the Majestic Steam Boat from Liverpool to Clyde, ran on shore about two o'clock, at Ringdow [now Ringdoo] Point, in the Bay of Luce - The passengers and crew are safe, but it is doubtful if the boat will be got off. The weather was thick and it was supposed that this accident happened by mistaking the Bay of Luce for the Irish channel.
&nbsp This day, the 2nd June, the Steam Boat has not been got off. She came on at high water. So soon as it was known that she had struck, it was attempted to get her off by the engine, which would have effected the purpose, but unfortunately the wind blowing on the land, and the sails being set, forced her on. She is now sunk about four feet in the sand.
PS Majestic in service, as a Royal Mail Packet in 1822 when King George IV visited Scotland, off Gourock: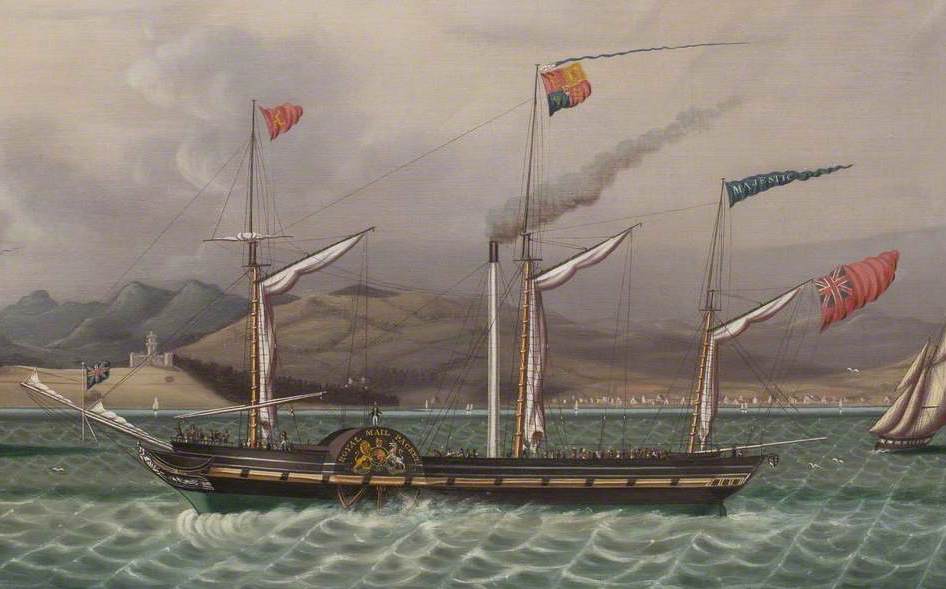 Postscript The Majestic continued in service, so must have been refloated after this mis-hap:
From The Scotsman - Wednesday 20 June 1827
&nbsp The Majestic steam-packet, which had been onshore in the bay of Luce, has been got off, and arrived at Greenock on Friday, having sustained very little injury.
The Clyde-Liverpool service had been inaugurated by the Robert Bruce. She was soon replaced by the larger vessel: the Majestic.
&nbsp There were also rival services using the City of Glasgow and St. George [both wrecked at Douglas]