Just North of Skerryvore I came across a pod (or is it group, school,...) of basking sharks. There must have been over 10 of them - several being very close to one another.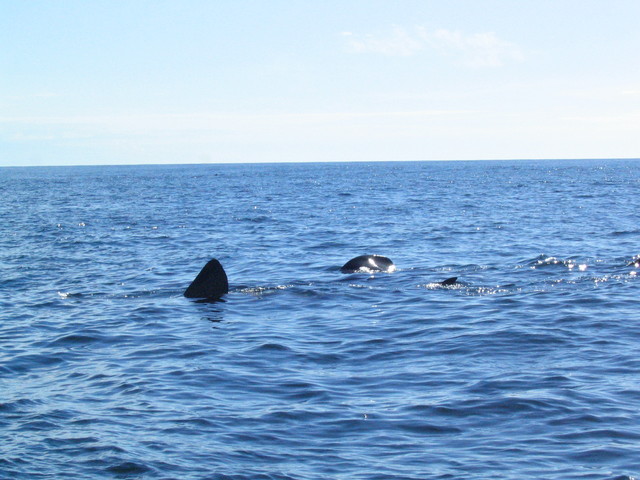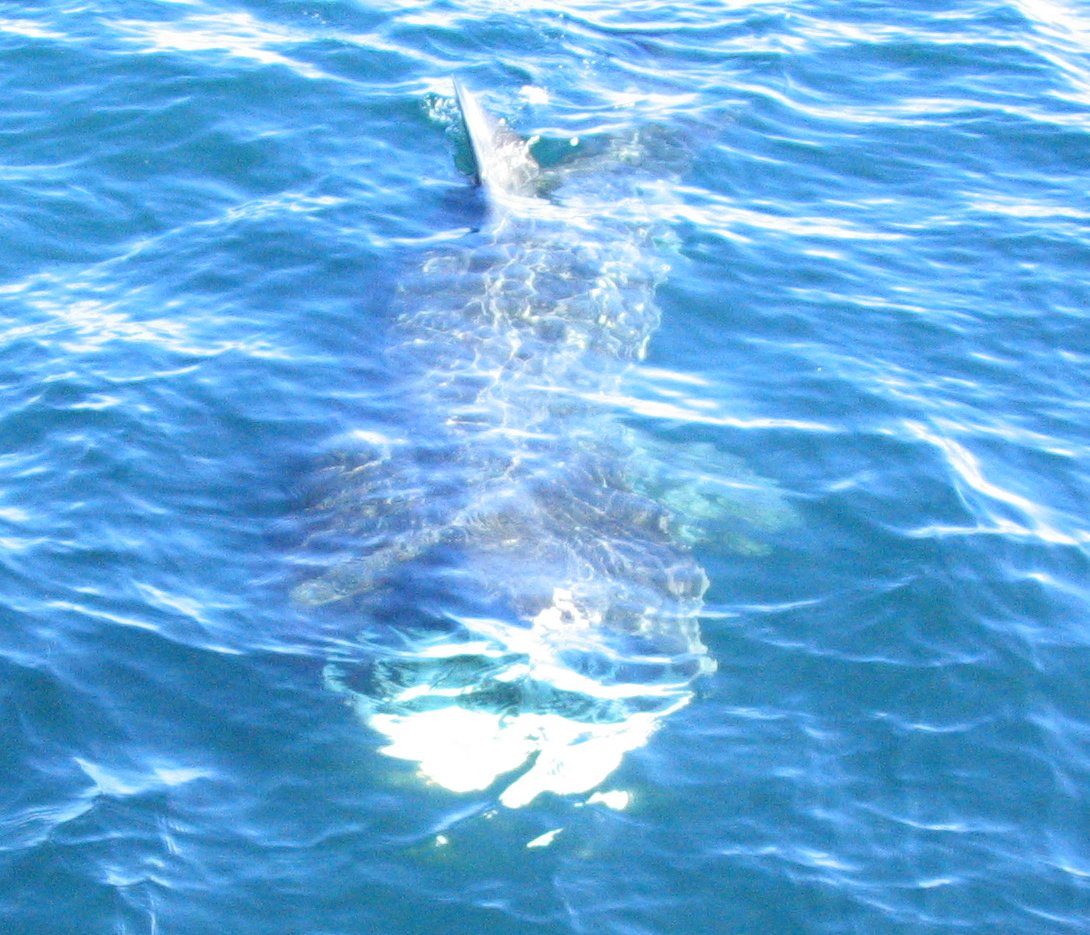 For more on basking sharks (big files) see here
Ashore at Castle Bay (temporary berth alongside the ramp) for beer and food (no shops open). Then on into the Sound of Barra to an anchorage Inner Oitir Mhor (basically just off the airport runway - which is itself the beach).
Wednesday 24 June. This far North in mid-summer it doesn't get fully dark at night. Here is the view from the anchorage at dawn (4.30am).
Through Barra Sound into the open Atlantic. Five foot swell but little wind so no problem. St. Kilda in view - into Village Bay by 13.30. Destination accomplished.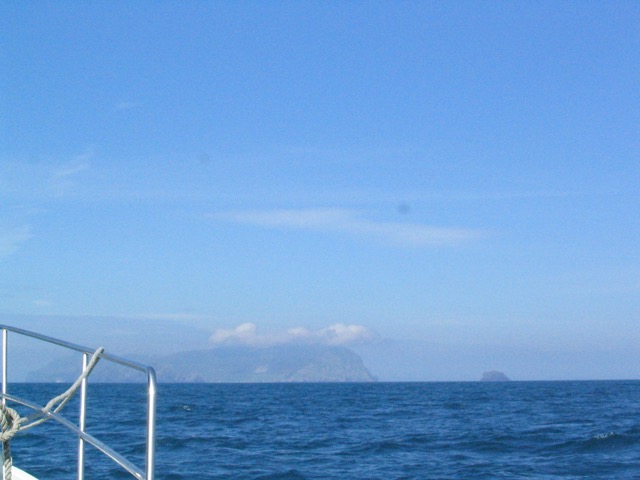 For more info on St Kilda click here
Uist Outdoor Centre had brought a group of visitors (including 4 sea kayaks) from Loch Maddy in their high speed rib and the 2 crew were waiting on their boat in the Bay. They agreed that one of them would cox my boat so I could get a dive in. I dived near the Saw Cut on the SE edge of Village Bay. Nice viz and lots of life. More similar to Cornwall than to anywhere else I have dived.
&nbsp Then inflate dinghy and row ashore to small quay. Wander around village - in shorts and T-shirt.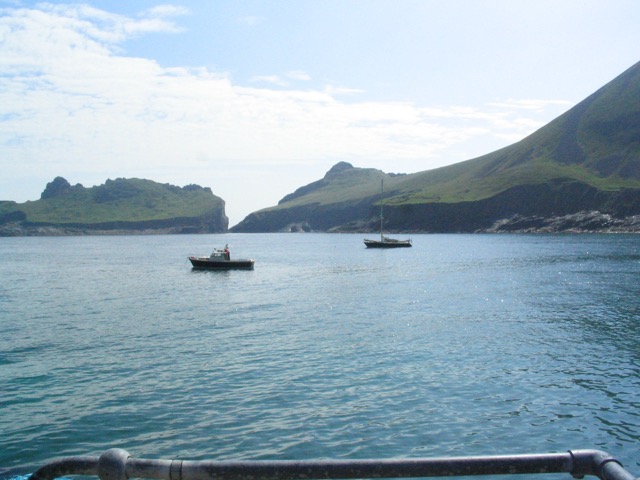 &nbsp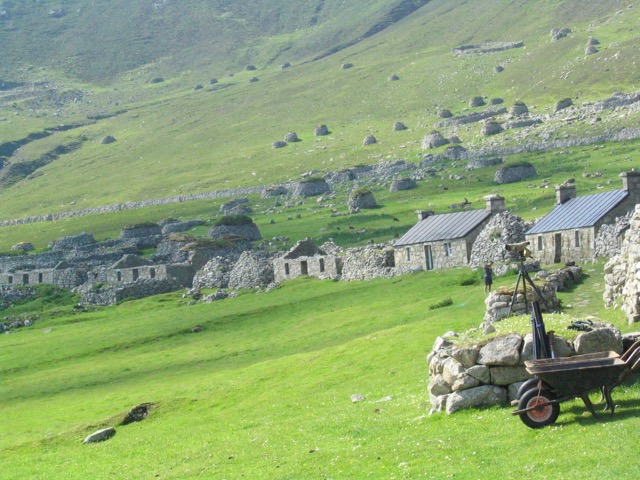 over 360 nautical miles, 55 engine hours, mostly excellent weather, all for one dive and then there is the journey back...
Thursday 25 June. After overnight stay in Village Bay, off to the nearby island of Boreray with its associated stacs (Stac Lee and Stac an Armin)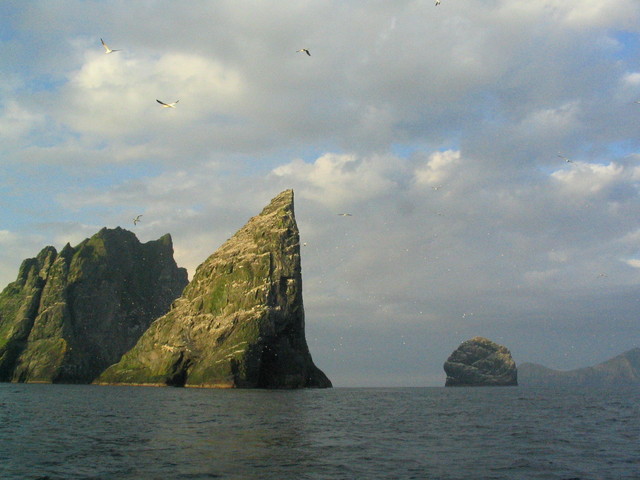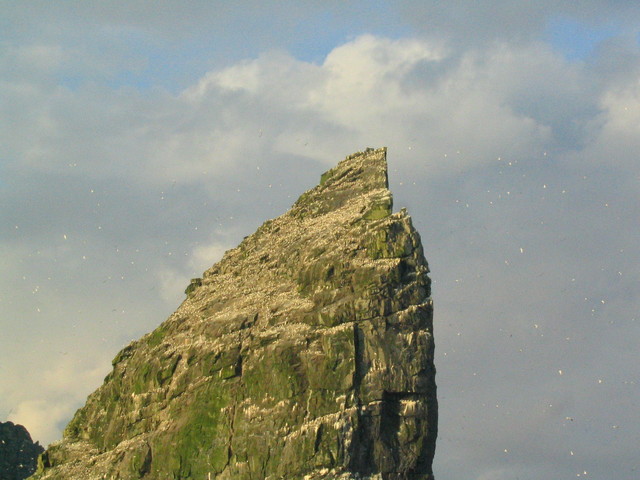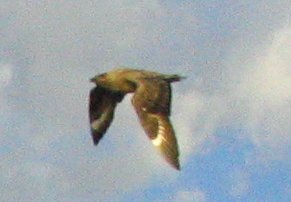 &nbsp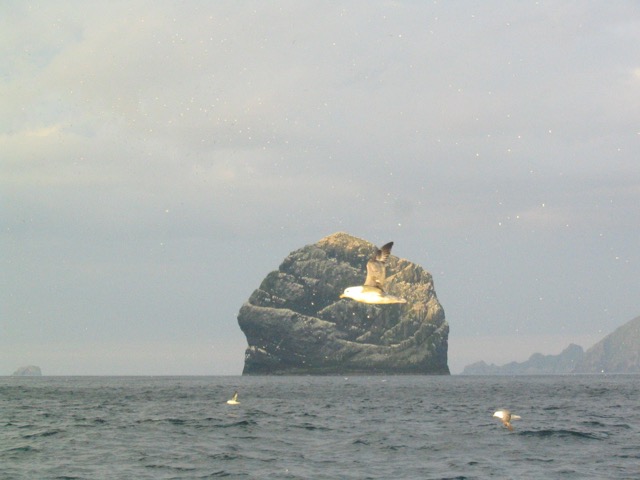 Then via Sound of Shillay into Leverburgh on Harris for food, drink, shopping and fuel. (Fuel courtesy of fishermen). Shopping was a 15 minute walk from the port (which is the port for the ferry to Berneray which is now connected by road to the Uists).
There were a lot of pot buoys in the Sound of Harris and at slack water they can have a lot of rope on the surface - as I discovered. After towing one chain of pots for a while, I was able to unhook them from the skeg. A local pot fisherman told me he has a rope cutter on his boat - and he uses lead weighted rope near the buoys so that it sinks and is less of an obstacle. But not everyone does that.
Then across the Minch to Skye - passing Neist Point.
Then down through the Sound of Canna to anchor in Tarbet Bay on Canna, since wind was an easterly fresh breeze.
Friday 26 June. On southwards between Coll and Mull to Staffa - to take a look at Fingals Cave.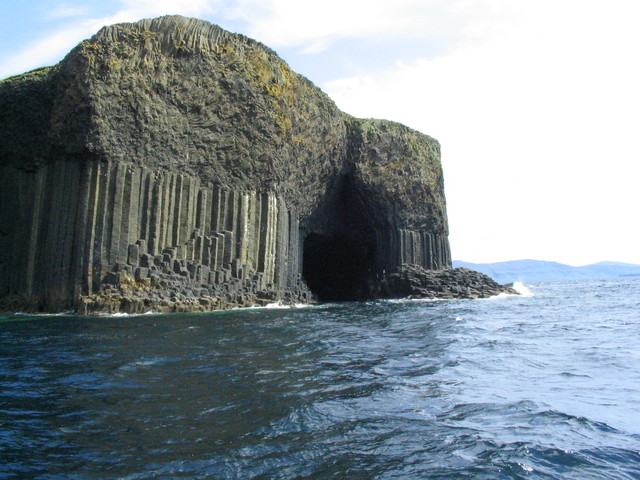 Then through Sound of Iona - weather was a bit too boisterous to land on Iona (also too many tripper boats),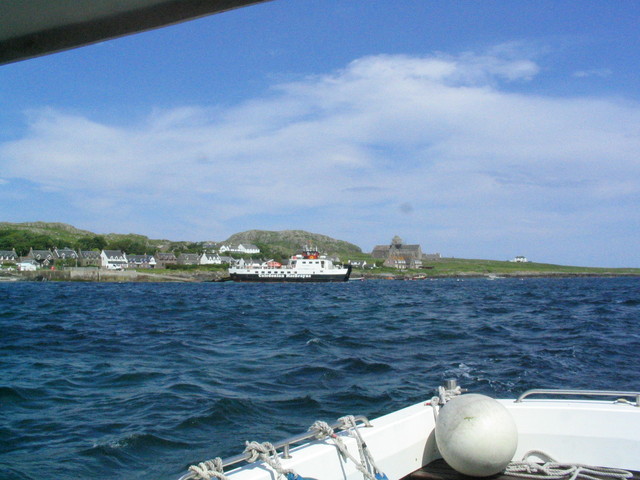 past Colonsay to enter the Sound of Islay. The adverse current was strong so I increased speed and stopped in Port Askaig. This now has a new harbour reserved for fishing boats. I was told I could stay until a boat returned at 8pm - so I had enough time for food and a drink in the nearby pub. The wind was quite strong and gusty so getting into the small harbour was tricky. The ferry skipper lent a hand with my ropes and gave me some "local knowledge": that the current would be much less on the Jura shore.
I was able to carry on south against the current with this tip - and decided to anchor for the night in Plod Sgeirean (reached through Caolas Port na Lice). Accompanied by 2 yachts, this was a sheltered spot.
Saturday 27 June. Down towards the Mull of Kintyre (Hello Paul)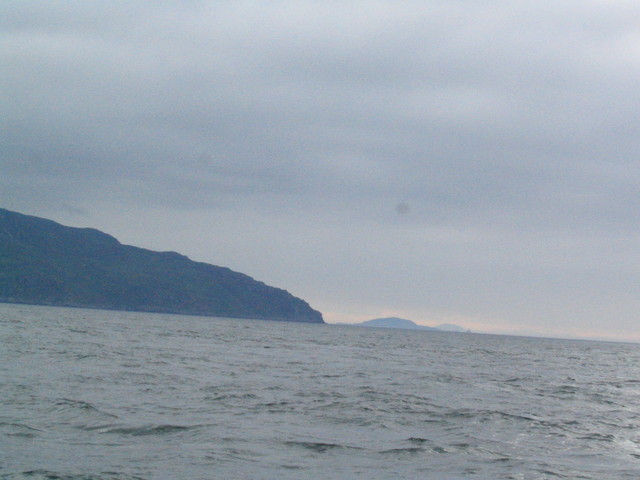 then on down the North Channel to the Isle of Man. I stopped briefly in Port Erin for chinese takeaway and beer takeaway (in lovely weather)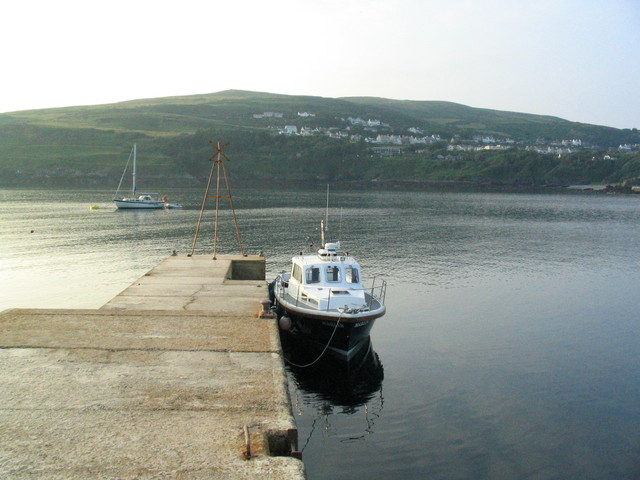 Through Calf Sound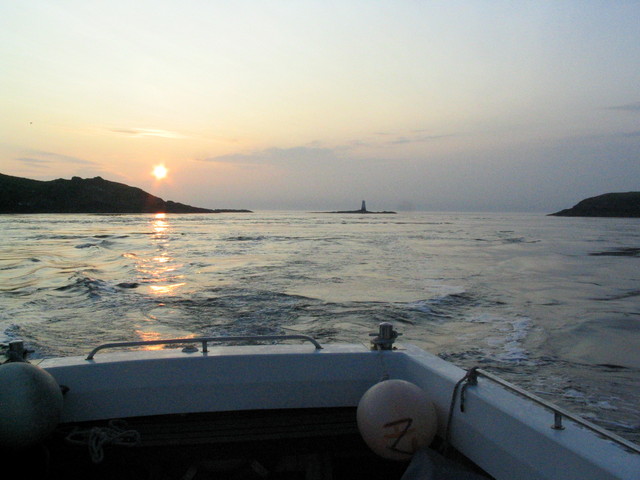 to overnight anchorage in Castletown Bay.
Sunday 28 June. Across to Liverpool, arriving in time to lock in to the Marina at 3.30pm.
So a 1 week trip from Liverpool to St. Kilda and back. Fuel was around 90 gallons out [more since one higher speed leg] and around 60 gallons returning. So quite a cost - but modest compared to most other ways to get to St. Kilda. And the weather stayed excellent all week. Definitely worth it.