MARLIN trip to Piel Island 2014
see also 2012 trips
16 May: Liverpool to Piel Island (near Barrow). Leaving at HW+45' and arriving at LW. Tidal current mostly unfavourable. Route direct from near ALPHA (in Liverpool shipping channel) to SEA 7 (in Barrow shipping channel). Calm. See a dolphin off Shell Flats.
Container berth off Seaforth under construction; Lennox rig in calm conditions; Blackpool from the boat track.
Pick up a mooring overnight - since spring low water - keep further off shore than usual. One yacht near me was aground as I came in. Moorings have current on the flood tide but are slack on the ebb.
Ashore by tender to sample beer and food at Piel Island Inn. I was pleased they were still prepared to serve me food at 8pm.
Piel Island moorings seen from the pub.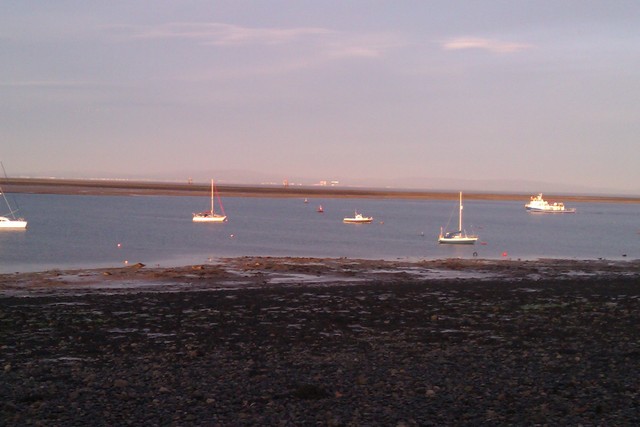 17 May: Piel Island to Liverpool. Leaving at LW-120' and arriving off marina at HW-60'. Tidal current mostly favourable. Some wreck surveying en route.
Big ships in the Mersey: Oil Tanker Aegean Faith (106074DWT) following me in (17 May) and cruise ship (Celebrity Infinity of Celebrity Cruises 91000GT) on the cruise liner berth.