MARLIN trip to Piel Island 2012
see also 2011 trips
4 June: Liverpool to Piel Island (near Barrow). Leaving at HW-45' and arriving at LW-60'. Tidal current mostly unfavourable. Route direct from ALPHA (in Liverpool shipping channel) to SEA 7 (in Barrow shipping channel).
Big ships in the Mersey: MSC Washington (57k dwt) leaving the lock (4 June) and ACL Atlantic Cartier (58k dwt) overtaking me inbound (5 June).
Blackpool from the boat track.
Ashore by tender to sample beer and food at Piel Island Inn.
Pick up a mooring overnight - not much choice since Jubilee bank holiday. Also a very low tide.
Piel Island moorings seen from the pub.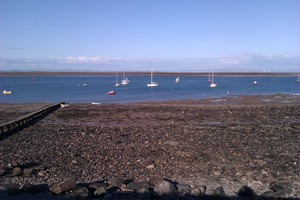 5 June: Piel Island to Liverpool. Leaving at LW-120' and arriving off marina at HW-120'. Tidal current mostly favourable.