CURLEW cruises in Irish Sea area
CURLEW was a 23ft Duver workboat with 120hp BMW engine and outdrive leg owned by me 1989-1999. She was quick (18 knot max) but thirsty - and petrol usually had to be carried in cans. She could take 4(total) on day trips and 2 overnight. She could take the ground with outdrive leg lifted and using wooden legs at the transom. Most trips were day trips to dive sites or to dry out on sandbanks.
CURLEW on the beach at Llanddwyn: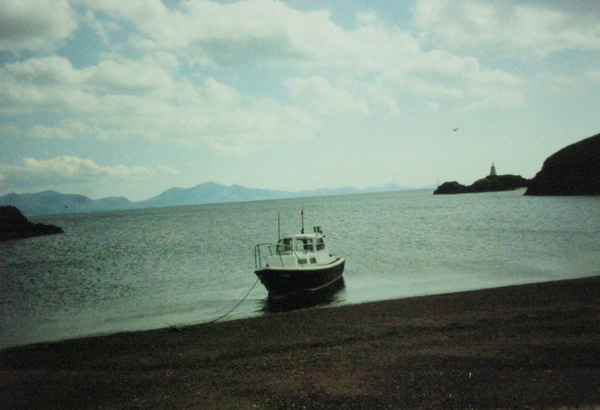 CURLEW was based at Liverpool Marina soon after it opened (Coburg Dock)
Liverpool waterfront: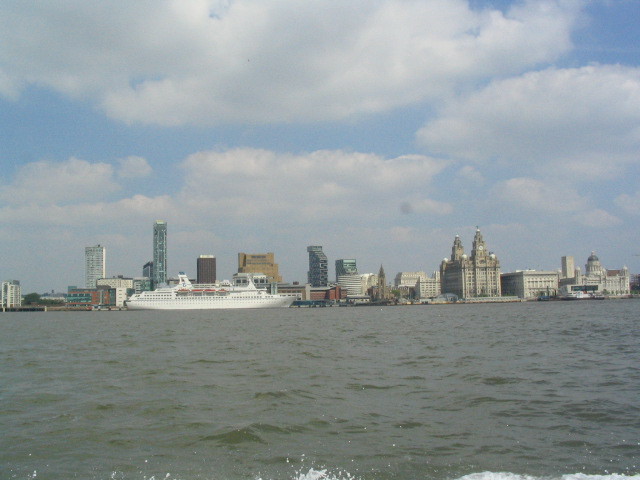 1989 cruise to Menai Bridge and Caernarfon. 23/24/25 June.
1992 cruise to Douglas, Castletown 22/23/24 May.
At that date, GPS was not available and I relied on DECCA - this was quite good at finding again a location already chosen (such as a wreck site) but less reliable for absolute position determination. On my first trip to the Isle of Man, I remember the satisfaction of seeing the flashes of a lighthouse in the distance - and timing them to confirm that it was Douglas Head.
1992 cruise up Weaver Navigation to Winsford 5/6 Aug.
By unscrewing the small mast on the top of the cabin, the air draught was reduced enough to get under all the bridges (least quoted as 6'6" clearance).
Manchester Ship Canal lock, Weston Marsh lock, Northwich, St Kearan coming down the Weaver, Anderton lift.
1992 cruise to Conwy Marina 24-26 Aug.
1994 Lytham 16/17 April. Pretty muddy walking ashore.
Lytham from my mooring
1994 Piel Island, Fleetwood 27/28/29 May. Ashore at Piel Island and at Knott End.
CURLEW ashore at Piel Island, current on mooring in Wyre
1994 Conwy (and Puffin Island) 17-19 Sept.
1995 Ribble: Freckleton, Douglas, Preston 12-14 April
Freckleton at LW, Preston marina
1995 Dee: Queensferry 1/2 Sept.
Connah's Quay, Queensferry (aground)
1996 Anglesey; Menai Bridge, Llanddwyn, Trearddur Bay, Amlwch, Penmon 20-23 June
1996 Amlwch, Howth, Malahide, Llanddwyn, Menai Bridge 7-11 Sept.
Amlwch, Howth, Malahide
1997 Port St Mary, Ardglass, Bangor, Port Patrick, Ramsey 9-13 Aug.
1998 Meols, Mostyn 7/8 August