MARLIN trip to Bardsey, Aberdaron and Moelfre 2012
Info about Bardsey Island, Aberdaron, Moelfre.
I mainly use tides favourably (this helps a lot) and motor at my displacement speed (5 to 7 knots). It is a lot of effort to get my dinghy out from under the deck, inflate it and launch it - so I prefer to dry out to go ashore where feasible.
Tuesday 24 July: leave Liverpool Marina near HW [3.20pm 8.8m] at 3.15pm, some adverse current in river, via Rock Channel to Menai Bridge. Some adverse current from Puffin Island to Menai Bridge. Arrive 9.40pm. Tie alongside stern of Prince Madoc. Ashore to Liverpool Arms (now in new ownership - so antique sea charts no longer adorn walls).
I passed south of Puffin Island at 8.30pm and had only 3ft under my keel crossing bank running SE from Perch Rock (towards B2 buoy).
Wednesday 25 July: leave Menai Bridge at 5.30am. Maximum favourable current (under Britannia Bridge) of 4 knots.
Crossing Caernarfon Bar (at 7.08am, 2 hours before local LW), I had only 8ft near C2 (but more depth closer to C1). The banks were awash and the Grampian Castle wreck was visible: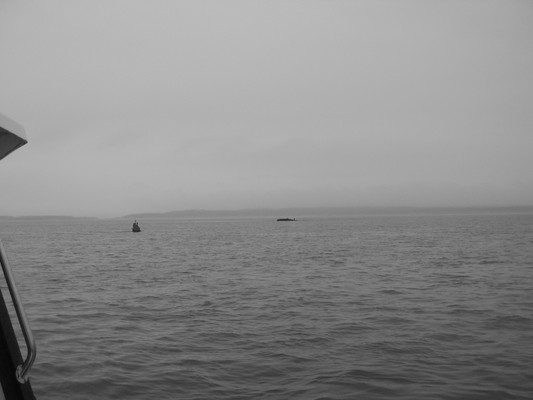 Head for Bardsey (mainly favourable tide) and pass south along eastern side of Bardsey to Pen Cristin, then enter sheltered (in N wind) cove. Consider anchoring then rowing ashore but wind (offshore) was quite strong. The passenger ferry (Benlli III, skipper Colin) came close and gave me advice: and offered to lead me in to the alongside berth (Thanks, Colin) about 11am - called Cafn Enlli on the OS map. Visit Bardsey and then leave at local HW (12.57). I had 6ft under my hull at my alongside berth near HW. See here for satellite view.
Bardsey "port": alongside berth, lighthouse, slipway.
Cross to Aberdaron. At 13.00, near Carreg Ddu in Bardsey Sound, I had strong adverse current (6 knots), so I turned up the revs for 10 minutes to escape. Pass Porth Meudwy on way to anchor off Aberdaron at 13.30.
Strong offshore wind at Aberdaron (21 mph recorded), so decide rowing tender in was not sensible. Decide to dry out instead around LW (local 20.06). On first attempt, I realised that many isolated boulders/stones/rocks litter the beach at LW and are just visible in the clear water. Backed out to find a better spot, fairly clear of rocks. This was midway between two prominent rocks (one near slipway and the other beyond eastern end of graveyard; basically aim for middle of graveyard between righthand side of church and eastern wall - though advice from Chris Holden is to aim for wall at eastern end of graveyard itself - see also satellite view of beach which shows the two rocks 85 metres apart). Pub with meals and terrace giving view of bay (Gwesty Ty Newydd).
After refloating, anchor off for the night.
Aberdaron: Porth Meudwy from the sea, view of Aberdaron from the sea, Marlin ashore at LW (note large rock at extreme right).
Thursday 26 July: leave Aberdaron anchorage at 8.55 and pass through Bardsey Sound (1-2 knots adverse current) then head for South Stack with favourable current from 11.00. Some misty patches. Wind NW 3-4. Keep 1 mile off South Stack but still quite lumpy in overfalls (3 knot favourable current at 13.30). Head for Carmel Head: round it close in at 14.25, again a bit lumpy with 4 knot maximum favourable current. Along North coast with favourable current and reach Moelfre by 16.45.
Anchor close in at Moelfre (between lifeboat buoy and old lifeboat station). Ashore by tender (6pm-7.40pm, calm and sheltered), landing at old lifeboat slip. Kinmel Arms has food and view of anchorage. As wind dropped, my anchorage was too close inshore, so re-anchor further off. See here for more info on Moelfre anchorage.
Moefre: close in anchorage with old lifeboat slip (showing lifeboat mooring buoy in upper middle), view from shore, general view from anchorage.
Friday 27 July: Leave Moelfre 8.37 and motor slowly towing paravane to get a few mackerel. After around LW (12.15), proceed on to Liverpool. NW wind picked up (0.9m waves recorded at Liverpool Bar). It was an ideal wind strength for the wind farms but there must still be problems: 9/24 in Rhyl Flats, 3/25 in North Hoyle and 4/24 in Burbo were not rotating.
Pass through Rock Channel at half-tide, least depth 15ft under my keel, following my waypoints. Off marina 4pm and soon on berth.
If higher resolution versions of the above images are wanted, please contact me. All information given in good faith, but please do not rely on it.
Back to index here