Accommodation
There are plenty of accommodation options in Liverpool to suit every budget; here we've put together a few of our favourites, some of which have even agreed to offer a conference registrant's discount!
A touch of class
Hope Street Hotel: ***Special discount rate*** Located between the two cathedrals, the 4* Hope Street hotel is Liverpool's original independent boutique hotel, located in the heart of the Georgian Quarter and just a short stroll from the Joint Assembly Conference Centre and a 12-minute walk from Liverpool Lime Street station.
The contemporary and individually designed rooms feature hardwood floors, crisp Egyptian cotton sheets, rain showers and importantly free Wi-Fi. There's also a bar, an AA 2 rosette awarded restaurant and flexible, private meeting and dining rooms with spectacular views over Liverpool – perfect for any event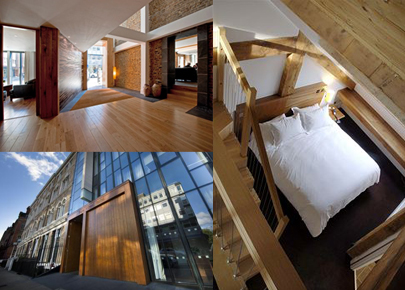 Not only will this hotel provide you with the relaxing and quiet atmosphere inherent to Hope Street, while being just a few steps away from Liverpool city centre, they have also agreed to some fabulous delegate rates, offering savings of >50% compared to regular pricing.
To make the most of this great offer you can book direct with Hope Street hotel at 0151 709 3000 or email reservations@hopestreethotel.co.uk and quote "Joint Assembly".

Hilton:Overlooking the stunning Albert Dock and located in the heart of Liverpool One, the Hilton is ideally located if you wish to discover the city centre, whilst being a bit further from the conference (~20 mins walk).
Liverpool-cool
Jurys Inn Liverpool: ***Special discount rate*** This recently renovated hotel has a prime waterfront position and is in a great location for the city centre, bars, restaurants and the famous Albert Dock. Not only that – they've agreed to a special discount rate for conference delegates –throughout the 3rd-6thJanuary it' just £75 per night for double or twin rooms and £65 for single occupancy including breakfast and WiFi! Call to book direct with them at 0151 2443833, ask for Bethany and quote "Joint Assembly"!

The Nadler: ***Special discount rate*** Very much in the Liverpool style, this converted warehouse hotel offers, affordable luxury. Located on Seel Street, just around the corner from Concert Square, and about 15-20 mins from the conference venue this is a great, central spot. With its own restaurant and boutique, the Nadler offers an all-in-one service to those who want to visit Liverpool along with enjoying the conference. They have also agreed to a great rate for conference delegates – you can use the discount code "UNI030117" to book by telephone at 01517052626 or contact Sharon by email at sharon.ayem@nadlerhotels.com.


Parr Street Hotel: 2 mins walk from Concert square and about 15-20 mins from the CTH, Parr Street Hotel is part of the infamous Parr Street Recording Studios and provides a unique chance to stay in this chic location; ideal for visiting the city centre, the docks and having a night out!
Signature living: An umbrella company for several hotels around Liverpool, Signature Living, 30 James Street and The Shankly Hotel offer stylish boutique living with the option of everything from cosy double rooms, state-of-the-art apartments to 10-person cabin rooms, all with a unique Liverpool style.
Convenient
Best Western Hallmark: The closest hotel to the CTH (~5 mins walk), the Best Western Hallmark is ideal if you're looking for a mid-priced night in Liverpool. The city centre and the train station are also both located within less than 10 mins walk from the Best Western.
Aachen hotel: Just down the street from the Best Western, the Aachen is a family run hotel that will provide you with a great central location and a mid-priced night.
Brittania Adelphi: Just a stone's throw away from Lime street train station and Liverpool city centre, the Brittania Adelphi hotel is ideal if you're looking for a convenient location (~5-10 mins walk to the CTH) and a more luxurious option for your stay in Liverpool.
Budget
Hatters: Facing the Aachen hotel on Mount Pleasant, Hatters hostel is one of the most popular hostels in Liverpool. Situated at 5-10 mins walk from the CTH, the city centre and Liverpool Lime Street, Hatters is a safe budget option.
International Inn: The closest hostel to the CTH (~5 mins walk), the International Inn is ideal for those who have a restricted budget and want to stay in a friendly, multi-cultural environment.
YHA Liverpool: Slightly cheaper than Hatters, YHA Liverpool is probably one of the cheapest options you can find for your stay. Located close to the Albert Docks, it will suit those who want to discover the city during their free time (CTH ~20 mins walk).