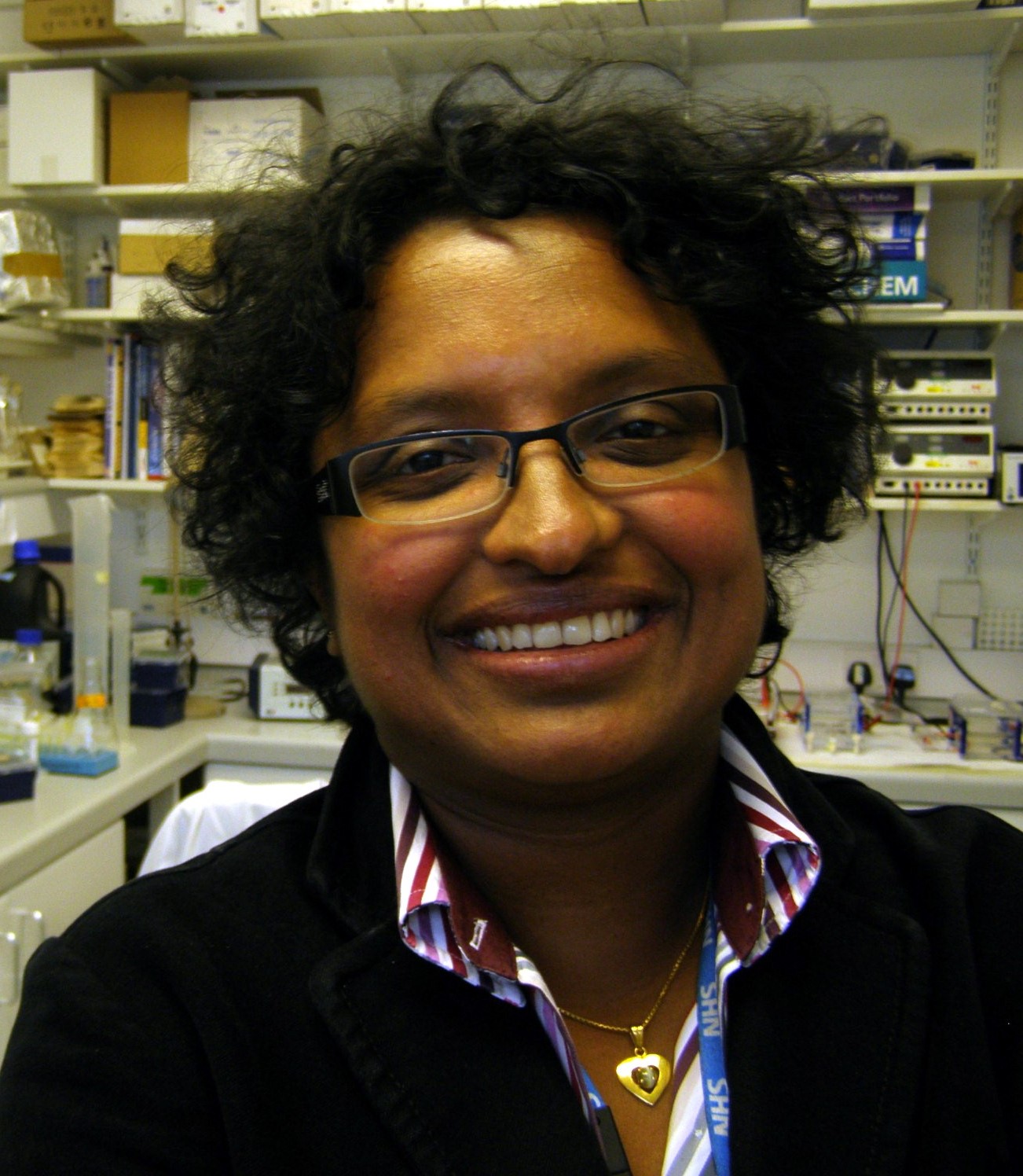 Professor
Dharani
Hapangama
BSc(Hons) MBChB MD MRCOG DFFP
Professor of Gynaecology/Consultant Gynaecological Surgeon
Women's & Children's Health
Research
Research Interest 1
Endometrial stem cells, endometrial cell fate, telomeres, telomerase, endometriosis and endometrial cancer

Research Grants
Feasibility of utilising two novel approaches to characterise the human endometrial epithelial cell subtypes
WELLBEING OF WOMEN (UK)
May 2018 - July 2020
Feasibility of employing Laser capture microdissection to conclusively isolate genes involved in the ectopic growth of endometrial epithelial / stromal cells in endometriotic lesions
WELLBEING OF WOMEN (UK)
January 2017 - August 2018
PhD in Pathology
THE HIGHER COMMITTEE FOR EDUCATION DEVELOPMENT IN IRAQ (HCED) (IRAQ)
October 2015 - September 2020
Ulipristal versus conventional management of heavy menstrual bleeding (HMB; including uterine fibroids): a randomised controlled trial and exploration of mechanism of action (UCON trial)
DEPARTMENT OF HEALTH & SOCIAL CARE (UK) (NIHR)
July 2015 - June 2019
Analysis of human endometrial epithelial stem cells and their niche in health and disease by lineage labelling
WELLBEING OF WOMEN (UK)
August 2015 - July 2022
Feasibility of employing two novel techniques to identify endometrial epithelial stem progenitor cells and their niche in the human endometrium
WELLBEING OF WOMEN (UK)
August 2012 - August 2016
Endometriosis Millennium Fund 2004.
ROYAL COLLEGE OF OBSTETRICIANS AND GYNAECOLOGISTS (UK)
April 2004 - December 2011
Endometrial Cancer Metastasis and Cancer Stem Cells Funder & Programme
LIVERPOOL WOMEN'S NHS FOUNDATION TRUST (UK)
October 2012 - September 2015
Bench fees for Seham Alsaif
UNIVERSITY OF DAMMAM (SAUDI ARABIA)
June 2014 - May 2015
The role of metastasis inducing proteins and telomerase in Endometrial cancer and in endometrial cancer stem cells; Implications for diagnosis, prognosis and treatment
WELLBEING OF WOMEN (UK)
January 2013 - January 2014
To investigate the diagnostic and prognostic utility of MIPs in endometrial cancer
THE HIGHER COMMITTEE FOR EDUCATION DEVELOPMENT IN IRAQ (HCED) (IRAQ)
September 2012 - September 2016
To investigate the role of the identified regulators of cell fate (RCF) and metastasis inducing proteins (MIP) in endometrial stem/progenitor cells (SPC) in establishing endometriosis.
WELLBEING OF WOMEN
October 2009 - July 2013
Research Collaborations
Professor Sue Wray
Internal
Dr Caroline Gargett
External
: Monash University
Successful collaborative grant to study endometrial stem cells in endometriosis
Professor PS Rudland
Internal
Collaborative studies, publications and successful external grant
Dr Roger Barraclough
Internal
Successful collaborative grant, publications and studies
Professor Asgi Fazleabas
External
: Michigan State University
Collaborative studies & publications
Dr Gabriele Saretzki
External
: University of Newcastle upon Tyne
Collaborative studies, publications and successful grants
Professor Hilary Critchley, Professor David Baird
External
: The University of Edinburgh
I am in the process of receiving samples to carryout telomerase immuno-histochemistry for a study that I carried out in Edinburgh as a research fellow. I shall be the leading author of any resulting publications.

Professor Thomas von Zglinicki
External
: The University of Newcastle-upon-Tyne
Professor von Zglinicki is allowing me to use the his laboratory equipment to carryout Telomere length PCR measurements which has already been optimised in his lab.