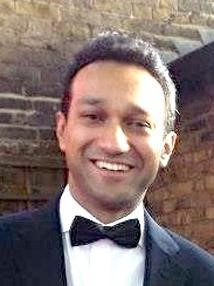 Dr
Amit
Patel
BSc, MB BS, DIC, PhD, MRCP(Lond), MRCS(Eng), MAcadMEd, FFICM, FRCPath
NHS Consultant/Programme Director & Honorary Senior Lecturer in Stem Cell Transplantation/Cellular Therapy & Intensive Care Medicine
Molecular and Clinical Cancer Medicine
About
Personal Statement
Dr Amit Patel is the first person in the UK qualified in stem cell transplantation/cellular therapy and intensive care medicine.

He graduated in Medicine from Imperial College London, and was awarded a PhD in Clinical Science and Molecular Genetics, after developing gene editing expertise. He completed postdoctoral research at the Institute of Cancer Research, with clinical training in London, mainly at the Royal Marsden and Hammersmith Hospitals.

Since becoming Programme Director of Clatterbridge's Stem Cell Transplantation and Cellular Therapy Unit, Dr Patel has achieved improved patient survival outcomes that are now amongst the best in the UK. Dr Patel is also the Lead Clinician for the Leukaemia Unit, where he has improved patient outcomes and access to innovative and emerging treatments, including through clinical trials. He will be moving to the Christie NHS Foundation Trust in December 2019 when amit.patel@christie.nhs.uk will become his main point of contact.

He is the Lead Clinician for Haemato-Oncology Clinical Trials both for the NHS Trust and the region of the North West Coast (NWC), National Institute for Health Research (NIHR) Clinical Research Network (CRN). Dr Patel is the UK Chief Investigator (CI) for over 10 national and international clinical trials. He is also the principal investigator (PI) for over 10 further clinical trials including chimeric antigen receptor T cell (CAR-T) therapy. Some of these studies are NIHR portfolio adopted and part of the National Cancer Research Institute (NCRI) Clinical Research Group (CRG) portfolio maps. His research contribution has been nationally recognised by winning the Royal College of Physicians (RCP) NIHR CRN joint research award in 2019.

He has developed regional patient pathways as Chair of the Haematology Clinical Quality Group (CQG), within the Cheshire and Merseyside Cancer Alliance.

The quality of his teaching has been recognised by Imperial College Healthcare NHS Trust, and Imperial College London. He has extensive undergraduate and postgraduate teaching, curriculum development, and examining experience.

He has delivered invited lectures at international and national meetings, and published in high impact journals.
Funded Fellowships
Starter Grant (Academy of Medical Sciences, 2015)
Academic Clinical Lectureship (National Institute for Health Research, 2013)
Chain-Florey Clinical Research Fellowship (Medical Research Council (MRC), 2009)
GlaxoSmithKline Fellowship (Royal Society of Medicine, 2007)
Berkeley Fellowship (University of Cambridge & University College London, 2007)
Academic Clinical Fellowship (National Institute for Health Research, 2006)
Other Personal Distinctions
Principal Investigator, Affiliate (IMPACT Partnership for Accelerated Clinical Trials (Anthony Nolan, Leuka and NHS BT), 2017)
---