Join us at the FindAPhD Virtual Study Fairs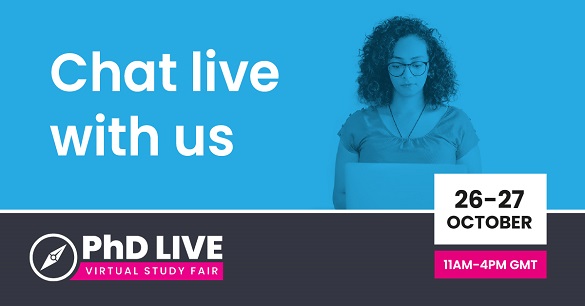 Join us at the 'FindAPhD Virtual Study Fairs' on 26 and 27 October, where you can find out everything you need to know about getting a PhD at the University of Liverpool.
There are two virtual events split by subject:
FindAPhD Live Virtual Study Fair: STEM and Medicine – Monday 26 October, 11am-4pm
FindAPhD Live Virtual Study Fair: Arts, Humanities and Social Sciences – Tuesday 27 October, 11am-4pm
You can drop in any time between 11am-4pm to hear from our staff, and students, about the research opportunities available to you and what life is like as a postgraduate researcher at Liverpool.
We'll be online to chat with you live and answer your questions about scholarship opportunities, how to apply, which PhD is right for you, our excellent facilities and much more.
You can find out more and register for the events here: https://www.findaphd.com/events/virtual-fairs/
The FindAPhD Live Virtual Study Fairs are run by FindAPhD and showcase a number of other Universities, so it is an excellent opportunity to help you decide where is the right place for you to continue your studies.