Online events: Bringing the World to Liverpool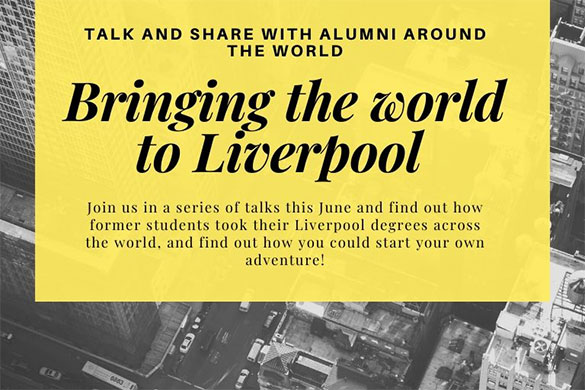 Bringing the World to Liverpool is an exciting new series of online talks featuring University of Liverpool graduates who have taken their degrees across the world.
Starting this month, the series will connect you with graduates who are living and working in different parts of the world, including the UK. They will be sharing their unique stories, as well as providing advice, tips, and knowledge they wish they had known at University or when setting out in their career.
The series includes graduates from a wide range of subjects with different professional backgrounds and levels of experience. Each event will last for 60 minutes and will include time to ask questions of the speakers. The events will also be recorded and shared afterwards with attendees.
The first event takes place on Tuesday, 9 June, with a focus on Malaysia & Singapore – with speakers including Preeti Dubey (MBA, 2007), now working as a Leadership Consultant, Dr Helmi Zakariah (Masters of Public Health, 2016), CEO at AIME – Artificial Intelligence in Medical Epidemiology, and Clive Ellul Hawthorn (MBA, 2009) who is Vice President – Sales & Marketing at Azerai Hotels & Resorts.
Register for the first event on Zoom here.
Upcoming events: