Self-Assessment Team
Chair
Dr Caroline Dart
Caroline is a Reader, Deputy Head of the Department of Biochemistry and the Institute's Athena SWAN Lead, responsible for driving and developing the Athena SWAN initiative. She is particularly interested in ensuring that early career researchers are appropriately supported.
Members
Professor Christiane Hertz-Fowler
Head of Institute
Christiane is Head of Institute and Professor of Pathogen Genomics. Christiane is committed to making IIB a place where everyone is encouraged to be ambitious and to achieve their goals no matter who they are or where they are starting from. Christiane is committed to the Athena SWAN initiative and the Institute's goals.
Professor Mike Begon
Head of Evolution, Ecology and Behaviour (SMT Representative)
Mike is Professor of Ecology and Head of the Department of Evolution, Ecology and Behaviour. He is keen to use his own experience to help guide and mentor, particularly early career staff, in combining a successful career with maintaining a healthy work-life balance.
Professor Mark Caddick
Head of Functional and Comparative Genomics (SMT Representative)
Mark is a senior academic with broad experience of balancing a research career and significant teaching and admin with family commitments.
Dr Linda D'Amore
Postdoctoral Representative
Linda is a Postdoctoral Fellow in GeneMill, the Synthetic Biology Facility. She has led the PostDoc Society since its inception. Linda is involved in developing strategies to support her peers in obtaining further career opportunities. She is extremely happy to offer advice and support, even if just a chat over a coffee.
Professor Andy Fenton
Academic Representative
Andy is a Professor within the Department for Evolution, Ecology and Behaviour. He has 2 young children (and 2 cats, and many stick insects), and is particularly interested in helping others develop their careers alongside having a young family.
Dr Stefan Fischer
Postdoctoral Representative
Stefan is a Postdoctoral Researcher and an active committee member of the Institute's PostDoc Society. Stefan was involved in the establishment and realisation of the Johnston Postdoctoral Development Fund. He is very ambitious to improve development opportunities for postdoctoral staff within in the Institute.
Dr Anne Herrmann
Postdoctoral Representative
Anne works as a Postdoctoral Research Associate and is keen to help promote equality and diversity within the Institute. She is especially interested in promoting support for staff on fixed-term contracts, parents and carers.
Kate Jones
Institute Manager
Kate has enjoyed being a member of the self-assessment team in IIB since joining the Institute in 2013. As the Institute Manager, Kate has been responsible for supporting the Institute's Athena SWAN Lead and Head of Institute to drive change through the development of the Institute's policies, practices and opportunities. She has also played a significant role in ensuring effective implementation with the support of her professional services teams. Due to her role she acts as an interface with the rest of the Faculty of Health and Life Sciences and uses this to share best practice. Kate has just returned to work following maternity leave, and is now a full time working mum of two young boys.
Tina Lewis
Management Services Team Leader
IIB's Management Services Team play a critical role in facilitating Athena SWAN initiatives to promote a progressive culture that recognises the importance of equality and diversity in the workplace. "I am extremely proud of our Athena SWAN achievements. The Charter has given us the impetus to make changes and build on ideas to improve our procedures for the good of everyone. I am strongly committed to achieving our future goals and objectives."
Professor Lu-Yun Lian
Academic Representative
Joan Robinson
Research Laboratory Supervisor
Joan represents IIB's technical staff on the Athena SWAN committee. She volunteered to join the committee after the remit was widened to include professional services, having realised that technical staff were not represented. Joan is keen that technical staff are kept aware of Athena SWAN and aims to represent their interests.
Professor Sonia Rocha
Head of Biochemistry (SMT Representative)
Dr Violaine See
Academic Representative
Violaine is a Senior Lecturer in the department of Biochemistry and is Co-Director of the Centre for Cell Imaging, a shared research facility. She obtained a BBSRC David Phillips Fellowship in 2005, which contributed to her academic establishment. Violaine has taken three periods of maternity leave at different stages of her career and one of her children has special needs. She is happy to help and mentor early career researchers on academic progression as well as on maintaining a happy work-life balance.
Carole Thomas
Adminstrator
Carole took an interest in taking part in the working group to understand the aims of the Athena SWAN Charter and to be part of a team striving to achieve recognition and commitment to advancing the careers of all staff.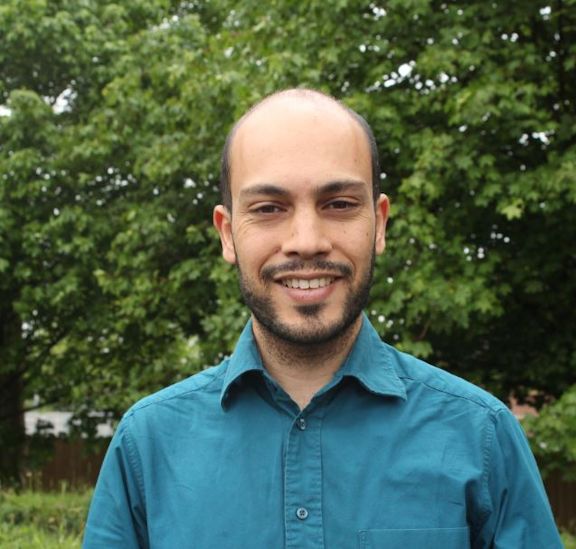 Dr Raj Whitlock
Academic Representative
Raj is a Tenure Track Fellow in the Department of Evolution, Ecology and Behaviour. He is especially interested in how the progression and establishment of early career researchers can best be supported.