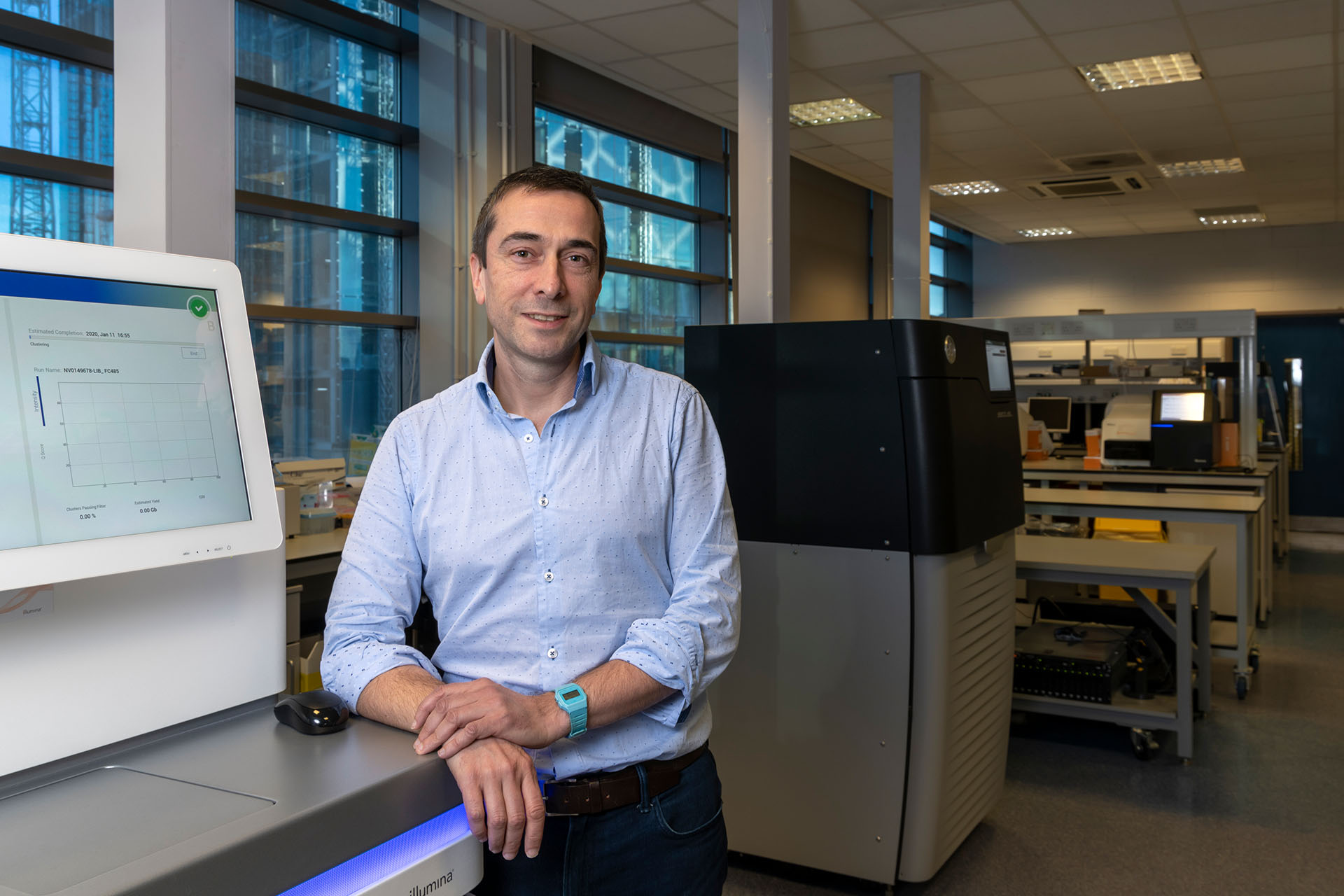 Prof
Steve
Paterson
Professor of Genetics
Evolution, Ecology and Behaviour
Research
Infectious disease genomics
Paterson is a population geneticist working primarily on genetic diversity in host-parasite interactions. He was one of the first to apply next-generation sequencing to experimental evolution, and demonstrated that co-evolution between hosts and parasites accelerated rates of molecular evolution. He has worked on field, clinical and experimental systems and leads a NERC large grant of £3.2m to study immunological variation in the wild.

Environmental Genomics
Paterson is a node director for the NERC Biomolecular Analysis Facility (NBAF) and a director of the Centre for Genomic Research at Liverpool. This role provides expert advice and delivery of genomics and bioinformatics to the environmental community in the UK, particularly on non-model organisms, environmental samples and for ecological and evolutionary research.
Research Group Membership
Research Grants
ADAPT
DEPARTMENT OF HEALTH (UK) (NIHR)
September 2019 - August 2021
The exposure of urban rodents to the human COVID-19 virus and the potential for viral recombination
NATURAL ENVIRONMENT RESEARCH COUNCIL (NERC)
April 2020 - September 2021
The genetic basis of reproductive isolation through intragenomic conflict
NATURAL ENVIRONMENT RESEARCH COUNCIL (NERC)
April 2019 - April 2022
How is behaviour constrained within typical sex roles?
NATURAL ENVIRONMENT RESEARCH COUNCIL (NERC)
July 2020 - June 2023
Ecological drivers of intragenomic conflict resolution
NATURAL ENVIRONMENT RESEARCH COUNCIL (NERC)
February 2018 - January 2021
Vaccines for animal parasites (PARAGONE)
EUROPEAN COMMISSION
October 2016 - March 2019
Impacts of climate-driven evolution on plant-soil interactions and ecosystem functioning
NATURAL ENVIRONMENT RESEARCH COUNCIL (NERC)
September 2017 - January 2021
Mechanisms for acquisition and transmission of successful antibiotic resistant pneumococcal clones pre- and post-vaccination
MEDICAL RESEARCH COUNCIL (MRC)
July 2017 - September 2021
Community evolution in soil
NATURAL ENVIRONMENT RESEARCH COUNCIL (NERC)
April 2017 - March 2021
Genetic factors contributing to White Nose Syndrome tolerance in North American and European Myotis-bats -EVOLWNS
EUROPEAN COMMISSION
November 2016 - October 2018
Advanced 'omic analyses in the natural environment
NATURAL ENVIRONMENT RESEARCH COUNCIL (NERC)
April 2016 - March 2017
Genetic and molecular basis of triclabendazole resistance in Fasciola hepatica
BIOTECHNOLOGY & BIOLOGICAL SCIENCE RESEARCH COUNCIL (BBSRC)
March 2017 - September 2021
Limits to Adaptation
NATURAL ENVIRONMENT RESEARCH COUNCIL (NERC)
May 2016 - September 2021
The NERC Biomolecular Analysis Facility (NBAF) at the University of Liverpool 2014-15 - Main Budget
NATURAL ENVIRONMENT RESEARCH COUNCIL (NERC)
April 2016 - March 2018
Immunodynamics and Infectious disease risk in the natural environment
NATURAL ENVIRONMENT RESEARCH COUNCIL (NERC)
February 2015 - July 2020
Research Collaborations
Prof JE Hodgkinson
Internal
Helminth genomics
Prof C Winstanley
Internal
Pseudomonas infection
Prof M Brockhurst
External
: University of Sheffield
Experimental evolution
Prof J Bradley
External
: University of Nottingham
Supervise PhD student, analysis of microarray data
Co-investigator Wellcome grant, zoonotic disease
Co-supervisor NERc quota studentship (Stephanie Gebert)
Co-supervisor PhD student (Amy Sherborne)
Prof M Boots
External
: University of California at Berkeley
Evolutionary Biology