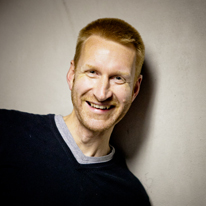 Dr
Kris
D'Aout
PhD, etc.
Senior Lecturer
Musculoskeletal Biology II
Teaching and Learning
About my teaching

I'm delivering (and enjoying!) undergraduate as well as postgraduate teaching.
At the University of Liverpool, I run a module "The Body in Motion: Musculoskeletal Performance in Health, Performance and Disease" and I give lectures in several other modules. I also co-organise a module on Primate Anatomy in a European (Erasmus Mundus) programme.

Students - please don't hesitate to get in touch with me if you have any academic or pastoral questions. If you can't catch me after the lecture, please just drop me an email or come over to my office (G.17) in the William Henry Duncan Building (which, confusingly, is not the "Duncan" building).

Modules for 2019-20
Functional Anatomy of the Human Locomotor System
Module code: LIFE219
Role: Teaching
Research Project
Module code: LIFE363
Role: Teaching
THE BODY IN MOTION: MUSCULOSKELETAL FUNCTIONING IN HEALTH, PERFORMANCE AND DISEASE
Module code: LIFE335
Role: Module Co-ordinator
---