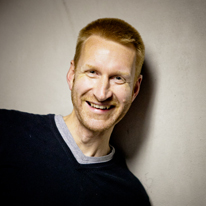 Dr
Kris
D'Aout
BSc, MSc, PhD, PGCert, FHEA
Senior Lecturer
Musculoskeletal Biology II
External Engagement
Summary

To me, external engagement, be it research, teaching, or outreach, is an essential part of being an academic.
I co-convene and teach in the module "Non-human primate morphology" which runs in the Erasmus Mundus Programme European Master in Comparative Vertebrate Morphology (Antwerp, Poznán).
I engage in numerous outreach and public engagement activities, which I really enjoy. Recently I have been involved in events such as Meet the Scientists (World Museum, Liverpool), Pint of Science (Liverpool; as a speaker and as a host), and SciBar (Widnes and Kirkby). I am mentoring sixth-form students for the Social Mobility Foundation.
I have taken up editorial roles in addition to being an active reviewer (Publons record, winner of a 2018 Peer Reviewer Award). I co-organised symposia and conferences such as the 2013 Congress of the European Federation for Primatology and the 2015 Footwear Biomechanics Symposium in Liverpool.
Professional Membership

International Society of Biomechanics (

Member

)
Footwear Biomechanics Group (

Member

)
International Foot and Ankle Biomechanics Community (i-FAB) (

Member

)
Anatomical Society (

Member

)
Primate Society of Great Britain (

Member

)
Higher Education Academy (

Fellow

)
Institute for Leadership and Management (

Member

)
Academic Roles
Editorial Roles

Footwear Science (Editorial Board Member

2018

- )
Bulletins et Mémoires de la Société d'Anthropologie de Paris (Member of the Reading Committee

2017

- )
American Journal of Physical Anthropology (Associate Editor

2009

-

2014

)
External Examinations

Liverpool John Moores University (

PhD

2019

)
University of Western Australia (Australia) (

PhD

2019

)
Université de Bordeaux (France) (

PhD

2019

)
University of Kent (

MSc

2017

)
University of Birmingham (

PhD

2017

)
Antwerp University (Belgium) (

PhD

2017

)
University of Birmingham (

PhD

2016

)
Royal Veterinary College London (

PhD

2016

)
Muséum National d'Histoire Naturelle, Paris & Université Paris Descartes (France) (

PhD

2016

)
Muséum National d'Histoire Naturelle, Paris (France) (

PhD

2015

)
University of Birmingham (

PhD

2011

)
Ghent University (Belgium) (

PhD

2011

)
Ghent University (Belgium) (

PhD

2010

)
George Washington University (USA) (

PhD

2009

)
Muséum National d'Histoire Naturelle, Paris (France) (

PhD

2007

)
Ghent University (Belgium) (

PhD

2006

)
Ghent University (Belgium) (

PhD

2004

)
---