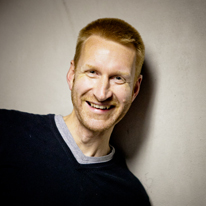 Dr
Kris
D'Aout
BSc, MSc, PhD, PGCert, FHEA
Senior Lecturer
Musculoskeletal Biology II
Biography
Personal Statement
I'm a biomechanist with a zoology background (Antwerp University, Belgium), and with a long standing interest in human locomotion. I work in the Evolutionary Morphology & Biomechanics Group of the Institute of Ageing and Chronic Disease of the University of Liverpool. I am equally interested in ultimate questions (how did walking on two legs evolve?) and in proximate questions (how do things work here-and-now). Currently my work focuses on taking human locomotion research beyond the simplified conditions we have usually focused on, i.e. walking in a straight line on a flat substrate. These are not the conditions in which we evolved and these are also not the conditions we encounter in day-to-day activities. Projects include lab work on complex substrates and turning manoeuvres, the effect of footwear on walking, and field work with UK and various indigenous populations. I have a great interest in how gait is affected during healthy ageing, as well as in disease, with a particular interest in osteo-arthritis.
Personal Distinctions
Looking for the best foot in the best shoe: how to stimulate healthy locomotion in an ageing population? (Keynote Speech, 17th Stafford Conference on Clinical Biomechanics 2019)
The biomechanics of human locomotion: Evolving barefoot (Keynote Speech, Footwear Biomechanics Symposium, Natal, Brazil 2013)
The evolution of feet (Invitation to Speak, Lustrum Congress Podology, Ghent, Belgium 2012)
The biomechanics of bipedal gait: About modern humans, their ancestors, and robots (Invitation to Speak, Anatomical Society of Great Britain and Ireland 2011)
Nike Research Award (Prize, Footwear Biomechanics Group (a technical group of the International Society of Biomechanics), Stellenbosch, South Africa 2009)
Plantar pressure distribution in the normal and in the diabetic foot (Invitation to Speak, Diabetic Foot Society of India, Mumbai, India 2006)
Bipedal walking in hominins: What can we learn from experimental research on apes and humans? (Keynote Speech, Anthropological Society of Nippon 2005)
The evolutionary history of the human foot (Keynote Speech, International Footscan Meeting, Prague, Czech Republic 2005)
The evolution of habitual bipedalism in humans (Keynote Speech, Adidas Technical Summit, Scheinfeld, Germany 2000)
Administrative Roles
Member of the EDWInA (Equality, Diversity and Well-being) Steering Committee in IACD. Sustainability Lead.
Manager of the Medical and Comparative Anatomy Collection of the Institute of Ageing and Chronic Disease.
---