P S President 1841
Wooden paddle steamer President, built Curling & Young, Limehouse 1839, 2350 tons, 243 x 41 ft, engines 600hp by Fawcett & Co, Liverpool. Designed by Macgregor Laird. Owned British & American Steam Navigation Company, of Liverpool. Thought to be largest vessel in the world on her launch, and was one of the largest wooden steam vessels ever. Maiden voyage 1st August 1840 from Liverpool to New York.
On her third crossing, she left New York on 11 March 1841 for Liverpool under the command of Captain Richard Roberts. Last seen near Georges Bank [approximately 39°46'N, 71°W] on 12 March in stormy weather - all aboard (106 crew and 30 passengers) lost. No definite cause of loss established, though she was last seen in rough weather and the waves are known to have then increased further. She might have foundered or suffered engine failure and been driven onto the Banks.
Several sources reported wreckage that might be linked to President - for instance, some burnt wreckage of a large vessel was found floating, on 2 June, by New Orleans ship North Bend, near Cape Hatteras [30°30'N](so quite far south from President's course) - but not definitely identified; and Spanish polacca Ronda observed what they thought was floating wreckage of a burnt steamer [42°N, 42°W] on 30 July 1841, quite far east of the Georges Bank
She was not fully insured and the company closed down soon after this setback.
President, which had 3 decks, was found to be somewhat top-heavy, prone to rolling, and under powered. Because of her slow passage times, her captain was changed after each of her first two crossings. Because of patent issues, her feathering paddles had to be replaced by, less efficient, fixed padddles; which made her even less powerful. She was of a length that was among the longest ever used for wooden paddle steamers, and there were suggestions that she was not strong enough to cope with big long waves. Her fittings were lavish and she was designed to accommodate 110 cabin passengers with 44 servants.
Painting of the President embarking passengers in the Mersey by Samuel Walters, from Maritime Museum, Greenwich.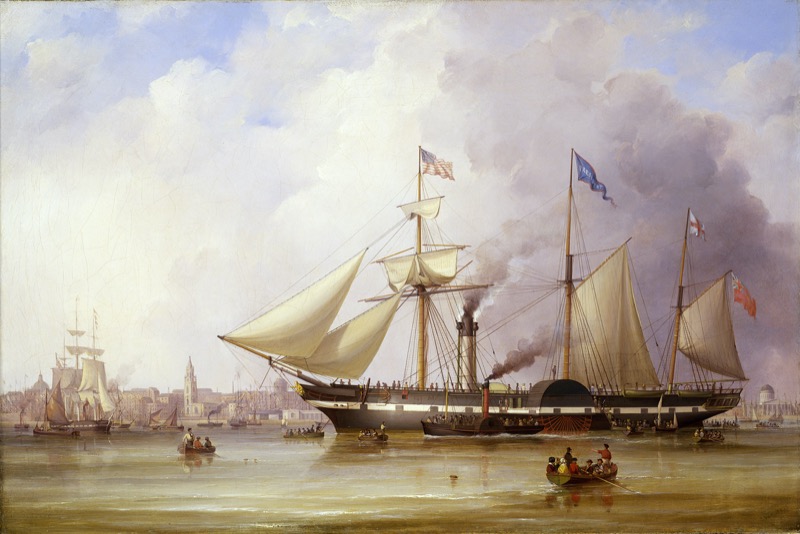 Launch and fitting out:
[from Windsor and Eton Express - Saturday 14 December 1839]: On Monday afternoon, the tide being sufficiently high, President was floated out from the deck where she was built, at Messrs. Curling and Young's, ship builders, at Limehouse, into the Thames, amidst the cheers of many thousand spectators, and proceeded down the river to Blackwall, where she was safely moored. This noble vessel is a superb specimen of ship-building. Her size is greater than that of any steam-ship ever constructed, and she is probably destined to add another proof to the statement, that "larger the vessel the faster she goes," provided her steam power be in proportion to her size.
The following table of comparison between her and the British Queen will show the exact amount of this power with reference to her increased tonnage. It also exhibits other particulars worthy of notice.
DIMENSIONS OF THE BRITISH QUEEN AND THE PRESIDENT.
British Queen. President.
Ft In. Ft. In.
Length extreme from figure-head to taffrail 275 0 268 0
Ditto on upper deck 245 0 243 0
Ditto main deck .. 224
Ditto on keel 223 0 220 0
Breadth within paddle-boxes. 40 0 41 0
Ditto over bends 40 4 41 4
Ditto over all 64 0 68 0
Depth 27 0 ..
Ditto from spar-deck .. 32 9
Ditto from main-deck .. 23 9
Tonnage 2,016 tons 2,366 tons
Power of engine 500 horse 600 horse
Diameter of cylinders 77.5 inches 80 inch
Length of stroke 7 ft. 7 ft. 6 in.
Diameter of paddle wheels 31 ft. 30 ft.
These two steamers, the British Queen and President, are believed to be the longest ships in the world. The latter will be towed to Liverpool for the purpose receiving her engines and being fitted up; and it is expected that she will be able to commence her first voyage across the Atlantic by the middle of next summer. The keel was laid the 23rd November, last year, consequently she has been only twelve months and a fortnight building.
[from Reading Mercury - Saturday 04 January 1840]: Departure of the President Steam Ship for Liverpool. - This stupendous piece of naval architecture has been moored in the river, off Blackwall, since she was floated from the dockyard of Messrs. Curling and Young, her constructors, three weeks ago. During this time an immense number of carpenters and other workmen have been employed in fitting up the interior of the vessel, which already presents an appearance of great splendour, though far from being finished. At high water on Sunday morning last the President was got under way. and four small steamers being attached to her, towed her as far as the Nore, where they left her and returned to Greenwich. The President was then made fast to a large steamer belonging to the St. George's Steam Packet Company, which towed her round to Liverpool, where she will take in her immense engines and machinery, and the remainder of her internal fittings up and decorations. The President, it is expected, will be ready for sea by the month of June or July next, and will leave the port of London alternately with the British Queen. A splendid bust of Mr. Van Buren is preparing to decorate the bows of the President.
[from Liverpool Albion - Monday 13 July 1840]:
THE PRESIDENT, STEAM-SHIP. The President, steam-ship, Lieutenant Fayrer, R.N., Commander, is a sister ship to the British Queen, both belonging to the British and American Steam Navigation Company. The President is intended to run between Liverpool and New York, and is believed to be the largest steamer afloat, being of 2,366 tons register and having engines of 600 horse power. The ship was built in London, by Messrs. Curling, Young, and Co., who are also the builders of the British Queen. Both vessels were designed by Mr. Macgregor Laird, and laid down from his drawings. They reflect the highest credit on his judgment and skill.
The engines were constructed by our celebrated townsmen, Messrs. Fawcett, Preston, and Co.: they are the largest marine engines yet made, having cylinders eighty inches diameter and seven and a half feet length of stroke.
Print of "the President Steam Ship, on her Passage from New York to Liverpool, encountering a severe Gale on Nov. 5th 1840. Lat:39.44 N. Long:67.50 W. Wind N.E.", after a painting by William John Leathem (1815-1857). His painting was exhibited at the Society of British Artists, reported on 3 April 1841, as "Steam-ship President in a heavy gale on 5 Nov 1840". This same print was later used with the title changed to "President as last seen by packet ship Orpheus, Capt Cole, in March 1841", prior to sinking.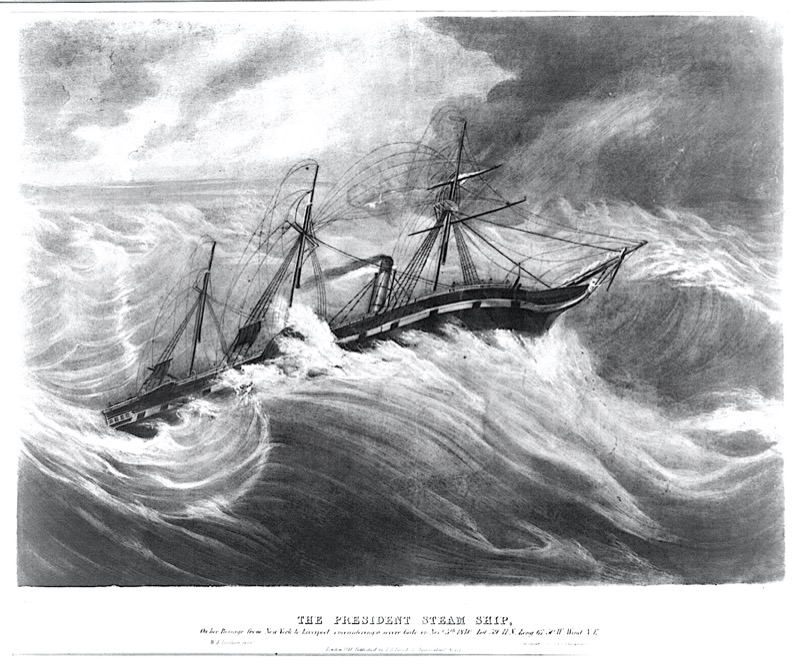 Wreck
Her third trans-atlantic trip was from Liverpool on 10 February 1841 under Captain Richard Roberts, who had previously commanded her sister ship, British Queen, arriving 21 days later at New York. She left New York to return to Liverpool on 11 March 1841, with cargo and 136 people on board, of whom 30 were reported to be passengers. She was last seen off the Georges Bank on 12 March in heavy weather. By July 1841, any hope of her having survived had completely gone.
Painting with paper label on back "The President as last seen signalling with the Brig Pearl", 1841 by W. J. Leathem, from Merseyside Maritime Museum. This shows a British 4-masted paddle steamer with bowsprit missing in a storm. Three signal flags are shown but they do not seem to correspond to any known code. Morever, the brig Pearl is not mentioned in newspaper reports, and this image has 4 masts which is curious since the painter had already illustrated President with 3 masts, see above. This suggests the painting may have been mis-labelled.

[from Dublin Evening Mail - Monday 5 April 1841]: The President. This steam-ship, which seems destined every trip she makes to painfully keep alive public anxiety for her safety [her second return trip, leaving New York on 2 Nov 1840, was delayed by storms and the need to put back for more coal, arriving overdue on 27 Nov], has not yet made her appearance. The New York packet-ship Virginian arrived yesterday. The [President] steamer has on board important despatches from our minister at Washington, and her arrival must be as anxiously looked for by the government as the public. The following is a list of her passengers:
P. C. Pleffel, of New York; R. R. Warburg, do.; Lieutenant Fitzroy Lennox, Br. Army; Mr. Courtney, do.; Tyrone Power and servant, England; C. A. D. Meisegares, Philadelphia; S. Malls, New York; C. L. Cadet, Buenos Ayres; Thomas Palmer, Baltimore; Dr. Maril Torner, Cuba; T. Blancher, do.; John Fraser, New York; A. Van Loke, jun., Amsterdam; A. S. Byrne, London; Thorndike, New York; W. W. Martin, England; E. B. Howell and friend, New York; A. Livingston, New York; Rev. G. G. Cookman, Washington city; D. Deuchar, Scotland; B. Morris and child; E. Barry; J. C. Roberts, New York; J. Leo Wolf, wife, and child; Master Mohring.
Total 27, two children and one servant, making 30.
[from Liverpool Albion - Monday 28 June 1841]:
STEAM PACKET-SHIP PRESIDENT. British Consulate, New York, 5th June, 1841. Present Rear Admiral Walton, George Barclay, Esq., agent for Lloyd's, and Thomas W. Moore, Esq., her Majesty's packet agent, who met by appointment to investigate such reports and matters as relate to said vessel, previous to her departure from this port on the 11th day of March last. The letter from Consul Buchanan, of the 31st May, addressed to Messrs. Wadsworth and Smith, the agents for the proprietors, and their answer being read, the following facts were satisfactorily elicited:
That there was no coal on deck, and that the ship was in proper trim, drawing 17 feet 9 inches abaft, and 17 feet 6 inches forward. That she was not fully loaded, having spare room for about four hundred barrels. That the statement of deficiency of sails and spars has been satisfactorily rejected by the letter of Junius Smith, Esq., of London, which has appeared. That when last seen by Captain Cole, of the Orpheus, during the storm at 4 P.M., on the 12th March, between Nantucket Shoals and George's Bank, at which time the ship Orpheus was labouring heavily, and shipping large quantities of water on her deck.
[from English Chronicle and Whitehall Evening Post - Thursday 01 July 1841; further detail from inquiry above]:
Captain Cole, of the ship Orpheus [Black Ball line packet, b 1832, 573 tons], rose, and stated that he left New York in company with the steamship President, on the morning of the 11th of March last, and that he was in sight of her until about sun down on the evening of the 12th.
Captain Cole further stated that when he last saw the President rising on the top of a tremendous sea, she appeared to be pitching heavily and labouring tremendously. She was then situated in that dangerous part of the Atlantic Ocean, out mid-way between the Nantucket Shoal and the St. George's Bank, just where the Gulf Stream strikes soundings, and where the waves rise almost straight up and down, and as high as a four or five story house. That the President then must have been shipping seas heavily and fast; that probably these large bodies of water worked through into the engine-room, or fire-room, and extinguished the fires, in which case the steamer would have been comparatively helpless; that the storm was terrific all that night; that next morning the wind shifted suddenly from N.E. to S.E., knocking up a still more tremendous sea, and that the gale continued with unabated fury till midnight of the 13th; and that it is his belief that the President did not survive that gale, but foundered with all on board, and that all perished before sundown on the 13th, or in less than 24 hours after he last saw her, and most probably in the terrific night of the 12th of March. In this opinion, Captain Waite [of sailing packet England] and the other nautical gentlemen seemed to coincide.
[from Gore's Advertiser, Liverpool, 29 July 1841]: The shipping company invited the public to visit the British Queen in Liverpool. The entrance fees brought in a sum of about £336. The closest relatives of each and every member of the crew [of the President] received 5 shillings a week for eight weeks. The rest of the money was distributed among the widows and children. The widows received £5 each, the children under fourteen, 10 shillings each.
This suggests that the number of the crew was closer to 70 than 100.