PS Victory lost 1853

Wooden Paddle steamer built J Wilson &amp sons, Liverpool, 1832
Owned St George Steam Packet Co., then Waterford Commercial Steam Navigation Co.
256 tons, 153 x 24 ft.
Passage Liverpool to Waterford, struck Barrels Rocks on 28 September 1853 and foundered
Position 52°9.041N, 6°23.262W (of North Cardinal Mark on rocks)
Captain Stacey and crew and passengers (40) saved in own boats, 1 lost.

Detail from a painting of her by S. Walters: off Cork in 1838 while in the ownership of St. George Steam Packet Co.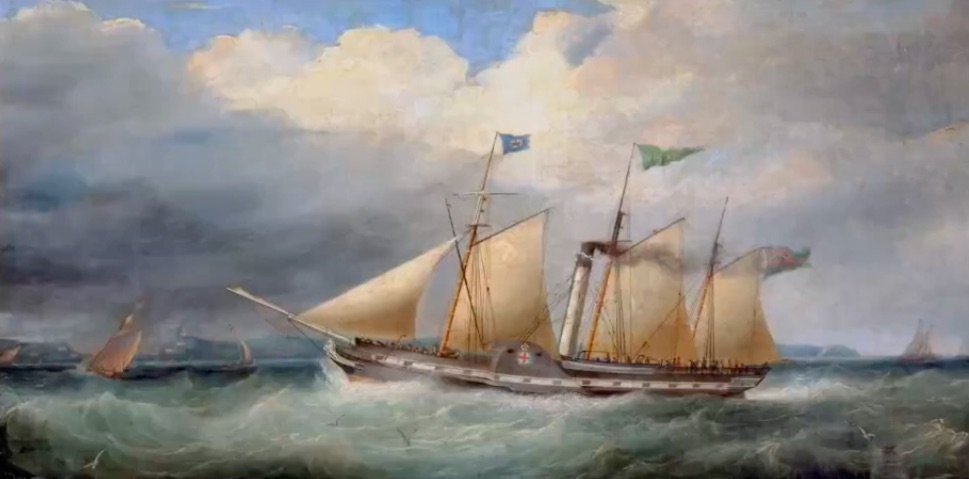 From Wexford People, Saturday 01 October 1853
WRECK OF THE STEAMSHIP VICTORY. On Wednesday morning [28 Sept 1853], about half-past four o'clock, the steamer Victory of Waterford, on her voyage from Liverpool to Waterford, struck on the Barrels' rocks about two miles off Carnsore point; she took in water so rapidly that she became very soon entirely unmanageable. The crew and passengers consisted of about forty souls. - The boats were lowered and all succeeded in landing with the exception of one of the crew; on stepping out of the boat near the edge of the shore, he accidentally fell, and whirled by a wave, was in a moment launched into eternity. The poor fellow's body was not found till about one o'clock, when it was washed in on the shore. Scarcely had the boats left the unfortunate vessel when, she was seen to sink in the channel about five miles distant from the shore. She had a very valuable general cargo on board.
Postscript: The Barrels Rocks are a comparatively small drying area (at LW; covered at HW) of rocks 1.66nm at 213° from Carnsore Point. A more prominent rock (Black Rock) dries 2m at HW and lies quite close by. The Bailees refers to a shallow area NE of Carnsore Point, while the Saltees are substantial islands SW of Carnsore Point.
Information added in other contemporary newspaper reports: She had discharged a government contract to take soldiers to Liverpool and was on her return trip.
&nbsp Her Master was Captain John Stacey and Chief Engineer Bowden. The Captain had been mate aboard the Waterwitch which sank in 1833 in a nearby position - his uncle John Stacey (Sr) was the captain of the Waterwitch [and is described as having died in her wreck, although contemporary reports state he got ashore]. The Waterwitch and Victory were sister ships, one surviving only months, while the other lasted 20 years.