Rant: Firing Ranges
Rant: why should the military reserve the right to blast me out of the water in a good fraction of the sea area of the Irish Sea. Surely they could make do with a more compact area.
The Irish sea area has several large firing ranges.
Image (as of 2009) of these areas: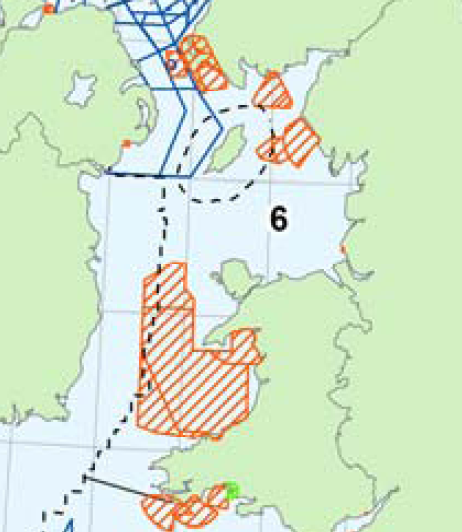 These areas are marked on recent charts by a dotted line with "fire" symbols inside.
They are
West Freugh (Luce Bay) D402A D402B D402C D403 D403A
Dundrennan (Kirkcudbright Basy) D405 D405A
Eskmaels (W of Cumbria) D406 D406B D406C
Altcar (East of Liverpool shipping channel) X5305
Llanbedbr (NE Cardigan Bay; closed 2006) D202
Aberporth (Cardigan Bay) D201 D201A D201B D201C D201E
Castlemartin (S Pembrokeshire) D113
Manorbier (S Pembrokeshire) D115A D115B
Penally (S Pembrokeshire) X5104
Pendine (S Pembrokeshire) D117
Ballykinler (Dundrum Bay N.I.) D401
For details of what is going on in some of these areas see LTPA agreement with Qinetiq, Defence training Estates; Aberporth Range.
All areas operate a clear range system:
"No restrictions are placed on the right to transit the firing practice area at any time. The firing practice area is operated using a clear range procedure, exercises and firing only take place when the area is considered to be clear of all shipping."
"Use of the range is indicated by the display of red flags by day or red lights by night."
Navigators are encouraged to contact range control by VHF or phone to confirm safety arrangements. Range control boats are employed to check on vessels crossing these areas when firing is anticipated.
In most areas, only a small part is likely to be used for tests at any given time. The Luce Bay area is demarcated by buoys.
In my (30 years) experience, I have only been contacted by the range control boat on three occasions -- and asked either to (i) keep my course and speed constant (ii) change course by a few degrees (iii) wait a short while for a firing. I have also seen rocket trails from firings -- and heard boats report them to the coastguard as a flare sighting.
Several areas, formerly in use, are now discontinued but some are still marked as having unexploded ordnance. Some of these are Llandebr (NE corner of Cardigan Bay); Ty Croes (W coast of Anglesey); Great Orme Gunnery; Jurby (west of Isle of Man).