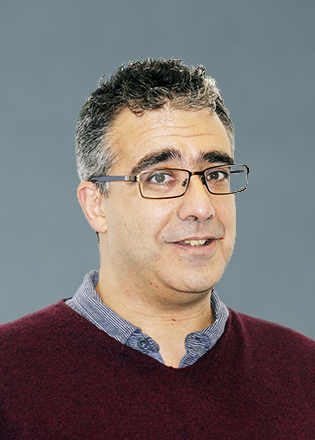 Prof
Francesco
Falciani
Biochemistry & Systems Biology
Research
Research Grants
Serial measurement of the subclinical leukaemic burden as an early biomarker for overt relapse in chronic lymphocytic leukaemia
CANCER RESEARCH UK (CRUK) (UK)
March 2014 - March 2021
Understanding the heterogeneity of chronic lymphocytic leukaemia through the elucidation of how genetic alterations influence protein expression at the whole genome level.
NORTH WEST CANCER RESEARCH INCORPORATING CLATTERBRIDGE CANCER RESEARCH - NWCR (UK)
April 2016 - March 2019
Development of New Mathematical Sciences Capabilities for Healthcare Technologies
ENGINEERING & PHYSICAL SCIENCES RESEARCH COUNCIL (EPSRC)
December 2015 - April 2021
Pathfinder – exploring the commercial market for multi-omics analysis software
BIOTECHNOLOGY & BIOLOGICAL SCIENCE RESEARCH COUNCIL (BBSRC)
May 2017 - August 2017
Prioritised expression of stress-related proteins in environmental thermoadaptive responses of animals
NATURAL ENVIRONMENT RESEARCH COUNCIL (NERC)
January 2016 - December 2019
To deliver the quantification of 30 Unilever chemicals used in C elegans toxicity testing
UNILEVER UK CENTRAL RESOURCES LTD (UK)
February 2015 - March 2015
In search of a common BaP signature: Bioinformatics analysis of metabolomics/lipidomics and miRNA expression of AML/CLL/BNHL cells treated with BaP.
BLOODWISE (UK)
November 2014 - September 2018
To evaluate the necessity of using adult fish over fish embryos for toxicity testing
CENTRE FOR ENVIRONMENT, FISHERIES & AQUACULTURE SCIENCE (CEFAS) (UK)
January 2015 - March 2015
Developing the Ecotoxicological - Predictive - Information - Connectivity Map (EPIC-map)
NATURAL ENVIRONMENT RESEARCH COUNCIL (NERC)
August 2015 - May 2021
The use of systems toxicology to re-construct molecular pathways of adverse outcome: Can chemical mixture toxicity be predicted to aid environmental risk assessment and regulation?
DEPARTMENT FOR ENVIRONMENT, FOOD AND RURAL AFFAIRS (UK)
January 2013 - March 2015
Adverse Outcome Pathways for Endocrine Disruption in aquatic animals – a conceptual approach for mechanistically-based Risk assessment (EDRISK)
NORWEGIAN INSTITUTE FOR WATER RESEARCH (NORWAY)
September 2013 - August 2015
Efficient Biological Networks Discovery and Analysis.
NATURAL ENVIRONMENT RESEARCH COUNCIL (NERC)
May 2013 - October 2013
Immunodynamics and Infectious disease risk in the natural environment
NATURAL ENVIRONMENT RESEARCH COUNCIL (NERC)
February 2015 - July 2020
Open source pipelines for integrated metabolomics analysis by NMR and mass spectrometry
BIOTECHNOLOGY & BIOLOGICAL SCIENCE RESEARCH COUNCIL (BBSRC)
November 2015 - December 2016
Kinome-wide analysis of KRASand MYC driven cancer cell models exposed to clinical kinase and bromodomain inhibitors
NORTH WEST CANCER RESEARCH INCORPORATING CLATTERBRIDGE CANCER RESEARCH - NWCR (UK)
September 2014 - August 2017
A Systems Biology Platform for Predictive Ecotoxicology in Daphnia magna
NATURAL ENVIRONMENT RESEARCH COUNCIL (NERC)
September 2012 - February 2016
Solutions for present and future emerging pollutants in land and water resources management (SOLUTIONS)
EUROPEAN COMMISSION
October 2013 - September 2018
Synergy COPD
EUROPEAN COMMISSION
September 2012 - January 2014
Towards predictive biology: using stress responses in a bacterial pathogen to link molecular state to phenotype
BIOTECHNOLOGY & BIOLOGICAL SCIENCE RESEARCH COUNCIL (BBSRC)
December 2013 - November 2016