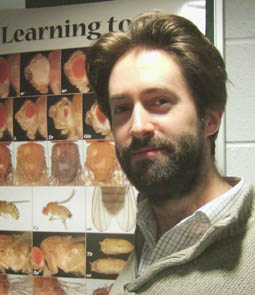 Dr
Daimark
Bennett
BSc, DPhil, FHEA
Senior Lecturer
Molecular Physiology & Cell Signalling
Research
Research Grants
Bench Fees for AMIRAH MESHAL A ALBAQAMI
ROYAL EMBASSY OF SAUDI ARABIA CULTURAL BUREAU IN LONDON (UK)
October 2018 - September 2022
Imaging the Human Microbiome
UNILEVER PLC (UK)
October 2018 - March 2023
A multimodal imaging platform with real-time super-resolution for research across the life sciences
BIOTECHNOLOGY & BIOLOGICAL SCIENCE RESEARCH COUNCIL
May 2018 - April 2019
Liverpool BioAFM: an integrated optical and atomic force microscope for research across the life sciences
BIOTECHNOLOGY & BIOLOGICAL SCIENCE RESEARCH COUNCIL
January 2015 - January 2016
Fluorescence Light Sheet Microscopy for Live 3D and 4D imaging
BIOTECHNOLOGY & BIOLOGICAL SCIENCE RESEARCH COUNCIL
January 2014 - June 2014
Liverpool Imaging Partnership: Molecular physiology and drug response
MEDICAL RESEARCH COUNCIL
February 2013 - February 2017
The development and application of real-time single cell protein interaction technology
NANO IMAGES DEVICES LTD (UK)
October 2008 - September 2012
Biomedical Vacation Scholarships
WELLCOME TRUST (UK)
July 2010 - August 2010
Using Drosophila Model Systems to Study The Biology and New Therapies For Childhood Neuroblastoma
ALDER HEY CHILDREN'S CHARITY (UK)
June 2018 - June 2019
Investigating the role of MRL proteins in tumorgenesis and metastasis in Drosphilia
CANCER RESEARCH UK (UK)
January 2008 - April 2009
Growth control by the actin cytoskeleton: transcriptional targets of MRL/SRF signalling and their role in hyperplastic growth
CANCER RESEARCH UK (UK)
October 2010 - February 2014
Investigating the role and regulation of a putative interphase Histone H3 phosphatase in Drosophila
WELLCOME TRUST (UK)
April 2009 - January 2013
The role and regulation of TOR signalling networks in ovarian cancer metastasis
NORTH WEST CANCER RESEARCH FUND
January 2013 - June 2015
Interrogation of the Phosphorylation networks regulating invasive cell migration in a Drosophila model of ovarian cancer metastasis
NORTH WEST CANCER RESEARCH FUND
January 2010 - December 2012
Interrogating the role of DUBs in invasive cell migration in vivo – Daimark Bennett
CANCER RESEARCH UK (UK)
July 2010 - June 2011
Modelling gradient sensing and collective cell migration in the Drosophila ovary
BRITISH SOCIETY FOR CELL BIOLOGY (UK)
June 2014 - August 2014
Developing a collaborative resource for ChIP based analyses of cancer related transcriptional networks
CANCER RESEARCH UK (UK)
April 2012 - March 2013
Phosphatasome function during cancer cell metastasis
ROYAL SOCIETY (CHARITABLE)
September 2008 - October 2009
Providing a rational basis for the development of an injectable stem cell therapy for the treatment of osteoarthritis in ageing patients.
DUNHILL MEDICAL TRUST (UK)
February 2017 - February 2020
Harnessing the mesenchymal progenitors that drive lung growth.
ROYAL COLLEGE OF SURGEONS OF ENGLAND(UK)
January 2009 - December 2009
Investigating the Role of Sarco-Endoplasmic Reticulum Ca2+-ATPase (SERCA) in Airway Development
WELLCOME TRUST (UK)
January 2010 - December 2011
VIP 2007/08
WELLCOME TRUST (UK)
October 2007 - September 2008
Evolution on ecological timescales: a role for non-genetic inheritance in adapting to novel anthropogenic stressors?
NATURAL ENVIRONMENT RESEARCH COUNCIL
February 2012 - August 2015
Symbcompat: Determing symbiont factors that affect compatibility with a novel host
EUROPEAN COMMISSION
October 2016 - September 2018
Research Collaborations
Prof Philip Rudland
Internal
Dr Igor Barsukov
Internal
Prof Mathieu Bollen
External
: Katholieke Universiteit Leuven, Belgium
Dr Roger Barraclough
Internal
Prof Monique Beullens
External
: Katholieke Universiteit Leuven, Belgium
Dr Matthias Krause
External
: King's College London