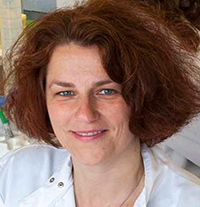 Dr
Bettina
Wilm
Dr rer nat
Senior Lecturer
Molecular Physiology & Cell Signalling
Research
Investigating the potential, safety and efficacy of mouse and human stem cells for renal replacement therapies using murine kidney injury models.
We analyse the potential of human stem cells as regenerative medicine therapies in vitro and in vivo.
We use multimodal preclinical imaging (optoacoustic imaging, in vivo bioluminescence imaging, MR imaging and ultrasound) to track administered cells as therapies in animals of a preclinical model of focal segmental glomerulosclerosis. We follow the cells in order to determine whether they can integrate into the damaged kidneys and contribute to the repair processes, and to assess whether the cells may cause long-term health problems due to tumour formation.
We assess the efficacy of the administered cells by analysing kidney function; for this, we also use multimodal imaging technologies. In addition, we measure the GFR with a transcutaneous device, and we determine urinary and serum biomarkers.

Analysing the role of mesothelial cells in tissue development, homeostasis and repair.
We study the role of mesothelial cells by employing genetic lineage tracing methods in embryos and adult mice. Mesothelial cells have been shown to contribute to mural components of the vasculature in the heart, lungs and intestine.
In order to analyse the molecular mechanisms of the recruitment, we use an in vitro angiogenesis system in combination with live cell imaging, RNA and protein expression analysis.

Research Grants
Bench Fees for Suad Hassan S Alghamdi
ROYAL EMBASSY OF SAUDI ARABIA CULTURAL BUREAU IN LONDON (UK)
October 2018 - September 2022
Developing novel tools and technologies to assess the safety and efficacy of cell-based regenerative medicine therapies, focusing on kidney disease RenalToolBox
EUROPEAN COMMISSION
November 2018 - April 2023
Assessing the therapeutic effects of renal regenerative medicine therapies using a suite of in vitro assays
CHILDRENS RESEARCH FUND (UK)
February 2021 - October 2021
Utilising point-of-care technology in cardiovascular surgery for the identification of pathologic haemolysis implicated in Acute Kidney Injury (AKI).
KIDNEY RESEARCH UK (UK)
October 2022 - September 2024
Developing a human kidney cell model of vancomycin-induced kidney injury to support translational research
KIDNEY RESEARCH NORTHWEST (UK)
November 2021 - April 2022
Investigating the potential of cell-based regenerative medicine therapies to ameliorate acute kidney injury and prevent progression to chronic disease
KIDNEY RESEARCH UK (UK)
April 2018 - July 2019
Exploring how cell therapies ameliorate renal damage
MERSEY KIDNEY FIRST (UK)
October 2018 - September 2021
Modelling cell therapies for Hirschsprung's patients
BOWEL AND CANCER RESEARCH (UK)
September 2018 - March 2021
Investigating the efficacy, safety and mechanisms of action of regenerative medicine therapies in Ischaemia Reperfusion Injury of the Mouse Kidney: KRUK Training Fellowship for Rachel Harwood
KIDNEY RESEARCH UK (UK)
August 2018 - January 2022
Investigating how cell based regenerative medicine therapies modulate T-cells and macrophages to ameliorate acute kidney injury
KIDNEY RESEARCH UK (UK)
November 2018 - September 2021
Multimodal preclinical imaging probes to evaluate the safety and efficacy of regenerative medicine therapies
EUROPEAN COMMISSION
August 2016 - July 2018
Modelling therapies for surgical adhesions
MEDICAL RESEARCH COUNCIL
August 2015 - August 2018
Analysis of the behaviour and control of enteric nervous system progenitor cells isolated from aganglionic bowel in Hirschsprung's disease RCS/BAPS Surgical Research Fellowship for Sumita Chhabra
ROYAL COLLEGE OF SURGEONS OF ENGLAND(UK)
October 2016 - September 2017
Wellcome Trust Four-Year PhD Studentship with the Cellular and Molecular Physiology Programme
WELLCOME TRUST (UK)
October 2011 - March 2016
Investigating the potential of mouse kidney-derived stem cells to integrate and improve renal function in a murine model of chronic kidney disease
ALDER HEY CHILDREN'S KIDNEY FUND (UK)
October 2010 - September 2012
The efficacy and safety of stem cell therapies in mouse models of kidney disease
DEPARTMENT FOR BUSINESS, INNOVATION AND SKILLS (UK)
January 2015 - January 2016
Analysis of the mesothelium as a source of adult progenitor cells for tissue homeostasis
WELLCOME TRUST (UK)
August 2010 - April 2015
Regenerative Medicine Platform in Stem Cell Safety Science
MEDICAL RESEARCH COUNCIL
June 2013 - March 2018