Life Sciences Employability Week
Posted on: 11 December 2020 by Lib Golding in December posts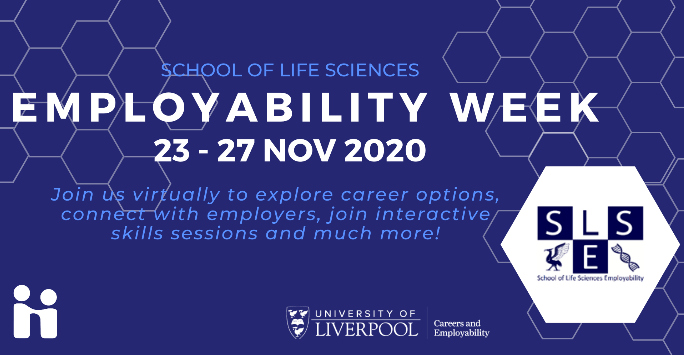 Life Sciences Employability Week (LSEW) 2020 ran across the week beginning 23 November, with a total of 20 online events open to all students across the School of Life Sciences and School of Psychology.
Events were designed to help students explore their career options, develop skills in high demand in the graduate labour market and to make valuable connections with employers, alumni and their peers. 864 Life Sciences students registered to take part in the week, a 55% increase from the 556 who took part last year, with a notable increase in the number of first and second year students participating. Significantly, the number of first year students who attended was more than double that of the previous year. LSEW events are HEAR-accredited allowing students to bank their attendance towards the Life Sciences Employability Award.
Students had the opportunity to hear from individuals representing a range of sectors, including those working in roles in ecology, healthtech and in the charitable sector. A number of speakers were alumni of the University and it was great to welcome them back to share their insights with current students. The mid-week 'Get Hired Day' featured employer panels covering a variety of industries including pharmaceuticals, medical communications and roles where graduates work towards a postgraduate qualification, such as teaching and legal. Over 250 students attended the panels with many putting their questions directly to employers. First and second year students benefited from the chance to enhance their industry knowledge and understanding of the recruitment process, to support them in completing the LIFE130 and LIFE223 employability tasks on commercial awareness and making strong applications.
Professor Zenobia Lewis, Director of Employability for the School of Life Sciences commented: "Students are well aware that the COVID-19 pandemic may seriously impact the opportunities available to them when they graduate. Therefore, I'm both delighted and relieved that this has spurred them into engaging with LSEW more than ever before. It is particularly heartening to see such a great response from our first year students, who are clearly thinking well ahead in terms of planning their futures."
Over 350 students attended the 'What can I do with my Life Sciences degree?' session with one student describing the session as "informative and extremely useful as I am unsure what I want to do". Another who attended the 'Roles with Small-Medium Enterprises' panel session shared, "I've really appreciated this, it's been incredibly useful. I've been informed of many opportunities I wasn't aware of." Employer feedback has also been extremely positive, with a panellist feeding back "it was a great experience and I've been really impressed by the number of students who have approached me on LinkedIn, and asking some really great questions."
LSEW has once again been a truly collaborative initiative between the School, Careers & Employability and our employer partners. Thank you to all who helped to promote these events and make the week a success.