Spring SciX Conference Report 2022
Posted on: 28 April 2022 by Daniel Smaje, Sara Sadia Chowdhury, Thanyaporn Tengsuttiwat in April 2022 posts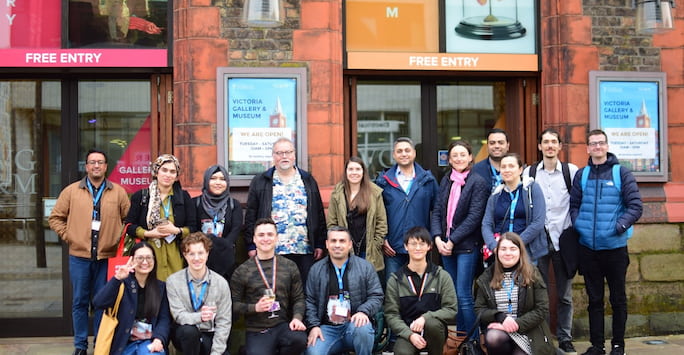 A couple of weeks ago, the University of Liverpool hosted the Spring SciX Conference, a 3-day conference in which early careers researchers present their research and provides them opportunities for oral and poster presentations with the aim of establishing career mentors for early careers researchers. Daniel Smaje, Sara Sadia Chowdhury, and Thanyaporn Tengsuttiwat all attended the conference and here is what they said about it.
What is the SciX Spring Conference?
Spring SciX is an international conference based in the United Kingdom, derived from the successful USA-based SciX series. The ethos of this meeting is to provide early career researchers (ECRs) an opportunity to share their research and present their vision for the future of this scientific arena. To this end, the conference provides opportunities for oral and poster presentations with the aim of establishing career mentors for ECRs.
The conference covers topics relating to analytical chemistry and spectroscopy spanning multiple fields, techniques and applications. Techniques covered include mass spectroscopy, Raman spectroscopy, infrared spectroscopy and molecular spectroscopy, among others.
Spring SciX2022 was a 3-day conference held in Liverpool, organised by Prof Royston Goodacre, Dr Howbeer Muhamad Ali and Nicola Gilmore. The conference supported ECRs with bursaries and prizes to attend the Federation of analytical chemistry and spectroscopy societies networking event and subsequent SciX conferences.
How did the conference come to be held in Liverpool?
The conference came to be held in Liverpool as Prof Royston Goodacre, Dr Howbeer Muhamad Ali and Nicola Gilmore from the University of Liverpool agreed to host this year's meeting. The location of the Centre for Metabolomics Research in Liverpool, as well as other groups throughout the Institute of Molecular and Integrative Biology, means Liverpool has a broad community of analytical chemists with insights to share.
What was it like to be part of the organising committee?
Participating as one of the organising committee members gave me the opportunity to welcome the delegates to the conference and simultaneously engage in discussions and make connections with academics and researchers with similar research interests at a deeper level. It felt very rewarding to help facilitate the first in-person event that many of the academics have participated in since before the pandemic, and give many of the younger researchers their first conference experience!
As a PhD student from the host university it was an honour to represent University of Liverpool to the international delegates and enlighten them about what the city of Liverpool has to offer outside the conference (including showcasing the beautiful Victoria building on our staff shirts!). Additionally, it was a valuable learning experience to contribute to the background work of Spring SciX 2022 and gain experience in how an international conference can be executed successfully.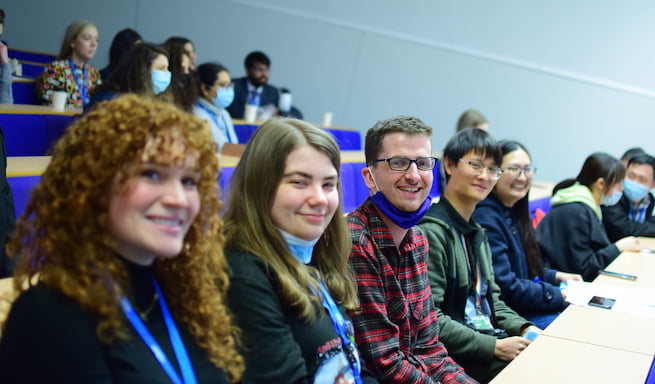 What delegates does it attract?
120 delegates from 10 different countries attended the international Spring SciX 2022 conference, ranging from early career researchers to sponsors and established researchers in analytical sciences.
What were the conference highlights?
The three-day conference was divided into 4 plenaries, by Professor Sir Ian Gilmore, Dr Oliver Sutcliffe, Dr Hatice Altug and Professor Melissa Hanna-Brown. These covered a broad range of topics, including trends in alcohol use during the Covid-19 pandemic, experiences in setting up a lab to identify psychoactive drugs for police work, using nanophotonics to improve diagnostic tools and the importance of partnerships and strategy to facilitate innovation in science. In addition to the plenaries, 50 oral presentations and 30 poster flash talks took place during the conference giving ECRs from all around the world vital experience in presenting their work, as well as allowing more experienced researchers to showcase their recent research. The themes of these presentations were: frontiers in spectroscopy and mass spectrometry, molecular spectroscopy for pharmaceuticals, VOCs for health and disease, informatics for the omics, imaging spectroscopy and Nano-IR, bioanalytical mass spectrometry, CLIRSPEC, SERS/SORS, and metabolomics, thus covering a wide range of interests and topics. The delegates were free to attend sessions that were most relevant to their areas of interest since the presentations ran in parallel. Additionally, The Williams-Wright Award session and IRDG's Martin and Wills Prize session were great chances to recognise some of the hard work that delegates put into preparing their contribution to the conference.
Annelouise McCulloch from the University of Glasgow was the winner of IRDG's Martin and Wills Prize session for giving a talk on application of infrared spectroscopy to derive structure-activity relationships for industrially relevant heterogenous catalysts. She received a prize for being the best young spectroscopist presenter in Spring SciX2022, and also received an invitation to speak at the IRDG Christmas meeting at UCL in December 2022. On the other hand, Sheona Shankland, Roy Aerts and Samantha Walker were each awarded with the ECR oral prize of £1000 for T&S for attending Federation of analytical chemistry and spectroscopy societies networking and the subsequent SciX2022 in Cincinnati, USA.
Apart from lunch and frequent tea breaks during the conference, the drinks reception on Monday and the Gala dinner at the Victoria gallery and museum were fantastic networking opportunities. During the Gala dinner, Duncan Graham, the former Analyst editor in Chief, was awarded the past President analytical chemistry division medal from Royal Society of Chemistry and ACFT chair/president from the current president Diane turner.
Where will the next conference be held?
Cincinnati, USA in October 2022