Environment and Planning BA (Hons)
Offers study abroad opportunities

Offers a Year in China

Accredited
Course length:

3 years

UCAS code:

K4L7

Year of entry:

2022

This degree programme gives you a full understanding of the primary environmental challenges of the 21st century and provides you with the skills base to help address them.
You'll gain a rounded understanding of the factors and forces that are shaping the environment and the role that planning can play in reconciling competing and conflicting interests. Attention is focused on approaches to the protection and enhancement of natural and built environments in a rapidly changing world.
An interdisciplinary approach to study provides learning opportunities that draw upon the expertise of academics in Planning as well as academics in the departments of Geography, Sociology and Architecture. This programme provides accreditation from the Institute of Environmental Management and Assessment (IEMA).
This programme is designed as part of a suite of strongly related programmes in planning, and core modules.
Interested in finding out more? Zehui shares her experience on the course, below.
"I want Introduce a special lecture about urban planning called Visit Site. You will get the opportunity to go to the Lake District National Park, Paris, and many other places, travel and study at once."
Zhao Zehui. Urban Planning, Y2.
As XJTLU students will join Year 2 at The University of Liverpool, this page provides relevant module information for the following programme(s):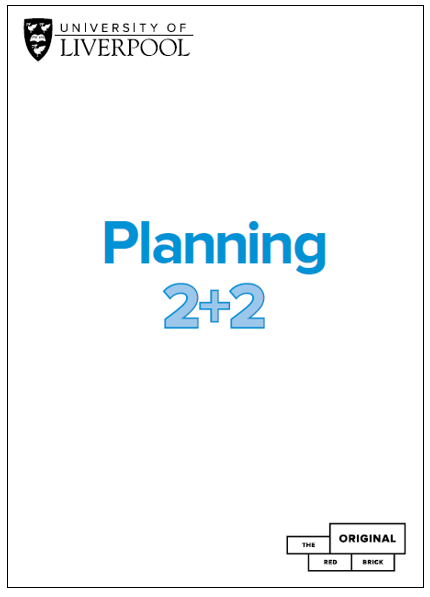 Download the 2+2 Planning Brochure
Programme Year Two
In Year Two, you begin to develop your specialism in spatial planning for environmental change through the core module Environmental Sustainability (ENVS218). This module introduces you to the interactions of environmental policy and practice, and the management of environmental issues. The forces and factors that are influencing the way in which towns and cities are evolving are also examined in further core modules.
You also continue to develop critical thinking and communication skills to enable you to analyse material and communicate ideas effectively. Project work also enables you to develop an awareness of the methodological and spatial design issues that arise in the development of planning schemes. The residential field class undertaken in Year Two is part of the module Rural Planning Field Class and takes you into the field to examine environmental, social and economic issues in a rural setting.
Year Three provides you with more focused study of your specialism in order to gain greater knowledge and expertise of environmental planning. You are required to take two core modules, one dissertation module (ENVS302 or ENVS346) and two optional specialism modules.
You can then choose a further two or three modules depending on your dissertation module from a range of optional modules, this could include an international field class offering the opportunity to explore planning in a new context.
Year Two Compulsory Modules
Environmental Sustainability (ENVS218)

Level
2
Credit level
15
Semester
First Semester
Exam:Coursework weighting
0:100
Aims

This module aims to; introduce students to current thinking in relation to sustainable development and locate environmental sustainability within this broader framework of ideas;
Develop an understanding of various dimensions of environmental sustainability and their relationship to patterns of human development;
Develop an understanding of the role of the public and private sectors in promoting environmentally sustainable development.

Learning Outcomes

(LO1) Students completing the course successfully should be aware of current thinking in relation to sustainable development and be able to locate environmental sustainability within this broader framework of ideas

(LO2) Students completing the course successfully should have an understanding of various dimensions of environmental sustainability and their relationship to patterns of development;

(LO3) Students completing the course successfully should develop an understanding of the role of the public and private sectors in promoting environmentally sustainable development.

(S1) Problem solving skills

(S3) Organisational skills

(S4) Communication skills

(S5) International awareness

Rural Planning (ENVS289)

Level
2
Credit level
15
Semester
Second Semester
Exam:Coursework weighting
0:100
Aims

This module is designed to provide an introduction and understanding of the dynamics of change in the countryside, and provide an examination of the role of key actors and agencies. The module will examine and critically evaluate policy initiatives for both the human and natural environments, and inter-relationships and tensions between the two.

Learning Outcomes

(LO1) To understand the social dynamics within rural areas and appreciate the difficulties facing various groups in accessing services in rural areas including an appreciation of  of pressures on the natural heritage in rural areas;

(LO2) To understand the range of agency/policy responses to challenges facing rural communities;

(LO3) To appreciate the role of spatial planning in wrestling with multifunctionality in rural areas.

(S1) Communication (oral, written and visual) - Presentation skills - written

(S2) Critical thinking and problem solving - Evaluation

(S3) Critical thinking and problem solving - Critical analysis

(S4) Communication (oral, written and visual) - Communicating for audience

Gis for Planners (ENVS279)

Level
2
Credit level
15
Semester
Second Semester
Exam:Coursework weighting
0:100
Aims

The module aims to develop an understanding of how and why GIS is useful in the social sciences. It will introduce students to the fundamentals of GIS and enable students to devleop: (i) a theoretical knowledge of GIS and spatial analytical methods, and; (ii) a practical ability to apply GIS in the handling and analysis of spatial data in a human geography context.

Learning Outcomes

(LO1) Students will be able to use GIS and to import a range of spatial data types into a database.

(LO2) Students will understand how to implement the basic functions of GIS.

(LO3) Students will know how to apply a number of spatial analysis techniques and how to interpret the results, in the process of turning data into information.

(LO4) Students, when faced with a new data-set, will be able to work independently using a GIS. 

(S1) Problem solving skills

(S2) Communication skills

(S3) IT skills

(S4) Organisational skills

(S5) Numeracy

People and Place (ENVS205)

Level
2
Credit level
30
Semester
Whole Session
Exam:Coursework weighting
0:100
Aims

To develop students' understanding of the relationships between people and places.

To continue to develop the skills needed by students and practitioners of planning, including working in a group and carrying out independent research.

To explore planning in a different locational context.

To practice the skills needed to apply for jobs and postgraduate study.

Learning Outcomes

(LO1) Students will have developed their understanding of the relationships between people and places

(LO2) Students will have developed their skills in relation to the studying and practicing of planning and will have applied these skills in a range of contexts.

(LO3) Students will have been introduced to, and had the opportunity to practice, undertaking independent research.

(LO4) Students will have practiced their employability skills by practicing the process of applying for a job or postgraduate course.

(S1) Communication (oral, written and visual) - Presentation skills – oral & visual

(S2) Communication (oral, written and visual) - Presentation skills - written

(S3) Working in groups and teams - Group action planning

(S4) Communication (oral, written and visual) - Academic writing (inc. referencing skills)

(S5) Communication (oral, written and visual) - Report writing

(S6) Communication (oral, written and visual) - Communicating for audience

Strategic Plan Making (ENVS210)

Level
2
Credit level
15
Semester
First Semester
Exam:Coursework weighting
0:100
Aims

This module provides an introduction to the methods and techniques that are used in the preparation and implementation of strategic plans and policies.

Learning Outcomes

(LO1) be familiar with the main elements of the planning process and techniques associated with them

(LO2) understand planning documents, including how they are prepared and the different functions they serve;

(LO3) demonstrate a critical perspective on current planning formats;

(LO4) understand ther role of plans in shaping places and how the theory of plan making has changed over time

(S1) Problem solving skills

(S2) Organisational skills

(S3) Communication skills

Urban Morphology and Place-making (ENVS256)

Level
2
Credit level
15
Semester
Second Semester
Exam:Coursework weighting
0:100
Aims

Th e specific objectives of the module are to: introduce students to the analysis of the qualities and characteristics of the urban fabric; introduce a working knowledge of design approaches regarding the urban environment; introduce the formative design skills and techniques related to site planning; relate urban design issues to the broader planning agenda including development processes and products.

Learning Outcomes

(LO1) understand the basic sequence of urban design in history as it helped shape urban places

(LO2) have the ability to appraise the qualities and character of an area in urban design terms

(LO3) an understanding of contemporary theories as they relate to urban design

(LO4) be conversant with basic design and presentation skills needed for urban design projects

(LO5) have the ability to make proposals to enhance the spatial qualities of urban places

(LO6) have a basic knowledge of site planning and design issues and their resolution

(S1) Organisational skills

(S2) Teamwork
Year Two Optional Modules
An Introduction to Environmental History (ENVS223)

Level
2
Credit level
15
Semester
First Semester
Exam:Coursework weighting
50:50
Aims

On completion of this module, students should be able to:
1. Demonstrate a knowledge of global environmental history, from pre-history to the present day.
2. To understand and critically evaluate the impact on the earth of: domestication of plants and animals; agricultural and industrial revolutions; and present day processes of globalisation and development.
3. To explain critically the consequences of desertification and deforestation
4. To critically evaluate present day academic and policy perspectives on the environment
5. To contribute and evaluate debates on environmental philosophy and ethics

Learning Outcomes

(LO1) On completion of this module, students should be able:- 1. Demonstrate an understanding of global environmental history from the pre-history to the present day. 2. To have a demonstrable understanding and ability to critically evaluate the impact on the earth of: the domestication of plants and animals; the agricultural and industrial revolutions from the eighteenth century; and present day processes of globalisation and resource management. 3. To critically explain the consequences of desertification and deforestation.4. To critically evaluate present day academic and policy perspectives on the sustainability of agricultural and industrial systems. 5. To engage with debates on environmental philosophy and ethics. Achievement of these objectives will be assessed by examination.

(S1) Communication skills

Comparing Welfare States (SOCI207)

Level
2
Credit level
15
Semester
Second Semester
Exam:Coursework weighting
0:100
Aims

A1) Provide an understanding of Esping-Andersen's typology of welfare regimes, 'the three worlds of welfare capitalism'.
(A2) Introduce the concepts of 'decommodification', 'destratification' and 'systems of exchange' and explain their significance in understanding 'the mixed economy of welfare' in different countries.
(A3) Set out a systematic approach for critically assessing claims about the similarities and differences between welfare 'regimes'.
(A4) Compare and contrast welfare settlements in liberal, conservative and social democratic regimes with reference to the examples of the USA, Germany and Sweden.

Learning Outcomes

(LO1) Demonstrate knowledge of Esping-Andersen's typology of welfare regimes.

(LO2) Link Esping-Andersen's typology to the concepts of '(de)commodification' and '(de)stratification'.

(LO3) Use that typology as a basis for comparing and contrasting welfare settlements in different countries.

(LO4) Draw on evidence to critically assess claims about the similarities and differences between welfare regimes, including Esping-Andersen's own claims.

(LO5) Connect the development of welfare to the 'political economy' of capitalist societies.

(LO6) Outline how 'the mixed economy of welfare' in different countries changes over time in response to wider social, political and economic challenges and crises.

(S1) Comparative analysis

(S2) Using conceptual frameworks to approach claims about the similarities and differences between the political economy of welfare states systematically

(S3) Locating, analysing and critically assessing the relative strengths and weakenesses of different forms of evidence and the claims made on the basis of that evidence.

(S4) Communication: presenting the results of analysis in a structured, clear and considered manner.

Exploring the Social World (ENVS225)

Level
2
Credit level
15
Semester
First Semester
Exam:Coursework weighting
0:100
Aims

- provide students with the knowledge of the different research methodologies that are available to carry out research in Geography and more widely in the Social Sciences;
- provide students with the knowledge of the research process in the Social Sciences;
- enable students to define coherent research questions that can be addressed by different research methods;
- enable students to recognise the problems and limitations associated with certain research methods, instruments for data collection and techniques for data analysis;
- enable students to make informed decisions on the most appropriate methodological choices to carry out their own research;
- prepare students to carry out their own research in the Social Sciences;

Learning Outcomes

(LO1) To understand theparadigms deployed by qualitative and quantitative Social Science research

(LO2) To understand the main methods used in Social Science research

(LO3) To understand the limitations of existing research methods

(LO4) To criticallyassess the main types of contemporary Social Science research methods

(LO5) To select appropriate methods to evaluate empirically assessable research questions

(LO6) To have basic training in data collection, exploration and analysis methods

(LO7) To reflect and set attainable objectives, priorities, action plans and schedules of work to achieve objectives (Planning & Organization)

(LO8) To critically assess a problem and find the best possible data collection, exploration and analysis approach (Problem Solving)

(S1) Numeracy (application of) manipulation of numbers, general mathematical awareness and its application in practical contexts (e.g. measuring, weighing, estimating and applying formulae)

(S2) Problem solving/ critical thinking/ creativity analysing facts and situations and applying creative thinking to develop appropriate solutions.

Political Economies of Globalisation (ENVS264)

Level
2
Credit level
15
Semester
Second Semester
Exam:Coursework weighting
67:33
Aims

This module introduces students to the study of globalisation. It will be of interest to those who wish to learn how capitalism is transformed, and what challenges this transformation entails for the functioning of national and local economies, states and societies. Specifically, the course examines the changes globalisation has wrought in political life and how globalisation has been contested. Having acquired a basic knowledge of inequalities in the global economy, students will learn how the adverse consequences of globalisation can be challenged, and what are the possibilities of democratic governance in the age of globalisation. By taking this module students will prepare themselves for a more advanced study of international political economy and development.

Learning Outcomes

(LO1) By the end of this module, students should: Know and analyse the main paradigms and perspectives on globalisation, mainstream and heterodox Have a basic understanding of the workings of the global political economy Be familiar with and be able to analyse the existing examples of anti-globalisation movements. Understand the contested nature of processes of 'neoliberalisation.'

(LO4) Understand the contested nature of processes of 'neoliberalisation.'

(S1) Ethical awareness

(S2) Adaptability

(S3) Problem solving skills

(S4) International awareness

(S5) Global perspectives demonstrate international perspectives as professionals/citizens; locate, discuss, analyse, evaluate information from international sources; consider issues from a variety of cultural perspectives, consider ethical and social responsibility issues in international settings; value diversity of language and culture

(S6) Problem solving/ critical thinking/ creativity analysing facts and situations and applying creative thinking to develop appropriate solutions.

(S7) Research management developing a research strategy, project planning and delivery, risk management, formulating questions, selecting literature, using primary/secondary/diverse sources, collecting & using data, applying research methods, applying ethics

Population and Societies (ENVS221)

Level
2
Credit level
15
Semester
First Semester
Exam:Coursework weighting
0:100
Aims

The module aims to Provide an understanding and explanation of the main societal and cultural determinants of a wide range of demography and other events, including being born ; leaving home ; moving home ; partnering ; having sex ; having children ; experiencing well-being , falling ill and dying; Describe and account for how these events lead to spatial and temporal variations in population growth rates and structures Examine the relevance of the demographic and epidemiological (health) transitions to developing countries, and, Assess the future global population prospects. The module aims to move far beyond the basic population geography presented in GCSE and A-level syllabuses by providing;
Greater breadth and depth of coverage.
Direct exposure to the population-related research of current staff.
Greater critical engagement with the material covered.

Learning Outcomes

(LO1) Understand and explain the main societal and cultural determinants of a wide range of demographic and other events, including being born; leaving home; moving home; partnering; having sex; having children; experiencing well-being, falling ill and dying

(LO2) Describe and account for how these events lead to  spatial and temporal variations in population growth rates and structures

(LO3) Critically examine the relevance of the demographic and epidemiological (health) transitions to developing countries.

(LO4) Critically assess the future global population prospects

Urban Sociology (SOCI236)

Level
2
Credit level
15
Semester
First Semester
Exam:Coursework weighting
0:100
Aims

- To provide an introduction to classical and contemporary social scientific approaches to the study of urban life

- To introduce key classical and contemporary academic studies of urbanism

- To situate the distinctive contribution made by sociologists to our understanding of cities

- To critically examine key empirical studies on the social and cultural aspects of city life

Learning Outcomes

(LO1) An awareness of the landmark social studies of modern urbanism

(LO2) An appreciation of the spatial form taken by social inequalities in urban capitalist contexts

(LO3) Capacity to describe and assess some of the major political interventions in city life in the modern period

(LO4) Understanding of the relationship between theoretical and methodological studies of the urban

(S1) Improving own learning/performance - Reflective practice

(S2) Communication (oral, written and visual) - Presentation skills - written

(S3) Communication (oral, written and visual) - Influencing skills – envisioning

(S4) Critical thinking and problem solving - Critical analysis

(S5) Global citizenship - Cultural awareness
Year Three Compulsory Modules
Environmental Assessment of Policies, Plans, Programmes and Projects (ENVS329)

Level
3
Credit level
15
Semester
First Semester
Exam:Coursework weighting
50:50
Aims

This module provides for a comprehensive overview of the theory and practice of strategic environmental assessment of policies, plans and programmes and of environmental impact assessment of projects.

Learning Outcomes

(LO1) 1. Understand why and how EIA and SEA are important to further an environmentally sustainable development and influence policy/practice;

(LO2) 2. Have a clear understanding of SEA and EIA requirements and practices;

(LO3) 3. Know how to collect, analyse and report environmental information and data in SEA and EIA;

(LO4) 4. Be able to analyse environmental problems effectively and choose suitable assessment tools, methods and techniques;

(LO5) 5. Be able to communicate effectively in (and on) SEA and EIA processes.

(S1) Communication skills

(S2) Problem solving skills

(S3) International awareness

Environmental Planning and Management Project (ENVS360)

Level
3
Credit level
15
Semester
Second Semester
Exam:Coursework weighting
0:100
Aims

This module is based upon the execution of a client based mini-project. This module aims to provide students with the support to develop skills of analysis, interpretation, policy prescription and ethical considerations that may arise in client consultant relationshipS. It is well grounded in the Department's own research activities and draws upon established links with a number of local authorities and other public bodies. The foundation for this module is laid out in the pre-requisite module of ENVS 329 (Sem 1). Hence, this module is based on applying the knowledge gained in ENVS329 and adds in real-life scenarios and is conducted in partnership with an identified client. It therefore lends itself to research-connected teaching, active learning and authentic assessment.

Learning Outcomes

(LO1) able to apply skills in selecting, assembling, manipulating, presenting and interpreting data related to an environmental planning and management project;

(LO2) able to use skills of policy prescription based on these data;

(LO3) able to adopt a critical approach to the examination of existing practice in the analysis and evaluation of environmental planning and management projects;

(S1) Problem Solving

(S2) Communication

(S3) Leadership

(S4) Teamwork

Civic Design Dissertation (ba) (ENVS302)

Level
3
Credit level
30
Semester
Whole Session
Exam:Coursework weighting
0:100
Aims

To develop and practise academic skills in identifying a research topic, formulating a research design, managing the extended research process and achieving milestones, and, drawing relevant policy conclusions from the research findings.
To develop a deeper understanding in depth of a relevant body of literature.
To develop analytical skills and critical thinking on environment and planning issues and policies.
To develop writing, presentation and bibliographic skills in preparing and submitting a high quality, fully-referenced dissertation.

Learning Outcomes

(LO1) Identify an appropriate research topic;

(LO2)  Design and implement an effective research project using appropriate methods (e.g. literature review, case study) and techniques (e.g. surveys, data analysis);

(LO3) Manage the research process effectively within given resources and meeting milestones on time;

(LO4)  Develop a deeper and critically-engaged understanding of a selected topic within the subject area of Civic Design;

(LO5) Form independent and objective views on issues and policies on a selected specialist subject area; and

(LO6) Produce a well-written, clearly presented and properly formatted Dissertation

(S1) Adaptability

(S2) Organisational skills

(S3) Communication skills

(S4) Ethical awareness

(S5) Lifelong learning skills

(S6) IT skills

(S7) Problem solving skills

Issues in Planning Research (ENVS346)

Level
3
Credit level
15
Semester
First Semester
Exam:Coursework weighting
0:100
Aims

This module enables students to develop a topic of their own choice in greater depth and improve their skills in identifying and defining an academic or societal planning problem, develop and present an idea to a professional audience, and organise thoughts in writing.

Learning Outcomes

(LO1) Identify and formulate a topic, requiring information gathering and synthesis of widely ranging information types

(LO2) Effectively communicate ideas through oral and written media

(LO3) Competently handle current communications technology

(LO4) Synthesise arguments and evidence

(S1) Communication skills

(S2) Problem solving skills

(S3) Organisational skills
Year Three Optional Modules
Climate Change - A Critical Review (ENVS389)

Level
3
Credit level
15
Semester
Second Semester
Exam:Coursework weighting
60:40
Aims

The module aims to provide students with the knowledge to evaluate likely outcomes climate change and climate variability over the next 10 to 50 years by understanding current climate variablity and the data and models available. To understand policy decisions at different levels, to obtain a critical understanding of climate predictions, and to understand the importance of reference to past (last 100 years) and present climates.

Learning Outcomes

(LO1) Evaluate a range of future climate change projections .

(LO2) Recognise the likely impacts of climate change to a range of sectors.

(LO3) Learn how to engage with stakeholder communities with regard to climate change. 

(LO4) Produce effectively targeted report writing and visual communication.

(LO5) Consider the multiple sector impact of climate change on societies

(S1) Learning and studying, Developing autonomous learning and metacognition  decision making and prioritising tasks

(S2) Communication in formats appropriate to the audience

(S3) Awareness of responsibility as a local, national and international citizen with a global perspective

(S4) Taking responsibility for learning and reflection upon that learning

Contemporary Population Dynamics (ENVS311)

Level
3
Credit level
15
Semester
Second Semester
Exam:Coursework weighting
0:100
Aims

This course focuses on long-term European population trends.  The fertility, mortality and migration dynamics of a representative cross-section of European countries are examined and competing explanations for demographic changes are discussed. The specific challenges that current population changes pose to public policy are also discussed.

Learning Outcomes

(LO1) Compare and contrast trends in fertility, migration and mortality across selected European countries;

(LO2) Critically evaluate competing explanations for population change;

(LO3) Critically discuss the implications of different political; economic and social contexts for population dynamics;

(LO4) Propose and evaluate policy-responses addressing challenges associated with population change.

(S1) Global perspectives demonstrate international perspectives as professionals/citizens; locate, discuss, analyse, evaluate information from international sources; consider issues from a variety of cultural perspectives, consider ethical and social responsibility issues in international settings; value diversity of language and culture

(S2) Problem solving/ critical thinking/ creativity analysing facts and situations and applying creative thinking to develop appropriate solutions.

(S3) Communication, listening and questioning respecting others, contributing to discussions, communicating in a foreign language, influencing, presentations

(S4) Literacy application of literacy, ability to produce clear, structured written work and oral literacy - including listening and questioning

Geographic Data Science (ENVS363)

Level
3
Credit level
15
Semester
First Semester
Exam:Coursework weighting
0:100
Aims

The module provides students with core competences in Geographic Data Science (GDS). Thisincludes the following: Advancing their statistical and numerical literacy. Introducing basic principles of programming and state-of-the-art computational tools for GDS. Presenting a comprehensive overview of the main methodologies available to the Geographic Data Scientist, as well as their intuition as to how and when they can be applied. Focusing on real world applications of these techniques in a geographical and applied context.

Learning Outcomes

(LO1) Demonstrate advanced GIS/GDS concepts and be able to use the tools programmaticallyto import, manipulate and analyse data in different formats.

(LO2) Understand the motivation and inner workings of the main methodological approaches ofGDS, both analytical and visual.

(LO3) Critically evaluate the suitability of a specific technique, what it can offer and how it canhelp answer questions of interest.

(LO4) Apply a number of spatial analysis techniques and how to interpret the results, in theprocess of turning data into information.

(LO5) When faced with a new data-set, work independently using GIS/GDS tools programmatically.

(S1) Numeracy

(S2) Organisational skills

(S3) Problem solving skills

(S4) IT skills

(S5) Ethical awareness

(S6) Communication skills

Green Infrastructure Planning (ENVS345)

Level
3
Credit level
15
Semester
Second Semester
Exam:Coursework weighting
0:100
Aims

The module aims:

To introduce the concept of Green Infrastructure from its historical antecedents to its current use.

To discuss the value of Green Infrastructure planning in urban planning as a mechanism for addressing biodiversity, climate change, health, water management and wider urban greening issues.

To examine the management frameworks of green space planning and debate the utility of a number of evaluation and monitoring techniques available to environmental managers.

To introduce the policy context of Green Infrastructure planning and examine the influences of political will, financial incentives and social needs in developing greener and more sustainable urban environments.

To develop an understanding of how Green Infrastructure can be, and is being, implemented through a more in-depth assessment of a series of global case studies.

Learning Outcomes

(LO1) By the end of the module students will be able to demonstrate an understanding of the multifunctional benefits of green infrastructure.

(LO2) By the end of the module students will be able to demonstrate an understanding of the planning mechanisms in place that govern the development of green infrastructure resources.

(LO3) By the end of the module students will have the skills to evaluate the role and added value of green infrastructure in real world planning scenarios

(S1) Global perspectives demonstrate international perspectives as professionals/citizens; locate, discuss, analyse, evaluate information from international sources; consider issues from a variety of cultural perspectives, consider ethical and social responsibility issues in international settings; value diversity of language and culture

(S2) Information literacy online, finding, interpreting, evaluating, managing and sharing information

Marine Planning Theory & Practice (ENVS341)

Level
3
Credit level
15
Semester
First Semester
Exam:Coursework weighting
0:100
Aims

The aim of this module is to introduce students to the theoretical, practical and critical background of marine planning as it is developing internationally. The objectives of this module are that students should be able:
To explore the background, history and theoretical underpinnings of the concept of marine planning;
To understand key writings that are contributing to the development of marine planning;
To appreciate the diversity of marine planning thought and practice in different political and geographical settings;
To argue constructively for the appropriate development of marine planning in various contexts.

Learning Outcomes

(LO1) Knowledge of the historical, conceptual and theoretical background of marine planning.

(LO2) Knowledge of the practical application of the principles of marine planning in selected contexts.

(LO3) Ability to understand international academic and practitioner arguments for the development of marine planning.

(LO4) Ability to present knowledge and critical thinking about marine planning orally and in written form.

(S1) Communication skills

(S2) International awareness

(S3) Lifelong learning skills

(S4) Problem solving skills

Planning & Property Development (ENVS369)

Level
3
Credit level
15
Semester
First Semester
Exam:Coursework weighting
50:50
Aims

This module is concerned with the processes through which the built environment is used, produced, managed and renewed. Its objectives are to introduce methods of property valuation, property market dynamics and the processes of urban and rural development (including regeneration, estate management and conservation).

Learning Outcomes

(LO1) 1. Demonstrate and apply a critical understanding ofland and property markets;

(LO2) 2. Demonstrate and apply a critical understanding of property valuation methodologies;

(LO3) 3. Demonstrate and apply a critical understanding ofUnderstandign the property development process.

(S1) Numeracy

(S2) Commercial awareness

(S3) Communication skills

Planning Law & Governance (ENVS348)

Level
3
Credit level
15
Semester
First Semester
Exam:Coursework weighting
0:100
Aims

To extend students' knowledge of the governance, institutional and political contexts in which spatial planning operates within the UK and to examine the relationships between planners as professional and technical experts, clients, civil society and citizens.

To introduce current town and country planning legislation in England and Wales and to provide an overview of the law relating to the management of development in practice.

To develop students' ability to undertake independent research on a range of topics - specifically those relating to governance and planning law.

Learning Outcomes

(LO1) Students will be able to demonstrate and apply a knowledge and understanding of the administrative, legal and political context of planning in England

(LO2) Students will be able to demonstrate and apply a knowledge and understanding of legislation related to the management of development and the protection of the built and natural environment

(LO3) Students will be able to demonstrate and apply the ability to apply the law in practice

(LO4) Students will be able to demonstrate and apply an awareness of the practical considerations which must be taken into account by all those involved in the development management process.

(S1) Communication (oral, written and visual) - Presentation skills - written

(S2) Communication (oral, written and visual) - Academic writing (inc. referencing skills)

(S3) Communication (oral, written and visual) - Report writing

(S4) Critical thinking and problem solving - Critical analysis

(S5) Information skills - Critical reading

(S6) Information skills - Evaluation

(S7) Information skills - Information accessing:[Locating relevant information] [Identifying and evaluating information sources]

(S8) Skills in using technology - Using common applications (work processing, databases, spreadsheets etc.)

Politics of the Environment (ENVS325)

Level
3
Credit level
15
Semester
First Semester
Exam:Coursework weighting
50:50
Aims

This unit is designed to critically evaluate the political responses to the growing impact that environmental issues and the concept of sustainability are having on decision making at all levels of governance, (international, national and local). More specifically the unit aims to;
Develop an understanding of the growing importance of environmental and sustainable development thinking in political decision-making processes.
Explore different environmental attitudes, values and perspectives and examine the impact on various political perspectives.
Develop an understanding of the opportunities and limitations of environmental decision making international dimension of environmental politics and its impact on nation states.
Understand the role that environmental pressure groups have in shaping political decisions at the international, national and local levels of governance.
Explore the policy responses at national and local levels to the new emerging environmental agenda.

Learning Outcomes

(LO1) an appreciation of how environmental issues are being developed at all levels of governance

(LO2) an understanding of different environmental values and attitudes and the way that these impact upon political philosophy and decision-making;

(LO3) an understanding of the way that various environmental interest groups impact on political and other decision making processes an understanding of the way that various environmental intereste groups impact on political and other decision making processes

(S1) Problem solving/ critical thinking/ creativity analysing facts and situations and applying creative thinking to develop appropriate solutions.

(S2) Team (group) working respecting others, co-operating, negotiating / persuading, awareness of interdependence with others

(S3) Information literacy online, finding, interpreting, evaluating, managing and sharing information

Social and Spatial Inequalities (ENVS357)

Level
3
Credit level
15
Semester
Second Semester
Exam:Coursework weighting
60:40
Aims

· Gain an understanding of several core areas of social and spatial inequalities and how these inter-relate, and to engage with academic debates about these issues;
Explore evidence for, and interpretations of, social and spatial inequalities, eg labour market, ethnic, spatial aspects of poverty;
Gain an understanding of the geographies of social inequalities, including why inequalities are not equal between places, and what the implications of this unevenness are for individuals and communities;
Consider how and why social inequalities have persisted and/or changed over time, with reference to allied theories and empirical evidence;
Gain acritical understanding of the meaning and measurement of inequalities, poverty and deprivation;
Identify and review the types of data sources that can be used to explore social and spatial inequalities ;
Explore the wider UK context for the development of social and spatial inequalities, including economic restructuring and welfare reform;
Consider representations of inequalities in the media, policy and political debate;
Consider a number of policy developments/responses to problems of social and spatial inequalities, and to highlight their impact.

Learning Outcomes

(LO1) Develop anunderstanding of social and spatial inequalities, how these inter-relate, andhow the terms have been (mis-)used in academic, political, policy and public discourses

(LO2) Develop anunderstanding of how and why social and spatial inequalities might havepersisted over time, and review the empirical evidence for this

(LO3) Understand how and why social inequalities havespecific geographies and can be concentrated in particular areas orneighbourhoods

(LO4) Understand the difficulties in defining andmeasuring social and spatial inequalities, and how such definitions may relateto broader theories, perspectives or frameworks of relevance

(LO5) Gain insightinto a range of government responses that have been developed to combat socialinequalities and related issues in the UK, at the regional and sub-regionallevel

(S1) Organisational skills

(S2) Communication skills

(S3) International awareness

(S4) Lifelong learning skills

(S5) Ethical awareness

(S6) Problem solving skills

Urban Design Project (ENVS359)

Level
3
Credit level
15
Semester
Second Semester
Exam:Coursework weighting
0:100
Aims

Disclaimer : Information correct at time of publication. Students should refer to the Student Spider Web for changes to Module Specifications for current Programme Structures.  Planned programme structure subject to Faculty approval. Students will be notified of any major changes to the Programme Structure by email.

The aim of this module is to lead students by means of a realistic design brief through the process of analysing a large site, carrying out necessary contextual studies and then preparing an urban design framework, an indicative site master plan and to develop a smaller part of the site in more detail.

The specific objectives of the module are to provide students with: 
       
An understanding of the procedures and appropriate techniques required to prepare urban design guidance and proposals;
        
A working knowledge of how contemporary urban design relates to current planning legislation;

An opportunity to practice urban design techniques and procedures in a realistic setting;

An understanding of basic development valuation appraisal for a site and its impact on design and development issues

A grasp of urban design form by means of 3-dimensional modelling techniques, and an opportunity to demonstrate analytical, design and presentation skills acquired on earlier modules.

Learning Outcomes

(LO1) Successful completion of the module should ensure students: are familiar with the necessary analytical and presentation skills required to undertake major projects;

(LO2) are conversant with how to approach the framing of urban design guidance for a major development or regeneration site;

(LO3) can confidently prepare urban design proposals based on sound preparatory studies;

(LO4) appreciate the inter-relationship of property development issues, economic feasibility and the urban design development potential of a site.

(S1) Problem solving/ critical thinking/ creativity analysing facts and situations and applying creative thinking to develop appropriate solutions.

(S2) Teamwork

(S3) Organisational skills

(S4) Communication skills

Urban Design Studies (ENVS312)

Level
3
Credit level
15
Semester
First Semester
Exam:Coursework weighting
0:100
Aims

The module is designed as a follow-on to ENVS256 'Urban Morphology & Place-Making' to explore some of the themes of urban design in more depth. The aim is to expand on and deepen a student's understanding of the character and quality of places, including the key components of urban form.

By these means students should develop;

A detailed appreciation of the nature and structure of urban space.

Knowledge of the principal design approaches used to create good urban environments.

A detailed understanding of contemporary techniques used by urban designers.

The ability to appreciate and evaluate the quality of urban design proposals.

Range of analytical, design and presentational skills required for urban design projects.

Learning Outcomes

(LO1) 1. Be able to appraise the qualities and character of an area in urban design terms;

(LO2) 2. Have a good knowledge of site planning and design issues and how they can be resolved;

(LO3) 3. Have an understanding of contemporary theories and issues as they relate to urban design;

(LO4) 4. Have undertaken a realistic project  to help regenerate an area using urban design proposals;

(LO5) 5. Understand what constitutes successful urban design and how it can be achieved.

(S1) Problem solving/ critical thinking/ creativity analysing facts and situations and applying creative thinking to develop appropriate solutions.

(S2) Teamwork

(S3) Communication skills

(S4) IT skills